Advertisement
January 14, 2006 00:38 IST
Last Updated: January 31, 2006 17:52 IST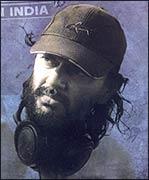 Director Rakeysh Omprakash Mehra is a man who makes movies for fun.
In the first part of our interview, Rakeysh spoke about where the Rang De Basanti [Images] story came from. Now, as he concludes his chat, he tells Raja Sen why the film stars Aamir Khan [Images], and why it's an exciting time to be an Indian. Here are some excerpts:
Where did Aamir fit into the film? Was he your first choice?
Once we'd decided on the script, I took it to Aamir and narrated it to him. Once he heard it, he didn't hesitate in telling me that he wanted to do the film. That was very heartening. And when Aamir Khan agrees to work in your film, it becomes so much more possible for your dreams to come true. Doors open, windows open, things get done. There are so many more possibilities, because of his stature and his power at the box office. Lots of financial [possibilities] open up and it gives you a lot of leeway. And then you have absolutely no excuses to mess up.
| | |
| --- | --- |
| | More on rediff.com ! |
| | |
And you also have more pressure thrust upon you, right?
Pressure is subjective. Pressure is the question of attitude. It is about your self discipline. You go through pressure, and being through a certain pressure, you can take more pressure. There's no fear of pressure as such. The only pressure I have is a) the film should reach out to the maximum number of people, because Rs 25 crores have been invested in the film, and b) you have to do justice to the screenplay.
See, you have everything you want: you have Aamir Khan leading a fabulous ensemble cast, you have A R Rehman doing the music, and a great crew. It's a fine mix of experience and young blooded talent. There is responsibility, more than pressure. What you shoulder is the fun and excitement of being in, and enjoying, that moment. I have to now have all the fun in the world because I have all the toys. I have to juice it out to the maximum, rather than concentrate on boring terms like pressure.
You keep talking about how youthful the film is, but your leading man [Aamir] is a 40-year-old veteran. Why?
His character is 30 in the film. He looks 28-30 to me, in the film. When you see the film, you'll realise that he worked very hard, he's lost 10-15 kgs, after following a strict diet and exercise regime. He's definitely not a college kid, but then he's not playing a college kid in my film.
You also referred to RDB as an ensemble film. What should we know about the characters?
The characters are something you have already read about on the net, at least as much as is required to know about them, at this point in time. Characters, normally, are story driven; they're not actor driven. All the actors have worked very hard to become the character. After the first four scenes, you forget the actors and fall in love with the characters. You're laughing and crying with them, and thinking exactly what they're thinking as they take you on what I would call a wonderful journey. You start sharing the film with them.
The ensemble mostly consists of lesser-known actors. Is there lesser need to cast 'names' once a huge superstar like Aamir is in the film?
On the contrary, because Aamir is such a superstar, it becomes so much more important for everybody to be at their best, and for everybody to blend in. It's not about Carl Lewis running against a school team, it's about Carl Lewis running against everybody who's clocking under 10. It's just that he's one-hundredths of a second ahead of them. In terms of talent, there's a huge amount of talent in the film. Everybody is extremely blessed by God in this regard.
Stalwarts like Waheeda Rehman [Images], Om Puri [Images], Kirron and Anupam Kher [Images] can't be touched, we've all seen their performances; they have their own schools of acting. Then Atul Kulkarni, he's somewhere else, in a different league. His sincerity to his work, his approach, his simplicity - that's the right word - in his method is great. He's the most uncomplicated actor today; he doesn't do more than is required. He's so secure.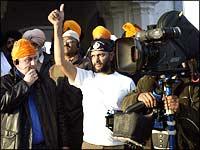 There's Aamir who, being such a huge star, has never succumbed to stardom. He's only succumbed to his character. He goes all out and blindly follows his character. He puts a lot of thought behind it. He's a thinking man's actor. Even at the point of taking an unknown step, he does that because his character requires him to. And these young boys, oh how they have stood their ground with the veterans and the ruling Badshah's of acting.. they have stood their ground. They represent the Yuvraj and the Mohammad Kaif of the Indian team! They are the Virender Sehwag [Images]s of the film. Even as Sachin Tendulkar [Images] is batting you can't close your eyes to Virender Sehwag.
And where did you find your leading lady, Alice [Patten]?
Ah, she's such a find, man! I've been so lucky that we found Alice. Casting was a huge journey. Two of my Executive Producers were from abroad, David [Reed] and Adam [Bohling] - who've done lots of big films (like Lock, Stock And Two Smoking Barrels, Layer Cake, Snatch). They would never have worked on an Indian project, but after I sent them my script, they said, 'Rakesh, the only reason we're here, suffering in the heat with you (laughs) and accepting half the salaries we are used to out there is just because of your script. We don't know who is who in your film; we've never seen a Hindi film. But your script turned us on, and we're here to work on it.'
They put me across to Lucinda [Syson], a casting director, who has cast for some of the finest films in the world (including Batman Begins, Snatch, The Fifth Element) and she's a very well-known name as far as casting goes. She started looking for girls and it was difficult because we had lots of requirements: We wanted someone to come to India for eight months: a month for Hindi coaching classes, a month for rehearsals and six months for shooting.
Finally, I saw a test, over the Net, where they tested Alice, an English girl from the theatre circuit, all the way from South Africa. I thought it was right, and I requested her to come down for seven days. She was kind enough to do that, and she did the scenes, tried some Hindi coaching classes, and she was right for the role. That's it. Within thirty seconds of the first shot, I knew I had found my character.
If she plays a British character, why does she need to speak Hindi?
Her character is of a documentary filmmaker who comes to India, and she's making a documentary in the Hindi language, about Indians, so the character probably went through Hindi night classes to get the basic language right.
And then there's Soha Ali Khan [Images]..
.. and it will unfold only after this film just what Soha Ali Khan is. She is so special. She's so Soha, she's so different. She's an individual, an original. She draws from her genes and acting is a choice for her, not an accident. She's positive, she's self-confident. And you give her something challenging and she comes to the fore, otherwise it's easy to bore her.
This is a big film. What parts of shooting over that six-month schedule you mentioned were really tough for you?
Nothing was tough. We were on the road, and having fun every day. It's a huge film to make, and it's been tough. There have been scenes where there have been 3,000 people, and it's quite a task to control them, to dress them -- in a specially designed wardrobe -- and to make sure they were up and awake! The first shot had to be taken at sunrise so everyone had to be awake and assemble at 2 am! The first announcement I made to the crew, [when shooting started] in February, was that there would be seven days of holiday, for all of us - in July! That is when we sleep. Nothing before that.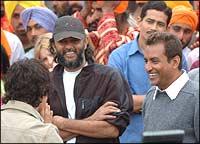 Making a big, highly awaited film, what do you think you've achieved with RDB as a filmmaker?
I don't think I've achieved anything as such. In a bigger picture, you are just a tiny part of Indian cinema, and in terms of global cinema, you are just a dot. What can you achieve? All you can hope to do is just pay back the joys of the matinees that you've enjoyed as a child and growing up. Cinema is a different world altogether. Fortunately, it's created by man. Sometimes I marvel how it could have been created by a human being; it seems godsent. And you are in it and the best part is that you are paid for it as well. It's really fun. You have to get as much fun as you can out of it.
Fair enough, and while you call yourself a dot, let me ask you about other dots. Which films and makers have you been most influenced by, over the years?
If at all anything has influenced me more than [individual] movies, it would have to be an era, you know, the late 50s - early 70s in Indian cinema. I discovered world cinema at a very late age, once I started travelling and picking up movies off the shelf and developed a taste for some Japanese stuff, European cinema, American cinema - that also happened to be more like the Young Brats era of Hollywood: [Martin] Scorsese, [Francis Ford] Coppola, [Brian De] Palma, all these guys who were all of 20 and 30 years old and changed the whole face of filmmaking. That has made a great impression on me. And then there were the masters, like [Federico] Fellini and [Akira] Kurosawa, of course, and directors like Bob Weiss.
Could you elaborate on the first era you mentioned, Indian cinema from the late 50s to the early 70s?
In India, that era of cinema, those 10-12 years made an impression not only on me, but millions of makers of cinema. What I really respect was that their was such a vibrant variety of films being made. While Bimal Roy was making his own films, Guru Dutt would come up with something else. You had Raj Kapoor making romantic films with social messages and Chetan Anand doing his own stuff. And then a young boy called Goldie appeared on the scene and surprised everybody with the kind of films he made.
And all these guys were following the greats like V Shantaram, K Asif, Mehmood Khan, and all of them made their own films with their own individuality; they were not trying to impersonate anyone. Their approach, their technical excellence, was fabulous. And the passion for filmmaking was bordering on self-destructive. I mean, the stories we've all heard. You realise what a fun period that would have been. That was one period that I thought was just really cool.
What do you think about the current Indian cinema? There is lots of experimentation...
I don't like the word experimentation. To do a job, you must know it, not experiment with it. You can experiment with style, but not with content. Content remains. That said, I think it's a tremendous time right now. I'm so fortunate that I'm here and making movies at this point of time. There is very little effort required from my end to make a change as such because the whole outlook right now is towards a change in the thinking process. The metamorphosis of India is happening and the wheel is turning faster and faster.
Economically, we're racing as a nation and have already taken a big leap because of IT professionals and everything's heading up there. Our Prime Minister, Dr Manmohan Singh [Images], is something else altogether. He's a complete freak; such a modernistic, futuristic bloke with a great head on his shoulders. We have great thinkers now with A P J Abdul Kalam running the country. We have so many heroes outside the celluloid to look forward to. We have a great cricket team which can win the World Cup on their day. The whole Asian Diaspora has never been stronger. So we're all feeling proud to be citizens of this country.
It's a great period to just jump off the cliff and somebody will take care of you; or you'll learn how to fly anyway.
© Copyright 2008 PTI. All rights reserved. Republication or redistribution of PTI content, including by framing or similar means, is expressly prohibited without the prior written consent.