When the top stars refused to play Milkha Singh, Rakeysh Omprakash Mehra went down another route.
A riveting excerpt from the director's memoir The Stranger In The Mirror.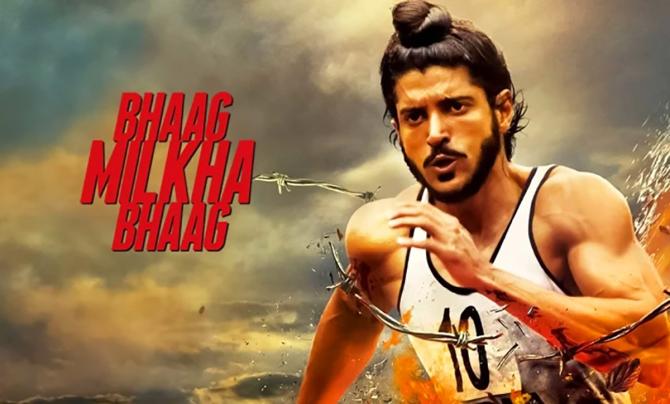 I had been toying with the idea of making a film on Partition for a very long time. To understand why, let's go back to my youth.
When I turned 18, my family shifted to a rented place in Lajpat Nagar (Delhi). My landlord's family had come over from Sindh, and their kids were the first post-Partition generation growing up from birth in India. They were Indians who came to live in Delhi from Lahore and were nostalgic about their birthplace.
Now, Lajpat Nagar is a colony of post-Partition migrants, predominantly Punjabi refugees. There was a lot of fond nostalgia in their conversations.
'Lahore mein jaisi patangen udti hain, Lajpat Nagar mein kya udengi! (The kites in Lajpat Nagar cannot match those in Lahore!)'
Listening to their tales, I understood the difference between watan (the land one belongs to) and desh (the country one belongs to).
At the same time, they hadn't forgotten the horrors of Partition. Their tales of bloodshed were graphic and disturbing.
Many of them were permanently scarred (like Milkha Singh) with memories of people they had lost and the remorseless carnage they had witnessed at close quarters. As I heard these stories, they became part of my subconscious.
* * *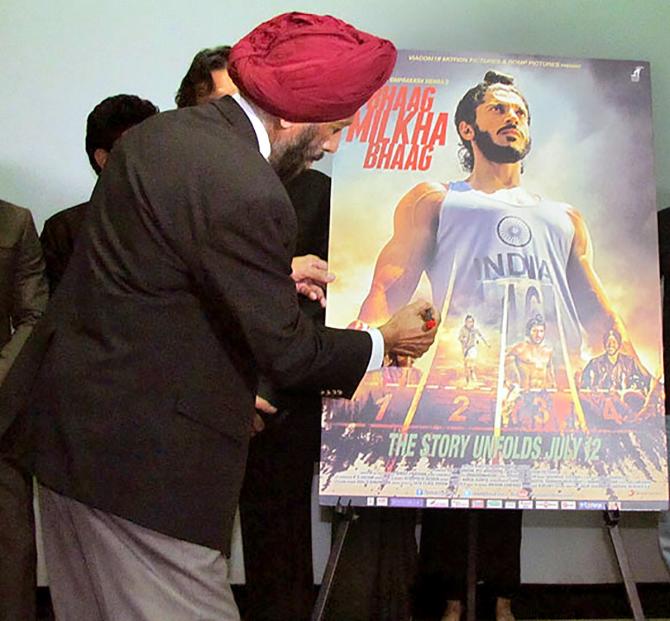 One day, a young director, Aditya Dhar, visited me to narrate a script. This was a comedy which he wanted to direct and my company to produce. At the end of our meeting, he gave me the autobiography of Milkha Singh.
Aditya went on to make Uri: The Surgical Strike, one of the biggest blockbusters of 2019, which Ronnie Screwvala produced.
I picked up the book only to realise that it was an autobiography written and self-published by Milkha Singh in Gurmukhi (Punjabi script). I immediately gave it to Rajiv Tandon (who went to become one of the produers of Bhaag Milkha Bhaag) to figure out if he knew someone who could read it.
Tandon's uncle, Babbu Mama, knew Gurmukhi. He read it and, the very next day, came to office and started telling me the story in the book.
Milkha had lost his childhood to Partition. He escaped and went on to cross the border and somehow reunited with his sister.
What inspired me was how a 12 year old, who witnessed the massacre of his family, was pushed and shoved into India and lived with no roof to sleep under and no food in his stomach.
He then went on to create a national record in athletics that remained unbroken for almost 40 years! He also won a double gold medal in the Asian Games, broke the Commonwealth Games record with a gold medal and then set a world record in 400 metres.
* * *
A couple of days later, I took a flight to Chandigarh to meet one of India's greatest athletes and his wife Nirmal Kaur (Nimmy Aunty for me).
* * *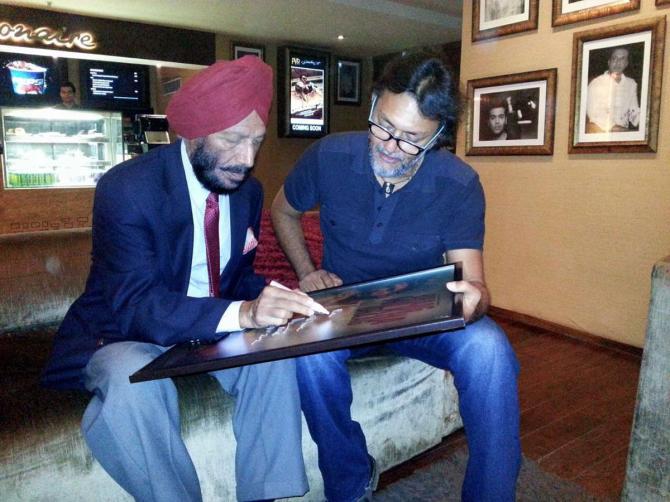 I was completely engrossed in his story. Every morning, at 11 am, Milkha would finish golfing at the Chandigarh Golf Club, wear his signature suit, red turban with a matching red tie and sit down with me at noon sharp.
We would both have our first beer. We would speak over lunch until 4 pm, then meet again for an early dinner and talk some more.
I would go back again the next day.
Nimmi Aunty would spoil me with home-cooked meals.
The couple was both receptive and courteous.
Gradually, he started trusting me and poured his heart out.
During these narrations, I noticed tears in his eyes on two occasions: First, when he spoke about the massacre of his family during the ethnic violence that followed Partition, and second, when he lost the gold medal in the finals of the 400 metres at the Rome Olympics in 1960, where he was one of the favourites to win.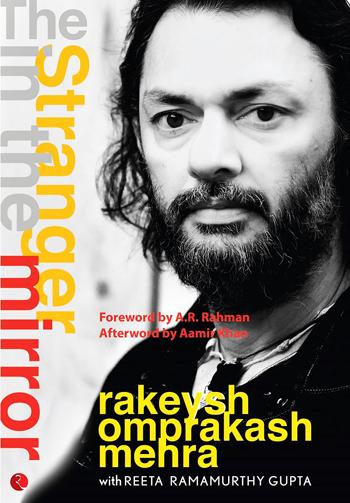 He was leading in the 400 metre race up to 250 metres.
That's when he committed a tactical error and looked back to see by how much he was leading.
In that one fraction of a second, three athletes overtook him.
I knew that I had found my story and that night wrote the opening scene of the film and the last scene of the film.
The film opens with Milkha flying off the blocks at the 1960 Rome Olympics.
Around half way, his coach shouts, 'Bhaag Milkha, bhaag'.
The voice of his coach reverbs and morphs into his father's voice from the past: 'Bhaag puttar, bhaag (run son, run)'.
Milkha remembers the words his father had screamed, urging him to run for his life during that fateful day of the massacre.
Milkha has a deja vu moment: He looks back to see a militant on a black horse chasing him with a sword. But that reaction costs him the race.
As past and present merge into a single moment, the man on the black horse cuts off his father's head from his torso in one swift slash of the bloody sword.
Milkha shudders to the finish line, incapacitated mentally by his own demons, despite being the fastest runner that day.
Then, I wrote the last scene: Milkha at the peak of his running career goes to Pakistan reluctantly at the behest of Prime Minister Jawaharlal Nehru.
This was in 1960, when President Ayub Khan of Pakistan and Prime Minister Nehru announced an Indo-Pak Friendship Meet between the two countries to be held in Lahore.
* * *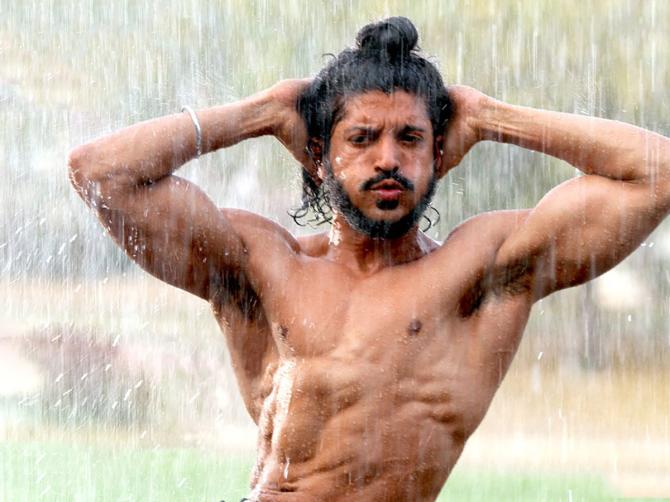 However, I still hadn't found my Milkha.
I narrated the story to Hrithik Roshan, whom I have always seen as a very intense actor.
Hrithik sent me a beautiful message, 'You've completely screwed my life upside down.'
However, he passed it as he was already committed to his franchise, Krrish.
Aamir Khan too heard the narration. 'Yaar Mehra, this one is not for me,' he said.
I started screen testing for Milkha and found Ranveer Singh to fit the bill. He was thrilled with the part and so was I with his audition. But then even he passed it for reasons I will never know.
I have always respected the decisions of another artist -- we all have our own head spaces.
* * *
I kept searching.
Unknown to all of us, there was someone out there who would not only play Milkha but become Milkha, and leave an indelible mark on Indian cinema with this performance.
This edited excerpt from The Stranger In The Mirror by Rakeysh Omprakash Mehra and Reeta Ramamurthy Gupta has been used with the kind permission of the publishers, Rupa Publications India.