Gupt's greatest success lies in how attractive it remains despite the suspense becoming common knowledge, feels Sukanya Verma.
Gupt's spoiler is the worst kept secret of all time. But it's also one that's fascinated us hugely for over two decades and grown into stuff of pop culture legend.
But back in 1997, when the omnipresence of social media and WhatsApp groups had not invaded our lives, the enormity of this bombshell could be traced to the walls of public loos and frequency of crank calls eager to reveal the killer's identity.
Perhaps Gupt's greatest success lies in how attractive it remains despite the suspense becoming common knowledge.
Few understood the mechanics of masala like Director Rajiv Rai at the peak of his career.
Three of his most successful creations -- Tridev, Mohra and Gupt -- showcase his expertise in combining elements of virtue, ambitious action and oddball villains, grandly choreographed songs and dances to tell stories of people touched by emotion but existing in fantasy.
And against Viju Shah's groovy techno score and spunky background music, Rai's vision hit another level of slick.
Visually, Gupt helmed by legendary cameraman Ashok Mehta is right on top.
It's the only time he and Rai collaborated.
The late cinematographer's oeuvre is full of ingenuity across films of far more artistic heft, but his approach to mainstream is anything but condescending.
In keeping with his firm belief, 'your work should go with the film, go with the kahaani (story),' he balances mood and mystery in a manner that lends Gupt's characters and frames a glamorous, exciting energy.
Story wise, Gupt is as nuts as it gets.
A spoilt rich brat (Bobby Deol) is framed for his stepdad's (Raj Babbar) murder following his mother's (Priya Tendulkar) testimony.
In order to hunt down the actual killer, he breaks out of prison and proceeds to bask in the affection of the girl he loves (Kajol) and the girl helping him escape (Manisha Koirala).
A quirky cop (Om Puri) investigates while the deceased's associates (Kulbushan Kharbanda, Raza Murad, Prem Chopra, Dalip Tahil, Sharat Saxena and Paresh Rawal) become suspects and targets one by one.
Here are 25 of my favourite frames from the whodunit.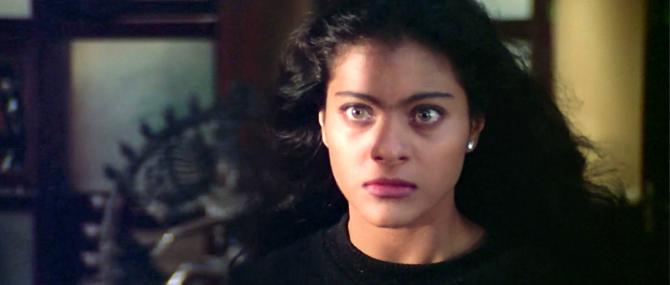 When the darling of rom-coms transformed into a devilish figure in the final moments of Gupt, audience didn't know what hit them -- a milestone moment in Kajol's career.
But why it really works so well is Rai isn't calculated or gimmicky about the shocker.
Mehta faithfully captures Kajol's wholehearted submission to the dark side with the conspicuous Natraja figure, also a symbol of destruction, in the background.
The frame practically screams, Hell hath no fury like a woman scorned.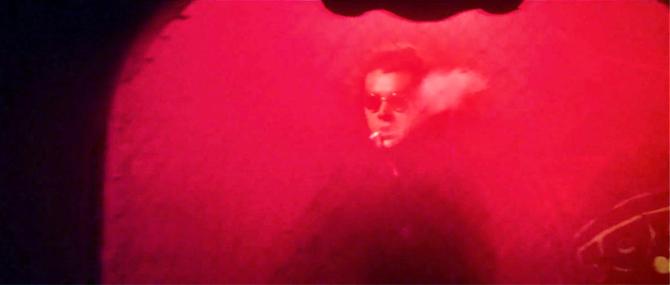 Kenyan nightclubs or dazzling discotheques, the clubbing scene in Rajiv Rai's films is always on point.
Bijon Das Gupta's flashy set for Duniya Haseeno Ka Mela is the venue for Bobby Deol's introductory scene.
And Mehta, a wizard of lighting, ensures his entry as the rich spoilt brat is the head to toe of cool.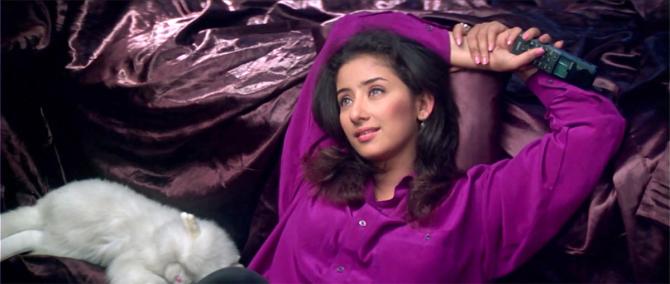 Cameras love Manisha Koirala's luminous beauty.
Mehta's in Gupt is no different. He found her expressions so captivating, he would go on to sign her as the leading lady of his only film as director, Moksha, which won him his second National Award for Best Cinematography (the first was for 36 Chowringhee Lane).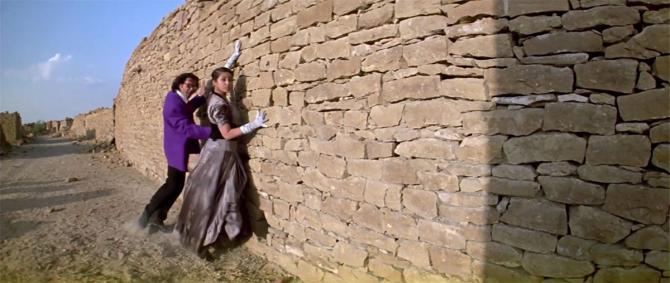 Bobby's trendy couture and Manisha's vintage chic are a curious choice to romp around the majestic Jaisalmer fort.
Except over-the-top styling and cool angles are just the gloss to match Viju Shah's catchy beats.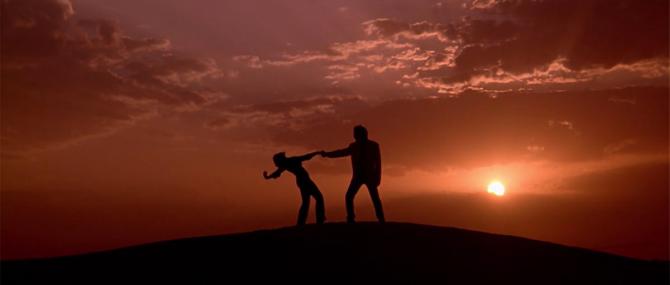 Sunsets and silhouettes, Mehta's got a whole gallery of those to his credit. Every single one different from another.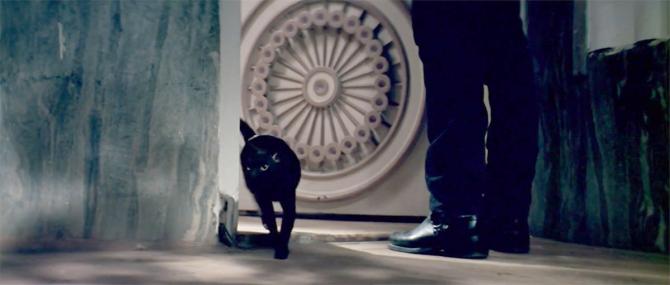 Even if by design, the sheer ominousness of this frame along with the ornate design on the door resembling the clue pointing pendant Bobby carries is super effective.
Bet fans heard the thematic Gupt scream in their heads when they see this.
The only way Bobby can escape is find his way into the deadly 'Shaitan Kothri' the oldest, gloomiest part of the jail hiding a secret passage.
One glimpse of the place and it really lives up to the hype.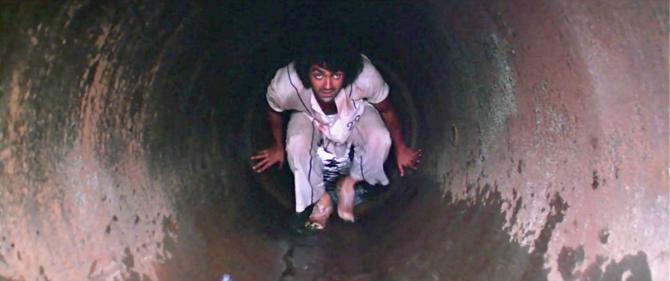 Although the sequence is clearly inspired by The Shawshank Redemption, Mehta's dimly-lit frames perfectly underscore the claustrophobia and drama of Bobby's thrilling escape.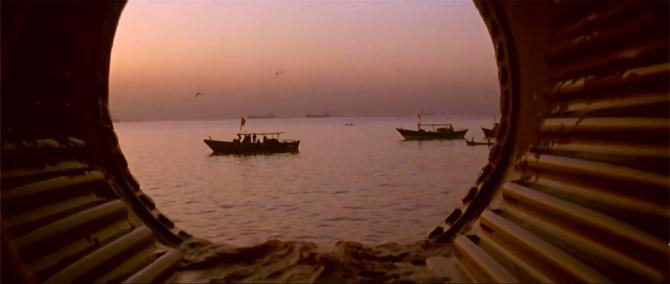 There is light at the end of the tunnel. Imagine this serene Ashok Mehta shot on big screen, nothing compares.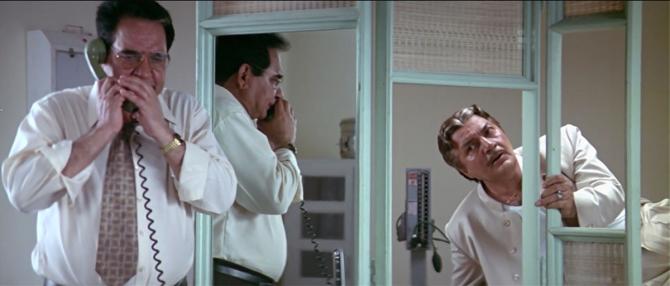 What made Mehta's camerawork so special is the evenness.
Even the most banal moments always match the tone of the script. I like how the essence of 'Gupt' is so simply conveyed in this frame.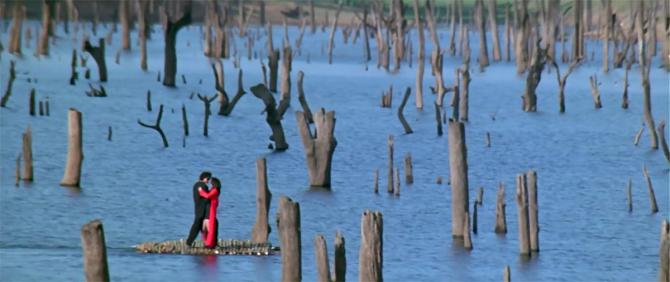 Spectacularly shot songs in unusually scenic locations are a Rajiv Rai speciality.
A major chunk of Mushkil Bada Yeh Pyar Hai is shot against Kerala's breathtaking Periyar Lake.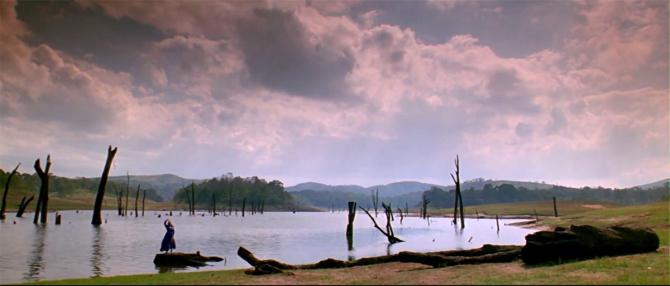 Trust Mehta to infuse it with atmosphere and composition.
What appears is exotic and spellbinding.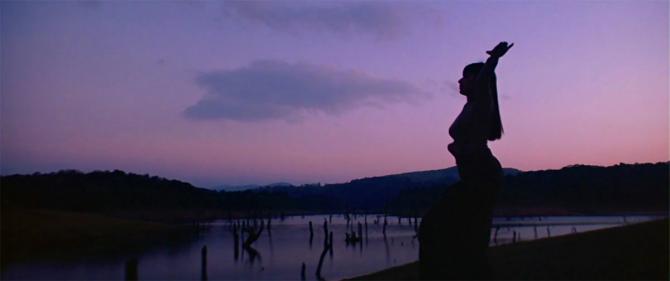 A decade before Gupt, Mehta shot Naseeruddin Shah and Rekha honeymooning at Periyar Lake for Gulzar's Ijaazat, where he also pitches in a cameo, as part of the Katra Katra ditty.
The individuality he lends both the songs says volumes for his versatility.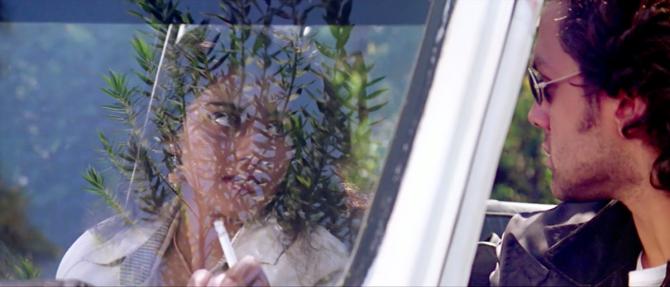 There's something so trippy about how the reflection shrouds Kajol's face.
Now if only the wild weed in the shot was something else, what is Bobby smoking would make one hell of a symbolism.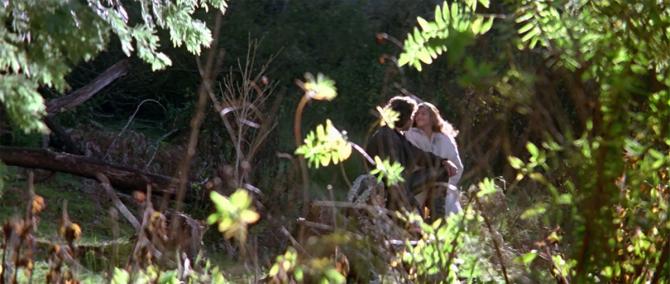 When you flee far, far away until there are no prying eyes to fear, a pair of lovebirds rejoice and only the audience is privileged to enjoy their intimacy.
It's these little things he does that made Mehta a magician.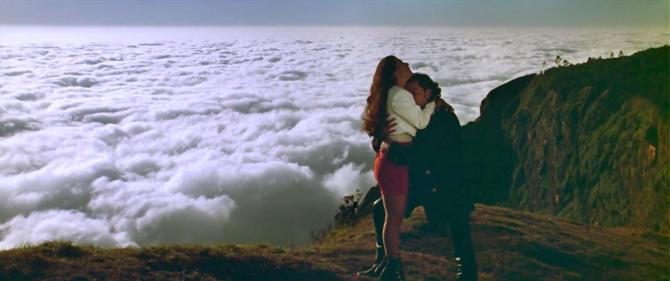 Falling in love is like floating on clouds, Gupt catches a breath from all the running to dole out visuals of love in Khandala.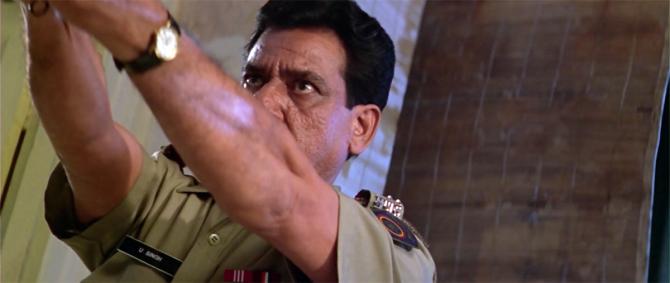 Om Puri's cop in Gupt is nothing like his cop in Ardh Satya but the intensity is intact.
Almost like this frame, paying rich ode to the sentiment.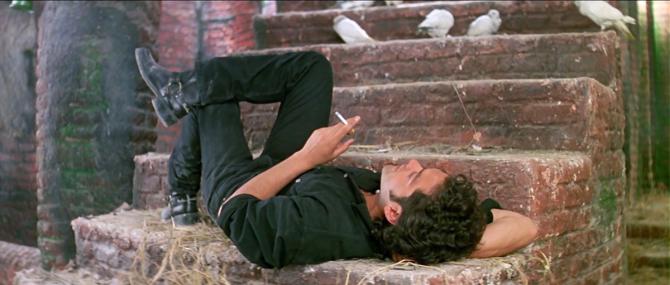 Pensive guy, perpetual smoker, perplexing mystery, pigeons doing their thing, stairs leading to nowhere, what's not to like?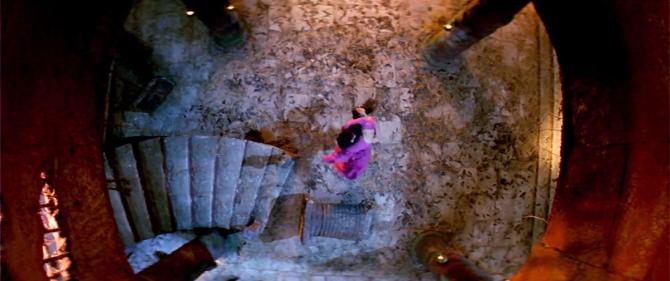 The Gupt puzzle takes its viewer for quite a spin.
Even if you're not a fangirl inclined to read too much into scenes, how nice of Mehta's nifty high angle photography to detail all the hard work art director Bijon Das Gupta has put in constructing an abandoned bungalow.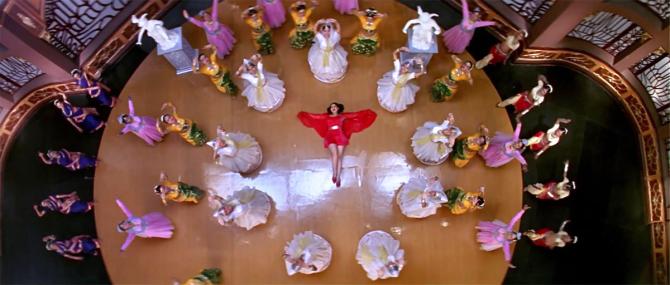 In one form or another, costumes are the soul of Rajiv Raj's showmanship.
And all the colourful, classical meets kitschy pageantry at display comes together quite nicely in this top shot.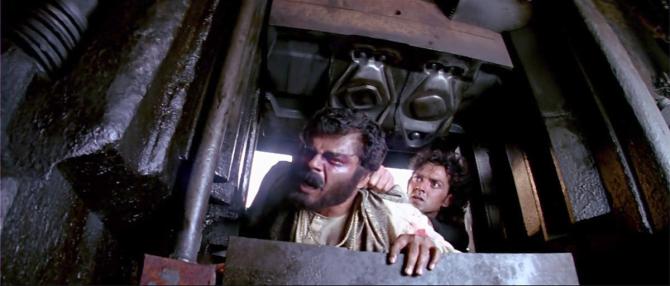 Notice how so many of the fights in Rai's potboilers happen around sturdy looking warehouses, plants and factories? Adds so much character to the aggression, here's proof.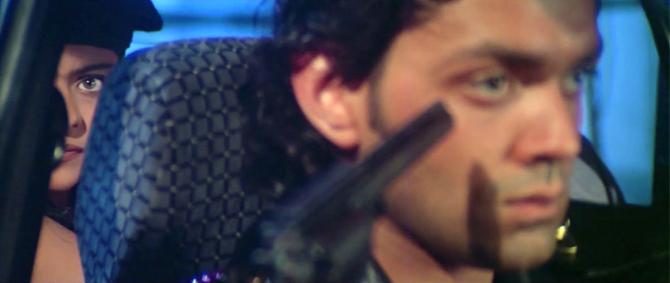 The complete title of Rajiv Rai's mystery is Gupt: The Hidden Truth.
The hints are always there. Like how Kajol's somewhat hidden from the view frame here.
And Paresh Rawal's exact same single eye glimpse right when Bobby confronts him with the truth.
Both Kajol and Rawal's father-daughter are keeping secrets regarding who, why and how.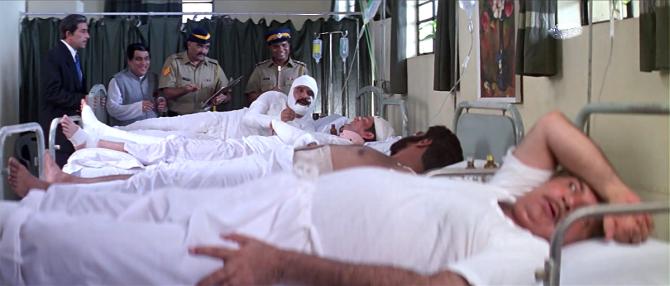 Raza Murad's pattiwale shayar interjects the thriller every now and then with a hilarious verse apt for the situation every time a freshly clobbered acquaintance joins him in the ward.
Mehta enhances the wit of these interludes in how he composes the line-up.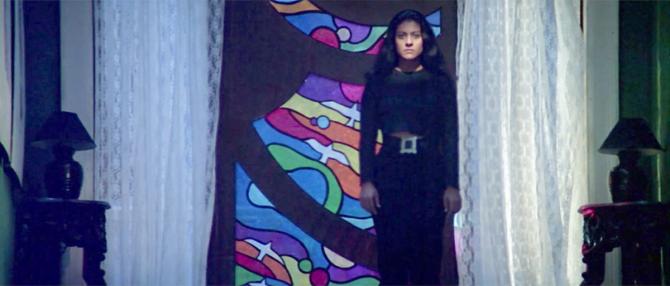 The piece de resistance of Gupt, of course is, Kajol going bonkers.
Viju Shah sets the scene to a thrilling background while Mehta highlights the menace of the moment in this masterfully lit moment.
The secret is out and it looks savage.
Feature Presentation: Aslam Hunani/Rediff.com