Agneepath, Hum and Khuda Gawah is a testament to their harmonious actor-director chemistry. Of the three, Hum is a natural crowd-pleaser, feels Sukanya Verma.
Back in the day, he was called the whizz-kid of the Hindi film industry.
Mukul S Anand's charismatic vision and heightened depiction of human emotions highlighted his cinema of superlatives.
He never thought small or resisted venturing into dark places.
This ahead-of-times quality to his entertainment within traditional Indian morality framework found a rousing expression in Amitabh Bachchan's bombastic bravado and towering intensity.
He was one of the few filmmakers who understood the Big B's ageing anger and tapped it on the silver screen in a manner that not only gratified the audience's love for his heroism but also added new dimensions to his heft.
It would take several awkward films and filmmakers before AB would find his groove as a superstar outside the 'angry young man' construct.
Agneepath, Hum and Khuda Gawah is a testament to their harmonious actor-director chemistry.
If it wasn't for Mukul's untimely demise in 1997, we'd probably see more of this formidable combination.
Of the three, Hum is a natural crowd-pleaser.
If you look beyond the superstar roster of Bachchan, Rajnikant and Govinda demonstrating brotherly love, a chartbuster song whose lack of originality bothered nobody and a proverbial 'past returns to haunt' plot in Danny Denzongpa's scruffy settling of scores, Hum has tons more to offer.
It has aged stupendously in W B Rao's stylish, striking camerawork.
The late cinematographer's love for lens flare and highly saturated tones captures the contrasts of Tiger's dodgy past at a ramshackle Mumbai port as keenly as his present of familial bliss in an Ooty farmhouse.
Sukanya Verma shares 25 of her favourite frames from the 1991 hit.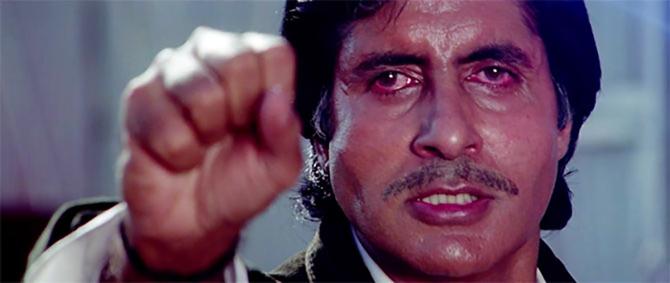 Salman Khan's Tiger franchise can keep growing but Bachchan's Tiger is the original deal.
The powerhouse shaking his head in rage and making that crunching sound by the closing of his fist is an action 90s children, like yours truly, grew up in awe of.
And Tiger's faith in his family -- five members symbolised in five fingers; Hum sab is haath ki paanch ungliyan hain -- packs in a solid, SOLID punch.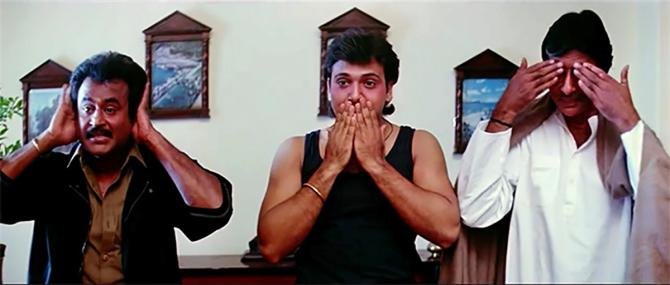 Mahatma Gandhi's three monkeys are cheerfully signified in our excitement of seeing AB, Rajni and Chi Chi in one frame, an attribute that has grown in stature over the years.
This is what good nostalgia is all about.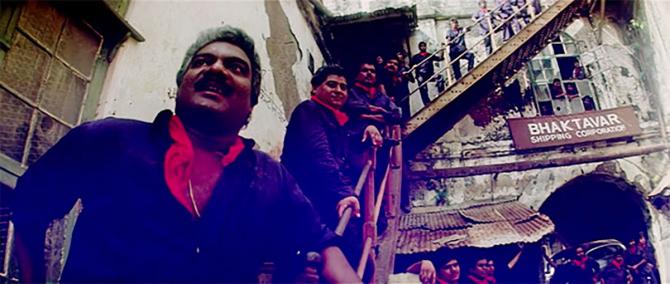 Danny Denzongpa is a formidable figure in Hum.
His shadow looms large in this potent frame.
As the despotic Bhaktawar running an industry of crime and cruelty by the docks, his minions wear a red scarf around their necks to assert his command over their leash.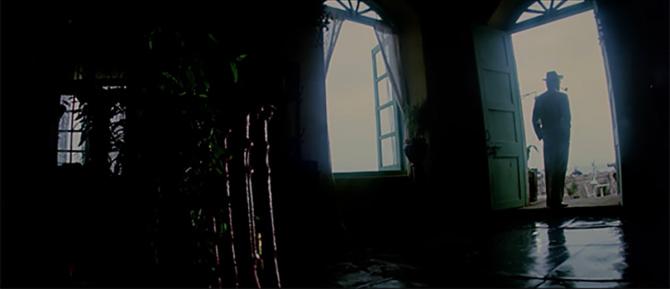 Danny Denzongpa, for better or worse, is ever the epitome of cool.
Love how Rao gives us a glimpse of his power from a careful distance.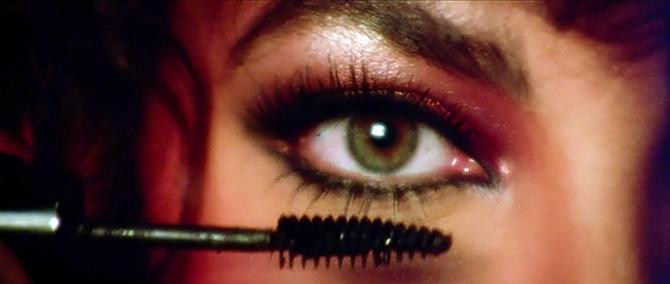 Kimi Katkar's gorgeous cat eyes are just what one needs to peep into before her eye candy duties take over.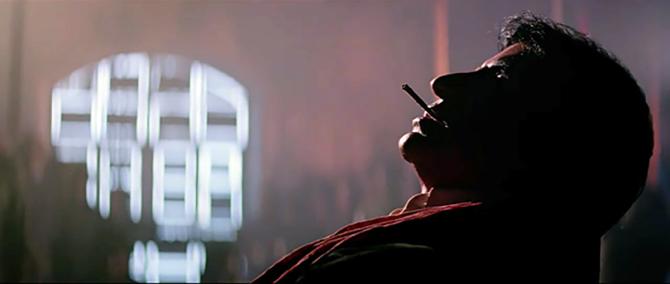 Swagger is the heartbeat of Hum.
And Amitabh Bachchan doles it out by the dozen in the first hour of this nearly three-hour running masala.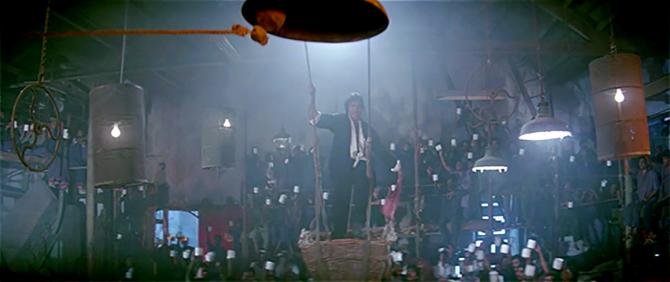 In Jumma Chumma De De's dance of monochromes, where the only hint of red is AB's gamcha and Kimi Katkar's seduction, Rao's punctuated use of lighting and R Verman's imaginative sets creates a mood we never get enough of.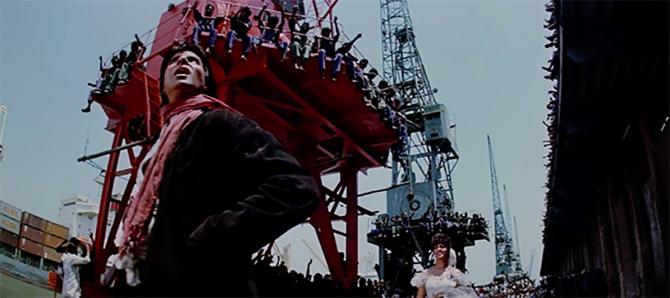 This scene is a fine example of the famous Mukul Anand touch.
Scale is very important to him, he could achieve it in the most industrialised of locations.
And W B Rao, who got his first break in the director's superhit Insaaf, starring Vinod Khanna and Dimple Kapadia in a double role, doesn't disappoint one bit.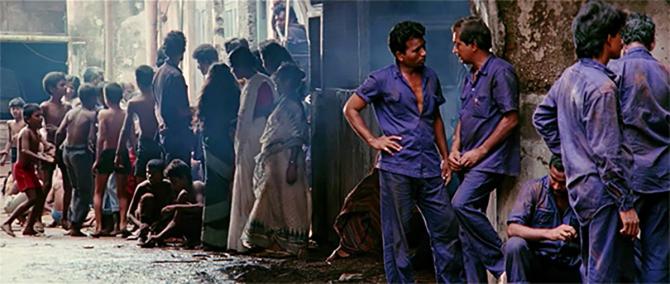 Another frame to explain why he was hailed as a whizz-kid in the 1990s.
This is just a simple frame of uniformed labourers and subjugated populace inhabiting Bakhtawar's dark universe.
Except the visual appeal it exudes is along the lines of a graphic novel adaptation.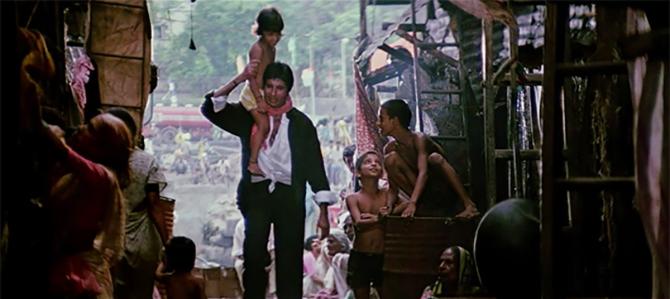 Mr Natwarlal, Do Anjaane, Kaalia, Mili, Faraar, Majboor, Don... ever noticed how tender Bachchan is around kids? The bawdy body language of a roguish romantic and hafta collecting ruffian is entirely discarded in the presence of his step brothers whom he intends to keep away from his murky world long before they escape it.
And the way Rao documents his life in Mumbai has a distinctly dystopian atmosphere to it.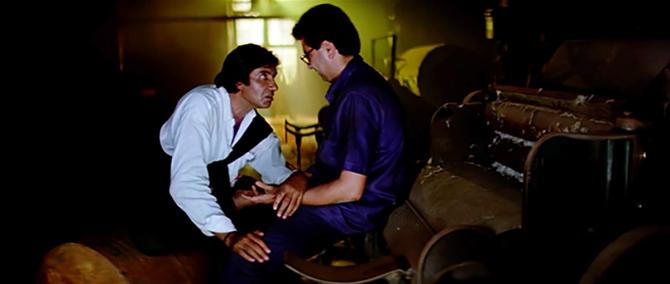 Hum's comic 'Do tarah ke keede' scene benefits from that greenish yellow beam sneaking in, almost like an only ray of hope, against the backdrop of Tiger warning his best friend (and Hum's producer Romesh Sharma) about the consequences of taking on Bhaktawar.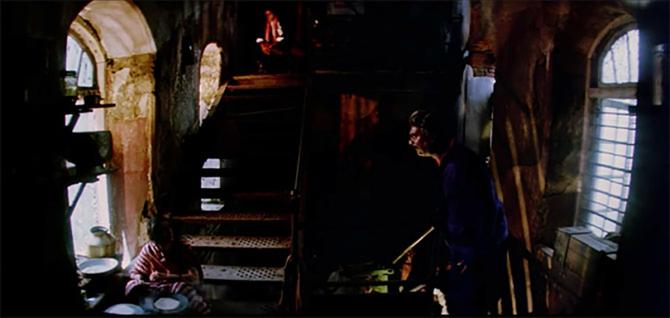 This sort of dark lighting is bold for a mainstream movie but Rao deftly conveys the degree of stuffy, claustrophobic existence Tiger broke out of to build his sprawling nest in the lap of nature.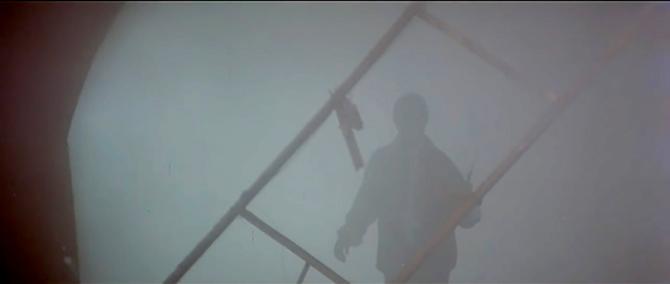 There's great thrill in witnessing the Bollywood hero make a fantastic entry, first one of third, in a swaggering fashion to broadcast a threat to the villain.
Tiger emerging from smoke is one of those moments in Hum.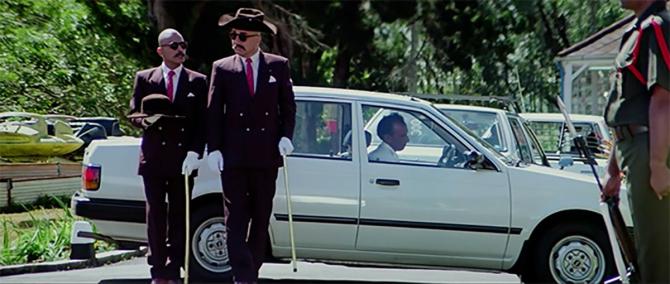 Visually modelled on Thompson and Thompson from Tintin comics, the scheming cops turned crooks Anupam Kher and Annu Kapoor are delightfully wicked as the Haryanvi-accented perpetrators, Girdhar and Arjun Singh.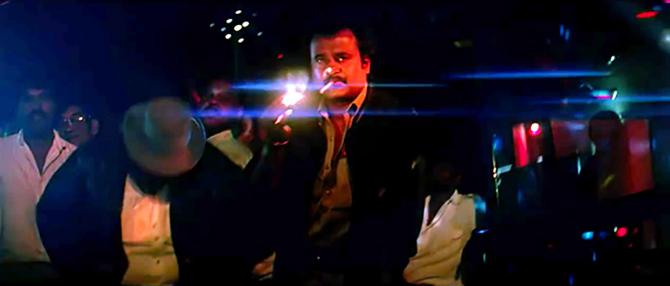 Statutory warnings aside, Rajni lighting a cigarette in this superbly shot frame is the A to Z of #SWAG.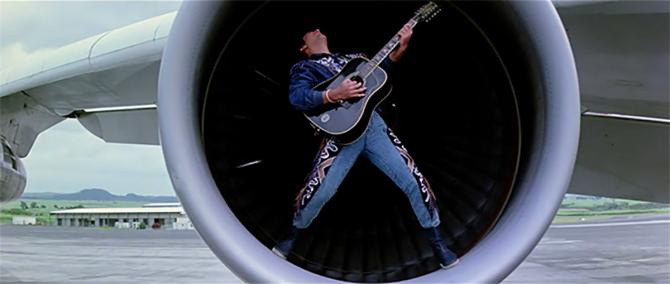 Govinda's steady supply of romance and comedy keeps Hum's easy breezy.
He may not get to flex his dramatic chops like AB but an outdoor song sequence (Sanam Mere Sanam) in Mauritius attracted ample eyeballs for its steamy contents by then standards.
I quite like this shot of the actor strumming the guitar from inside a plane's turbine.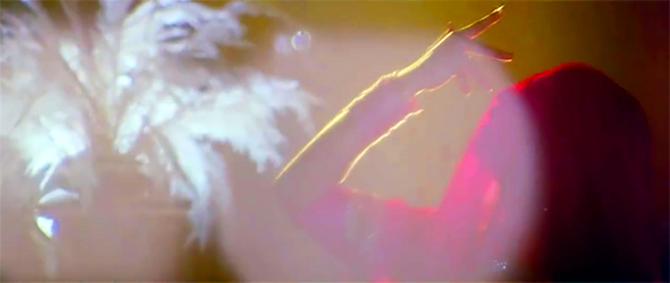 Rao zooms in on Shilpa Shirodkar right through a lamp's flame and achieves a glowing effect all across its luminous frame.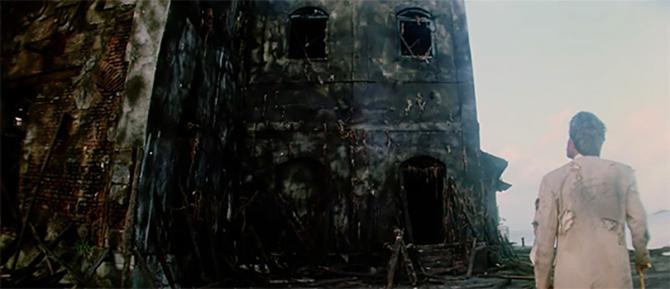 The sight of an old, overwhelmed Bhaktawar looking at the ruins of his once majestic home has a poetic, kind of Kagaz Ke Phool-like quality to it.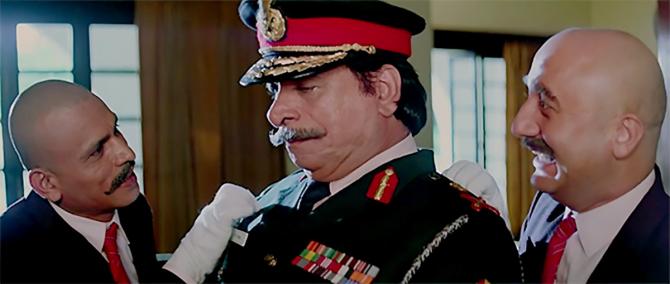 There's no way my favourite Kader Khan wouldn't make it to these pages.
The whole 'you scratch my back, I scratch yours' sentiment of this scene is both hilarious and telling.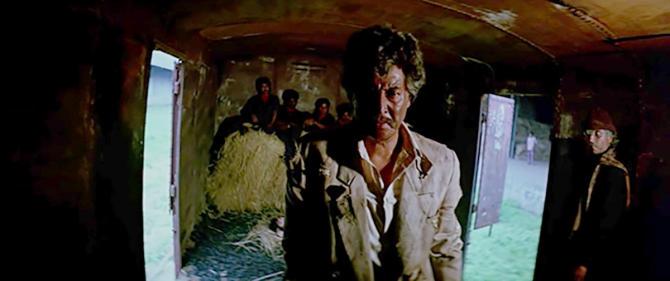 Shot inside a compartment of a moving goods train where Bakhtawar is carrying Tiger's abducted family members, the scene is eye-catching for its composition and texture.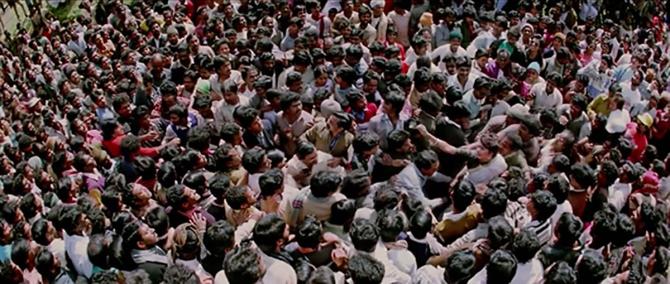 Never thought I'd cry in a Kimi Katkar scene.
But her dramatic reunion with the Big B as they swim through a crowd of thousands turns on the waterworks.
What a spectacular moment.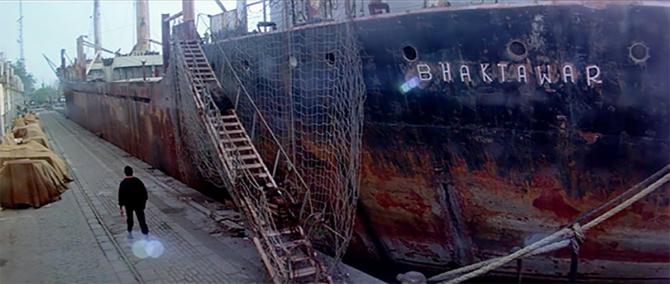 David versus Goliath is a recurring theme in Bollywood's good versus evil conflicts.
Tiger's return to Bhaktawar land is just the beginning of the end. Just look at the sheer magnitude.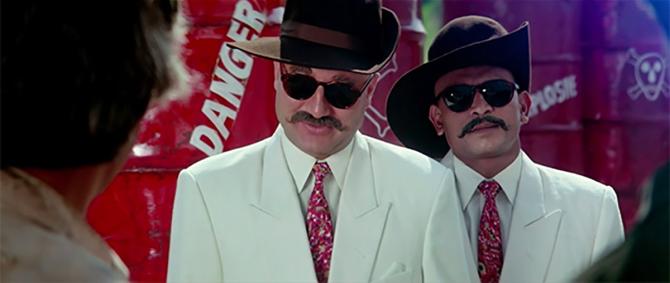 Red and white blends well.
As do Girdhar and Arjun in their love for nefarious activities that lead to many dangerous and explosive events in Hum right to its action-packed climax.
Doff a hat for these super schemers, will ya?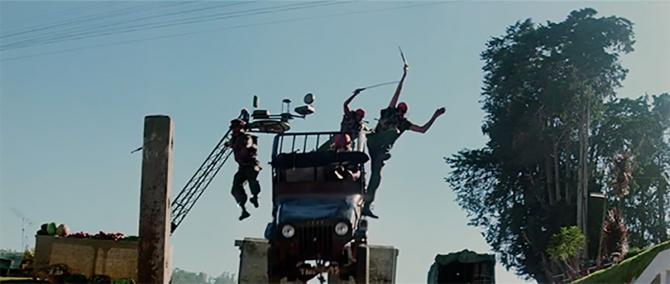 Captain Zatak (Shiva Rindani) and company make for a campy diversion to the hostilities.
And when Tiger finally slips in battle mode, to watch these punks go up in air, like literally, is stuff of cheap thrills.
Considering how phony the action looks in our movies these days, every flash of realism is appreciated.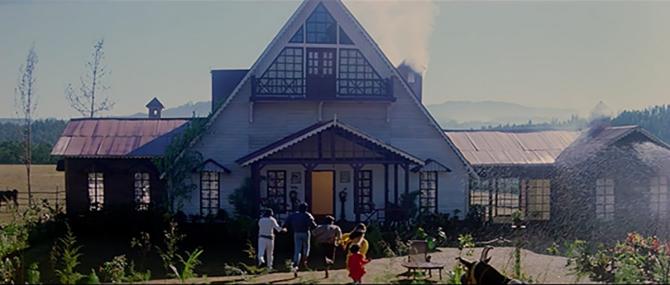 Those 'paanch ungliyan' Tiger spoke of.
The family pretty much resembles one in this happily-ever-after frame.
Feature Production: Aslam Hunani/Rediff.com