Rasheed Kidwai unearths little-known stories from the Dadasaheb Phalke awardee's past as Amitabh Bachchan celebrates 50 years in the movies this November.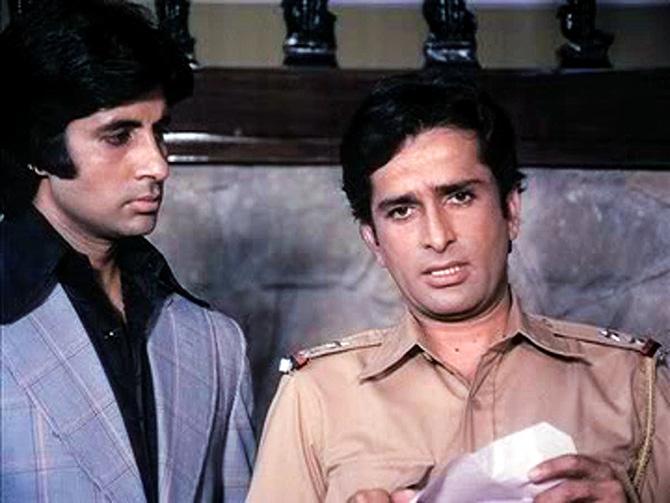 The long, fascinating and illustrious journey of mega star Amitabh Bachchan from a lanky executive of Bird & Co to a recipient of the Dadasaheb Phalke Award would not have been possible without the role played by a varied cast of characters and the active support of his younger brother Ajitabh aka Bunty.
Amitabh's entry into Hindi films was a well-orchestrated production in itself. One key person was Ajitabh who worked as an executive in the Calcutta-based shipping company, Shaw Wallace.
Ajitabh reportedly took Amitabh's pictures at Victoria Memorial, which were then sent to the Filmfare-Madhuri talent contest, but to no avail. Later, Ajitabh would relocate to Bombay, where his brother joined him.
Ajitabh, the more extroverted of the duo, was a handsome man, blessed with a subtle sense of humour and a spontaneous manner, which made him very popular in the yet unchronicled social scene of Bombay in the 1970s. His social circle included theatre personality Dolly Thakore and Parminder Premchand, one of the first women in the city to work in media.
Parminder would hold get-togethers and soirees for which she invited a circle of friends that included Ajitabh, Amitabh, Thakore and actor Vijay Crishna, the son of Indira Gandhi's private assistant Amy, a St Stephen's alumna and a friend of the Bachchan brothers.
Thakore recalled in AB the Legend: A Photographer's Tribute by Pradeep Chandra, 'Bunty used to be a regular, but Amitabh came only once or twice. What I remember was that he used to sit in a corner -- very quiet, very shy. Bunty was the handsome one, not Amitabh.'
Ajitabh, known for his sharp financial acumen, played a prominent role in shaping his famous actor-brother's career, handling the finances and taking care of investments.
The rest of the Bachchan family too made efforts to promote Amitabh. That Teji Bachchan is said to have approached Indira Gandhi in this regard is common knowledge. So is that fact that Indira who, in turn, discussed the matter with Nargis and Sunil Dutt.
Not so well known is the Bachchans's over-protectiveness about their sensitive 'Munna', as Amitabh was fondly addressed. Many believe that the aura surrounding Amitabh Bachchan, as he stood poised to enter the Hindi film industry, had something to do with his family's close friendship with the first family of Indian politics -- the Nehru-Gandhis.
However, in spite of having friends and well-wishers in high places. Amitabh's entry into films was not exactly a smooth one. His unconventional looks did not fit the image of the typical romantic hero and few took his ambition of becoming a star seriously.
When he first arrived in Bombay in 1968, he stayed in a flat on Marine Drive with the family of Neerja Shah, the founder publisher of Elle India.
Bachchan's declaration that he was in the city to become a film star had prompted the young Neerja to exclaim incredulously, 'What! You?' Neerja recounts in her article for Rediff, 'My bhaiya is a star', that years later, the actor would remind her, 'Baby, do you remember that comment of yours? Dekho kya se kya ho gaya (See how things have changed since.'
Neerja Shah was not the only one who had found Bachchan lacking in star quality. In the film industry of the late 1960s, dominated by heroes such as Rajesh Khanna, Dharmendra and the Kapoor brothers -- Shammi and Shashi -- the tall, lanky, brooding Amitabh didn't quite fit the bill.
Even then, his faith in his acting abilities and his determination to make it big -- qualities that were exploited to maximum advantage by Salim-Javed's scripts, where the main protagonist seemed tailor-made for his personality -- would eventually work in his favour.
The popular story of his initial struggle in Bombay, where he purportedly lived without a roof over his head and spent nights sleeping on a stone bench on Marine Drive, has been debunked by Shah herself. She insists that only one such isolated incident had occurred and that too, in all likelihood, because Amitabh, returning home very late at night, had found himself locked out.
Shah maintains, moreover, that far from suffering from financial constraints during his early days in Bombay, Amitabh was enjoying life to the hilt.
Amitabh and his friends -- the actor Jalal Agha, son of veteran comedian Agha, and Anwar Ali, the aspring actor's flatmate -- were apparently famous for their mehfils and revelry that would go on well into the night and often leave the group roaring drunk.
At that time, Amitabh was also close to Anwar's brother, comedy legend Mehmood and their sister Zubaida. In this connection, the comedian's biographer Hanif Zaveri has an amusing anecdote to share.
In Mehmood: A Man of Many Moods, Zaveri writes, 'Just before the release of Bombay to Goa, Amitabh had brought a very fair young friend of his to Mumbai. The friend had accompanied him from Delhi for some work in Mumbai. Amitabh had brought his friend to Anwar's house where Mehmood was on a high after taking Calmpose tablets, a drug Mehmood had become addicted to.'
'Anwar introduced the young man to Mehmood, but, in his state, he was unable to understand what was said. Mehmood took Rs 5,000 and handed it to Anwar to give to Amitabh's friend. A puzzled Anwar asked Mehmood what the money was for. Mehmood said the young fellow was fairer and smarter than Amitabh. He would become an international star. The money was the signing amount for taking the young man on (In) Mehmood's next project.'
The 'fair' friend from Delhi turned out to be none other than Rajiv Gandhi.
Amitabh was very different from the stars of the time, such as the Anand brothers -- Dev, Chetan and Vijay -- who had all survived the turmoil of Partition as they made their way to Bombay, or the strugglers, such as Dharmendra and Jeetendra, who had entered the film industry from modest backgrounds.
His privileged background and powerful connections, along with his chiselled features inherited from his mother Teji, and Harivansh Rai Bachchan's reputation as one of the country's leading poets and Rajya Sabha legislator, wove a special allure around the young man who would, one day, rule Bollywood.
During his vacations from school at Sherwood College in Nainital, Amitabh would be a frequent visitor to the Nehru home, the prime ministerial residence at Teen Murti Bhavan in Delhi.
Tracing the ties between the Nehrus and the Bachchans, the actor told Khalid Mohamed: 'Rajiv and Sanjay studied in Doon School, Ajitabh and I were in Nainital. But our holidays fell around the same months. We'd hang out and swim every day (in) the pool of Rashtrapati Bhavan.'
'After schooling, Rajiv went off to Cambridge. Whenever he would be back home, we'd get together and exchange notes. When he started flying, I'd go with him to provide ballast at the Flying Club of Delhi. I'd glide there for hours...'
Amitabh's first break in Bollywood was in K A Abbas's Saat Hindustani, based on the liberation of Goa. Abbas was considered close to Indira, the then prime minister, and there were whispers that she had put in a word for the struggling actor. But Abbas stoutly denied having acted at Indira's behest.
When he met Amitabh and Ajitabh, Abbas said he quietly sent a telegram to Harivanshrai Bachchan with whom he had a good rapport, to check if the poet had no objection to it. Once Harivansh's clearance came by cable, there was no looking back for Amitabh.