In her just-above-a-decade-long career, says Sukanya Verma, the 32 year old has worked in a wide range of movies that reflect a free spirit, a fangirl, a feminist and (occasionally) a fool.
When Sonam Kapoor entered showbiz, there was a fair amount of excitement to see how good an impression would Anil Kapoor's attractive daughter make on the silver screen.
It wasn't an instant home run, far from it.
Her acting debut, Saawariya, was a box-office disaster and received embarrassingly poor reviews. Still, many people had favourable things to say about Sonam and her luminous screen presence.
For the longest time though, her famous foot-in-the-mouth syndrome and fashionista tag hogged all the limelight.
It had its advantages too. Sonam's star power grew on the strength of her individuality where she was lauded for participating in her own mocking as well as hailed for empowering style in a way no movie star ever had.
Just when the off-screen rumpus appeared to overshadow the promise Sonam showed in her early movies came a meaty role in Raanjhanaa. Its success followed by a National Award-receiving turn in Neerja compelled everyone to see the stunner in a new light.
In her just-above-a-decade-long career, the 32 year old has worked in a wide range of movies that reflect a free spirit, a fangirl, a feminist and (occasionally) a fool.
Irrespective of how one feels about her work, one has to acknowledge that here's a woman who follows her heart.
In Veere Di Wedding, Sonam's first release after her marriage, the actress plays a girl who wears her heart on her sleeve.
Her 10 most significant roles so far:
1. Saawariya (2007)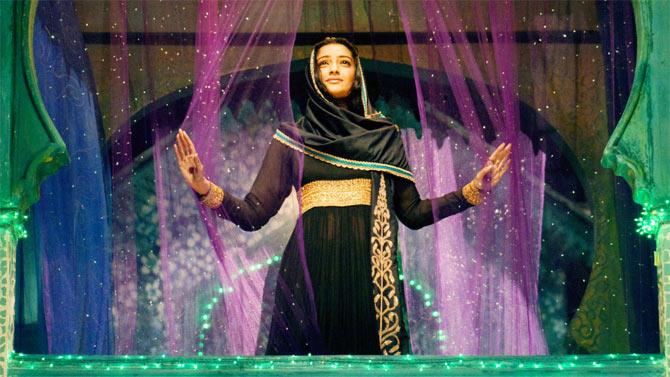 Apart from its extreme indulgences, Sanjay Leela Bhansali's ode to unrequited romance is a strange, strange film. But there's something moving in how its raw leads blindly submit to their director's eccentric vision.
Sonam's ethereal looks and confusing hesitation perfectly complement Ranbir Kapoor's exuberance in a love story marred by affectations.
2. Delhi 6 (2009)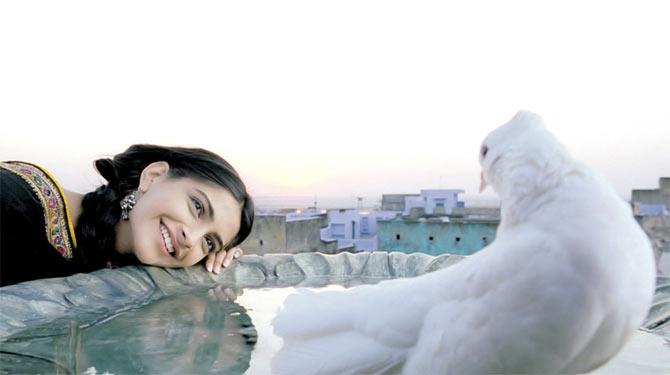 Delhi 6's disappointing show didn't affect Sonam one bit. Or should we say Bittu?
She's at once spontaneous, sensitive and spunky as the single-minded Chandni Chowk resident harbouring Indian Idol dreams. Few people can look this good with a pigeon perched above their head.
Though never the focus of Rakyesh Omprakash Mehra's uneven slice of Old Delhi's iconic neighbourhood, she's certainly its life.
3. I Hate Luv Storys (2010)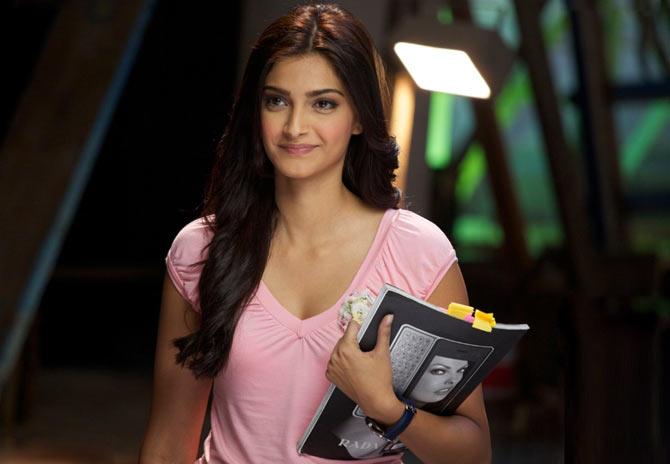 The lightweight confection from Dharma is standard date flick that benefits from its fresh-faced leads and their easy-going chemistry.
Sonam plays out a textbook romantic and her low stakes romance life with an unassuming, everyday girl vibe that goes well with the rom-com's modest ambitions.
4. Aisha (2010)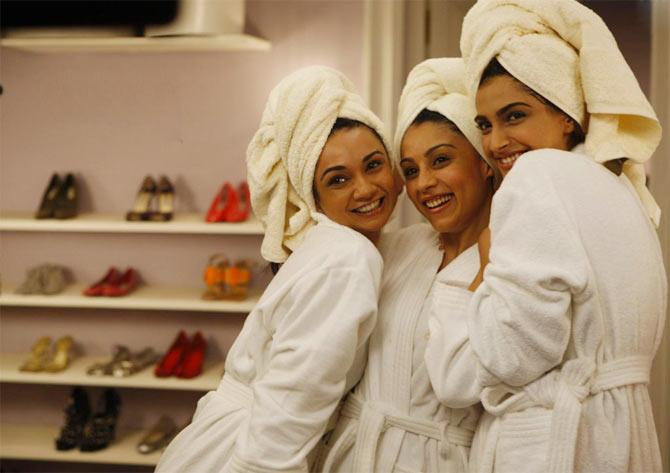 Sonam's inherent poor-little-rich-girl quality is tailor-made for the meddlesome cupid of Jane Austen's Emma.
And while that chic wardrobe she flaunts in every scene is every fashion lover's dream come true, there's something wanting about the adaptation that reduces a silly but well-meaning character into a shallow airhead.
5. Mausam (2011)
Two people meet, fall in love and then keep losing each other until the audience has lost all their patience in Pankaj Kapur's directorial debut. Mausam is a bonafide snooze fest.
But Sonam is not to blame.
If anything, her old world charm and understated gloom in pretty clothes and prettier locations are one of the few saving graces of this mess.
6. Raanjhanaa (2013)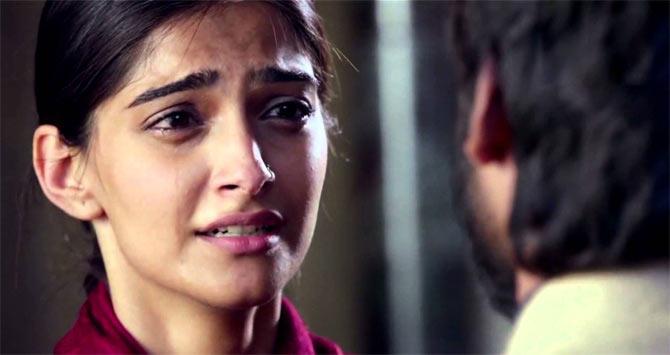 Aanand L Rai's volatile story about convoluted relationships introduced the Hindi-speaking audience to the magic of Dhanush, reiterated A R Rahman's reputation as a virtuoso and revealed Sonam's potential to shine in insidious parts.
Her Zoya graduates from a giddy schoolgirl to fiery college activist and Sonam essays her character's growing intensity and grey zone with ample passion.
7. Khoobsurat (2014)
Sonam's kitschy aesthetics and goofball physiotherapist in the Disneyfied take of Hrishikesh Mukherji's Khubsoorat does everything to be looked upon as a shrill misfit by a bunch of stiff, uppity royals.
That she's utterly convincing in this caricature of a remake is a both a compliment and criticism.
8. Neerja (2016)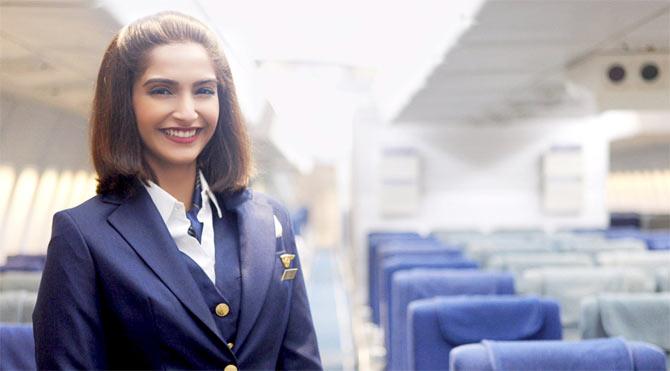 Easily the highlight of her career, Sonam's moving portrayal of a real-life air-hostess and the courage she demonstrated during the 1986 hijack of Pan Am flight 73 in Karachi allows us to feel the significance of a young life lost.
Besides wowing critics and viewers, Sonam won a Special Mention at the National Awards, an honour she collected with her father and future husband in tow.
9 Dolly Ki Doli (2015)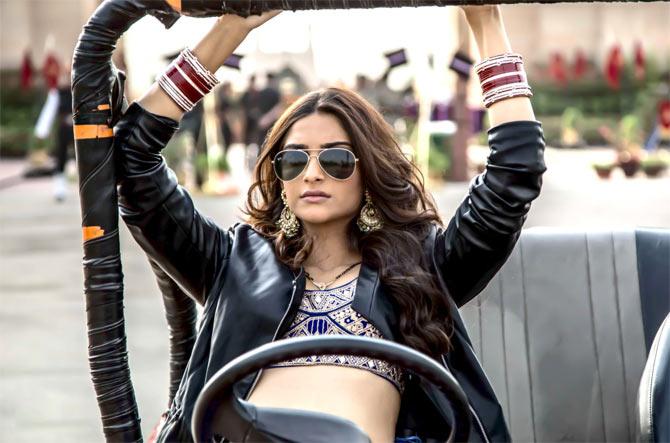 Sonam has a ball dolling up in glitzy bridal avatars, fluttering eyelashes at the men she plans to swindle as the serial con bride of Abhishek Dogra's caper.
Her character's unapologetic tone and the comfort level Sonam shares with a talented ensemble of actors, including Rajkummar Rao, gives Dolly Ki Doli its fun edge.
10 Padman (2018)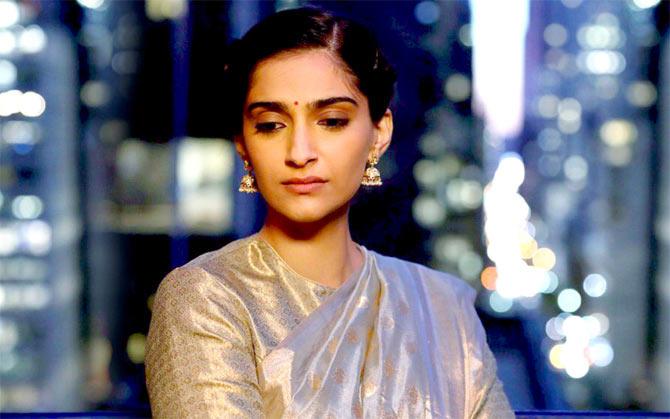 Sonam appears midway in Padman to take forward the story of a villager dedicated to the cause of women's sanitary health.
Despite her awkward placement as the most contrived subplot of the narrative, Sonam renders her city slick humanitarian with an ease and affability that works even when the film does not.