Things get better as the series proceeds, notes Joginder Tuteja.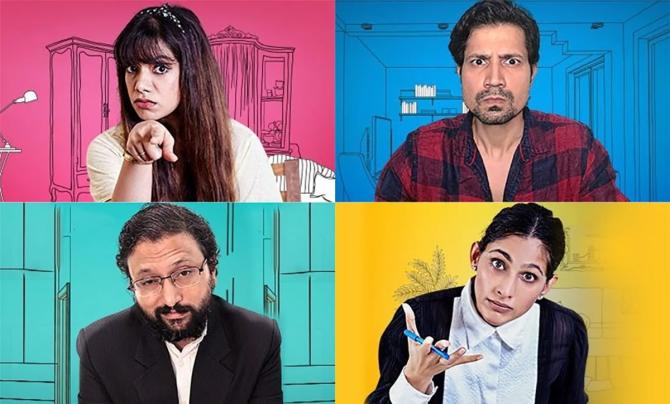 Streaming on Amazon Prime, Wakaalat From Home's USP is that it has been shot during the pandemic and that too over a Zoom call set up.
This comedy is about four people who confront each other during an online divorce proceeding.
Sumeet Vyas hires lawyer Kubbra Sait to defend him during a divorce proceeding with his wife Nidhi Singh who has Gopal Datt fighting it out on her behalf.
They all get into a Zoom conference over a period of 10 sittings that lasts for 10 to 15 minutes each.
It takes time to get the tone of this original Web series that has been streamed without any fanfare.
Rohan Sippy calls the shots as director and joint creator along with Anuvab Pal. These are credible names involved, but it looks like a controlled budget was the mantra right through the making to the production to the marketing as well as promotion.
As a result, right through the mini series, you experience this as a chat that you are possibly having on your personal computer and just zooming it up on your television screen.
When there is an offering in a completely conversational mode, it needs to be really engaging.
In the case of Wakaalat From Home, what you get to see is a mixed bag.
Though a couple of episodes at the beginning aren't much to talk about, things get better as the series proceeds.
Then too, the jokes come and go, but never quite make you fall off the couch.
There are smiles, chuckles, and occasional full throated laughter as well. However, things never turn hysterically hilarious for more than a minute at a stretch as there isn't much of a follow through.
What catches your attention is the sneak peak into the lives of each character.
Sumeet is a struggling actor cum bookie.
Nidhi is a journalist, though a bit naive.
Kubbra has an oversexed husband at home while Gopal loves his prawns.
The filmy references sound relatable and funny, especially the ones around Kamal Haasan, Ranveer Singh and Neena Gupta.
What you miss is continued fun, laughter and entertainment that could have made this an even more engaging show.
That said, for an experiment that Wakaalat From Home is, and the fact that it does have its intent in the right place with something to offer the audience, this one can be given a lazy weekend watch.