'No amount of Sivamani's finger-snapping music can shake off the bechara burden Lydian Nadhaswaram's real-life piano prodigy is forced to carry,' notes Sukanya Verma.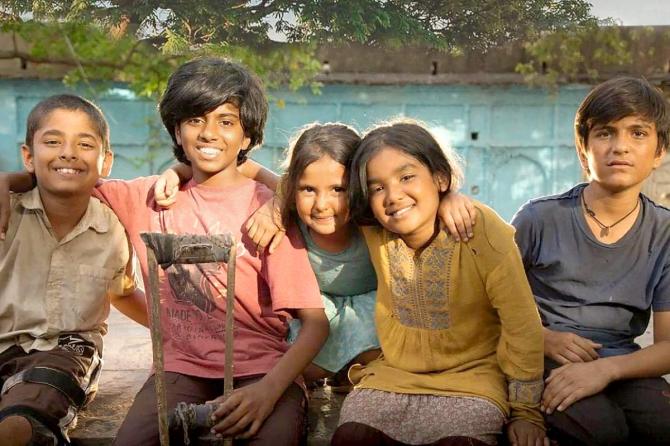 A talented kid with absolutely no means triumphing against all odds to make his place in the world, sounds familiar?
Director Shiv Hare's Atkan Chatkan is earnest, but plays out like every other underdog story you've ever known.
Presented by A R Rahman with a soundtrack provided by percussionist Sivamani, there's much credibility associated with its worn-out rags-to-riches story, but the lacklustre treatment and dated storytelling do little to keep the viewer invested let alone cheer for its dark horse hero.
News snippets scattering the opening credits already establish the successful outcome of Guddu's (Lydian Nadhaswaram) fate, which becomes the focus of a flashback after his adult self receives a novel dedicated to him and his hardships.
Somewhere in small town Uttar Pradesh, Guddu does all kinds of odd jobs to take care of his home and younger sister even as his alcoholic father loafs about and mother is mysteriously missing.
A good half of the melodrama is dedicated to chronicling his travails and humiliation while working at a tea stall and, later a junk seller, trying hard to convince a local orchestra to have him on board.
Everybody treats the boy shabbily and are blind to his infectious rhythm and boyish energy.
It's only after he befriends a troika of derelicts -- a physically challenged boy and a pair of precocious siblings to form a band of musicians who make music out of odds and ends -- that things begin to look up.
Soon enough, a music school's principal catches a glimpse of their unusual talent and senses an opportunity for his institute to win a competition on an inter-state level.
In order to train them, he ropes in a good-natured teacher in dire need of a job.
Most of these episodes happen over music video-like sequences rendering little depth to their interactions or camaraderie.
Although the story is set in NorthIndia, it wears the air of a dubbed South Indian film owing to its cast's obvious awkwardness in the language.
Instead of utilising Guddu's natural energy, the camera focuses on portraying him a relentlessly pitiable light.
No amount of Sivamani's finger-snapping music can shake off the bechara burden Lydian Nadhaswaram's real-life piano prodigy is forced to carry.
He has a confident presence, but Atkan Chatkan is too busy being predictable to explore the possibilities.
Instead, it adds a bunch of rich brats at school to play spoilsport, leading to a climax where somehow every single cast member shows up miraculously enough to witness the talent they had previously shunned or not taken seriously.
The kids are alright, but the music lacks zing.
Amitabh Bachchan's famous baritone pops up to pitch in a bhajan for a scene that wouldn't feel so out of place in the 1980s. Perhaps nor would Atkan Chatkan.
Atkan Chatkan streams on Zee 5.
Rediff Rating: