Vakeel Saab is an out-and-out Pawan Kalyan show, where he makes his point sometimes with a pen and at times with a punch, observes Joginder Tuteja.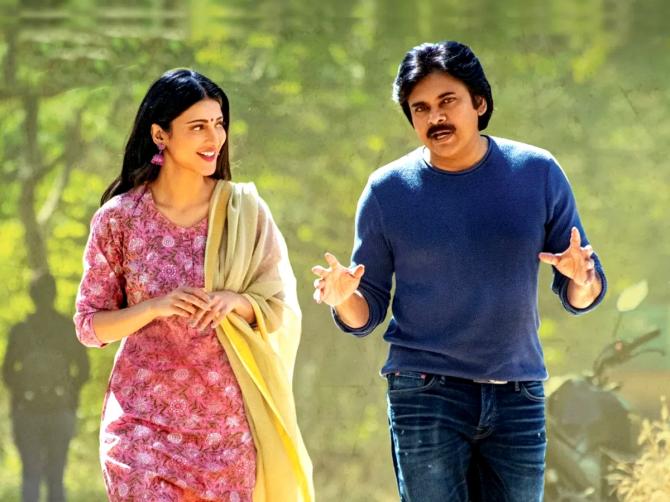 For two days in a row, there were two unusual movie releases. Unusual, in the sense that they had to live up to the expectations raised by similar offerings that had released earlier.
If The Big Bull came close on the heels of Scam 1992: The Harshad Mehta Story, Vakeel Saab is an official remake of the Amitabh Bachchan-Tapsee Pannu starrer PINK, which released a few years ago.
Vakeel Saab enhances the film's masala quotient and has a strong political overtone. Is that lead star's Pawan Kalyan's touch in the Venu Sriram-directed film?
In a clever enhancement of the character's profile, Pawan Kalyan calls a mass movement.
'Let's fight together,' is his roar, even as the staple villains of Telugu cinema -- played by Bollywood exports Mukesh Rishi and Sayaji Shinde -- enter the scene.
That's the beauty of masala offerings from Telugu cinema; they can give a massy treatment to just about everything even though -- like in the original -- the plot revolves around three young women (Nivetha Thomas, Anjali and Ananya Nagalla) who are molested by three power-rich youngsters, only to be branded as prostitutes by defence lawyer Prakash Raj.
Enter Pawan Kalyan who combines the spirit of Amitabh Bachchan in PINK with Damini's Sunny Deol, only to challenge the inner Amrish Puri in Prakash Raj. He even comes close to giving him a dose of his 'dhai kilo ka haath'.
Unlike Shoojit Sircar (PINK's creative producer), who kept the film sombre and intense, Vakeel Saab's Producer Boney Kapoor capitalises on Pawan Kalyan's stardom to reach out to a wider audience by making the film racy, volatile and loud.
The good thing is that, despite all the loudness, the core message is not affected.
A woman may dress as she wills, go out when and where she wishes, befriend a guy if she wants. That does not mean she is of questionable character, something Pawan Kalyan details well on screen, sometimes through aggression and at times with sheer helplessness, as he rails away in front of a judge who only seems to awaken when he has to threaten someone with contempt of court.
In the midst of this, the makers find time to tack on a backstory (Shruti Haasan. in a special appearance), upliftment of the downtrodden (farmers, urbanisation, land grabbing, the works) and the double standard approach of the rich and the cultured.
At times these elements work, at times they don't.
However, when Pawan Kalyan beats the pulp out of the villain in a well-crafted action sequence set in the court's dingy washroom, you know the target audience will be all whistles and claps.
The target audience -- that's for whom Vakeel Saab has been designed.
As a result, even though the ladies here don't get to shine the way their Bollywood counterparts did PINK, Vakeel Saab works quite well from the commercial point of view.
It's an out-and-out Pawan Kalyan show, where he makes his point sometimes with a pen and at times with a punch.
Rediff Rating: