Abhishek Bachchan's sneering expression is ill-quipped to convey the confidence of a wheeler-dealer. Those frequent bouts of muahaha make it worse. So much worse, says Sukanya Verma.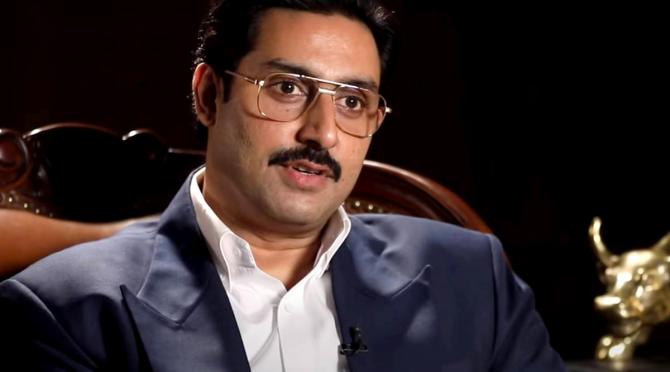 'I am and will always be the only Big Bull,' announces Hemant Shah at a so-called dramatic juncture in The Big Bull.
It's one of the phoniest moments of an excruciatingly unconvincing film that's eager to capitalise on stockbroker Harshad Mehta's story of success and scam but too gutless to acknowledge his reality.
Like its shaky disclaimer tells us, The Big Bull is 'somewhat' based on true events, but mostly a fictional account bearing coincidental resemblance to any person dead or alive.
Coming close on the heels of Hansal Mehta's critically acclaimed, extensively researched, meticulously told web series centred around the same subject, which confidently took names and acquainted us with the talent of Pratik Gandhi, The Big Bull invites unavoidable and unfortunate comparisons to Scam 1992.
Let me just say it then.
Writer and director Kookie Gulati's version does not hold a candle to the ingenuity and smarts of Scam.
Having recently binged on a whistleblower account of the hierarchy within the finance world, the inner workings of the Indian share market and the curious loopholes in the banking system that enables dodgy methods of investment and profit, it's agonising to sit through a pseudo biopic's jumbled chronology that only toots its own horn and offers zero insight or accountability.
It's merely interested in getting us to applaud for Hemant Shah (Abhishek A Bachchan), a cunning common man who it believes changed the fortunes of a complacent country by hook and crook.
'Maybe we needed a crime like this,' justifies a journalist (Ileana D'Cruz) whose understanding of her profession is limited to parading an empty notepad and pen.
'I'm not the problem, the political system is,' shrugs Shah and absolves himself.
'He has more money than God,' brags his younger brother (Sohum Shah).
It is one thing to feel sympathetic for the guilty. But to deny any wrongdoing and turn champions out of smug, corrupt high-flyers is overselling it. What is a cautionary tale of greed is reduced to a chest-thumping declaration of dishonest ambition.
Bachchan essays a go-getter in a mad rush to become rich in a feebly written script that's equally impatient to fast-forward his ascent from sub-broker to trader to the 'Amitabh Bachchan of share market', wherein he sneaks out funds from leading banks using fraudulent means.
If Scam 1992 played up its Bachchan Senior influences to boost its retro-flavoured drama, Bachchan Junior's journey emulates his Guru trajectory sans any spirit or sentiment.
Much of the plot involves Shah visiting folks and selling his talent for 'one two ka four' or bursting into a monstrous laugh after mouthing lines like 'Calculators pe ab zero fit nahi ho rahe hain' or fulfilling an obligatory romance between him and his future wife (Nikita Dutta).
Flaccidly unfolding and cursory in its manner, The Big Bull never gives us any glimpse into Shah's mind, business or home. Except for the endless fly-and-fall analogies highlighting his sky-high ambitions, we never discover the source of his vulnerability or aggression.
It's the same for the one-note characters surrounding him -- actors like Supriya Pathak and Sohum Shah are squandered in roles that require no skill whereas Ileana has to bear the brunt of embarrassingly written scenes.
Abhishek's sneering expression is ill -quipped to convey the confidence of a wheeler-dealer. Those frequent bouts of muahaha make it worse. So much worse.
And yet, 'He was and always will be -- the only Big Bull,' a voice reiterates.
Now that's sheer bull.
The Big Bull streams on Disney Hotstar.
Rediff Rating: