'This is a solid, terse film that makes its points in mainstream fashion with an appropriate lack of subtlety.'
'Pink is a barnstormer -- and it doesn't pull its punches,' says Raja Sen.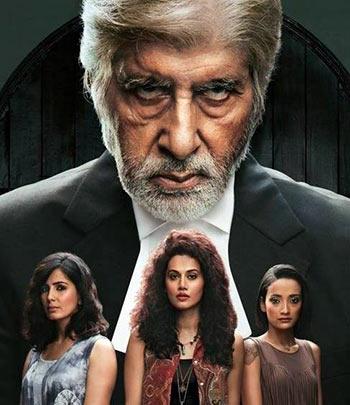 An old man stares ferociously at a girl in the park.
The girl -- white Apple earbuds in place, out on a jog, sweaty and out of breath as she does her stretches -- stares back, unblinking. She looks wary of the stare but not afraid of it.
It is an uncomfortable moment with the starer boring a hole with his eyes and the girl confronting it confidently with her own, and, coming as it does rather early in Pink, I began to wonder about a possible connection, a relationship, an estrangement. It is because the girl appears to know the stare so well.
As the movie rolled on and it became clear there was no connection between the two at the time, I realised the reason she knew the stare is because all girls do.
All girls. Pink, directed by Aniruddha Roy Chowdhury, isn't about heroines or crusaders or activisty girls who know how to generate social media buzz. It is, simply and effectively, a film about girls and the brush with which they are often painted in this country.
Three girls go to a rock concert on the outskirts of Delhi -- the de facto badlands in current Hindi cinema -- and find themselves in a situation with three boys. We aren't shown what happened. The film adroitly opens on a black screen with the voices of a pleasant situation in the background -- a male voice protests the very idea of a last drink, and so on -- before things go awry.
We see the girls run home and the boys run to hospital. One of them has been struck and could lose an eye. The girls are nervous, skittish, fearing for their lives and, tellingly, apologetic about the incident. The fear is real on both sides.
Flatmates housed in a quieter Delhi suburb, the girls close the blinds and conversation between them is highly stilted, till the three declare it time to smile and attempt to tickle themselves into normalcy. But normalcy, as we see, isn't as easily amused.
The film is remarkably well-cast. Taapsee Pannu is Meenal, the one who seems to have impulsively caused it all and keeps blubbering sorry. Kirti Kulhari is Falak, the reasonable, mature one who wants to avoid trouble at all cost. Andrea Tariang is Andrea, a sweet girl frequently and realistically described as 'North-Eastern,' as if that is all that counts.
There is nothing unusual or exaggerated in these girls or the bond they share, and as the opposing lawyer (played by an arch Piyush Mishra) continues to brand them 'women of low character,' you see them crumble, not rise. It's devastating.
The reason it hits so hard is because the film is made with a fair bit of restraint, and all the detailing appears free of gimmickry. The old man goes for his morning constitutional at pranayam-o'clock, a persecuted prisoner crouches behind a policeman's desk like a personal stress-toy, an academic admits he "can either be truthful or be liberal," and politically powerful men sit in court and grumble helplessly instead of cinematically throwing their weight around.
The first half of the film -- steadfast in its refusal to either show the incident or even let us hear an account -- is built on silences, on unmet gazes, on leaving it all between the lines.
Pink puts the girls -- and, by extension, the audience -- through the wringer. There is nothing pleasant about the way we see them broken down by the patriarchy, threatened by a lout who wasn't even there at the rock show, but, desperate to prove his ballsiness, wants to take charge to terrorise and punish the girls. How dare they.
This is when the old man steps up. Amitabh Bachchan, a retired lawyer suffering from bipolar disorder, takes up cudgels on behalf of the girls, delivering courtroom blows with pugilistic grace.
Like we know from Prakash Mehra movies, into each life some Bachchan must fall. The girls hang on to him with incredulous desperation, and he bats for them with all he has. At one point Meenal hangs by Bachchan's elbow, words entirely unnecessary.
Bachchan towers through Pink -- the way he bellows "et cetera" is alone worth having the heavy-hitter at play -- but there are softer moments like one where he appears to have dozed off in court, or where he lays his head by his convalescent wife's bedside and needs his hair ruffled and his conviction validated.
It is a role that goes from saying nothing to talking too much, and that gear-shift is managed impressively by the actor, even though the film dismisses his mental condition quite conveniently as it goes on.
Other hiccups include Pannu's freshly painted collarbone tattoo that gleams wetly throughout the proceedings even as the boy's injuries fade away, and Bachchan's law library made up of books with comically unlabelled spines, yet these -- like the poorly chosen name of the film -- are but niggles.
This is a solid, terse film that makes its points in mainstream fashion with an appropriate lack of subtlety. Pink is a barnstormer -- and it doesn't pull its punches.
All three girls, as said, are excellent. Pannu has the film on her shoulders and she is consistently, impressively credible, Kulhari is marvellous especially when -- belatedly exploding -- she shockingly changes the 'what if' question to a 'so what if' argument, and Tariang doesn't hit a false note and grounds the film in both reality and vulnerability.
Angad Bedi is spot-on as the entitled, injured scoundrel, and Vijay Varma is scene-stealingly brilliant at expressing the casually misogynistic ruthlessness we now tragically but inevitably associate with the Delhi mindset. Vinod Nagpal is, as always, terrific as a trembling but brave landlord, and Sudhanva Deshpande makes her Haryanvi cop memorable.
The entire film is hard to shake off, and Chowdhury must be applauded for his creative choices. At one point an objection is made and Bachchan -- not unlike many of us -- accepts it by saying "fair enough," instead of taking it head on.
When was the last time you saw a reasonable lawyer? But after scaring the bejeezus out of us -- out of even Meenal, who doesn't realise or remember just how far from sorry she should be -- the film abandons realism and reaches out for hope.
Pink eventually goes from a nightmare to a film of wish-fulfilment, because not just do we have Bachchan as a stupefyingly articulate orator scolding witnesses with panache -- "I object... to this awkward performance. He is overacting" -- but we have Dhritiman Chatterjee playing a judge who understands rhetoric.
If that entire courtroom drama feels too good to be true, that's because, soberingly enough, it is. Amitabh Bachchan isn't around to stand by our women. We should be.
Rediff Rating: