Khandaani Shafakhana neither enlightens nor entertains, feels Sukanya Verma.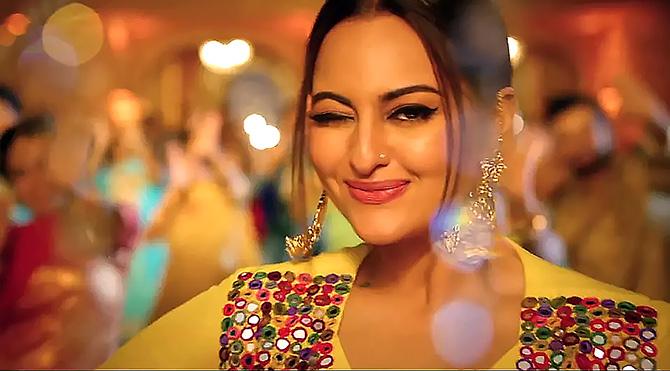 What sounds like a heavy-duty title of a Muslim social could well be called Let's Talk About Sex, Baby.
Khandaani Shafakhana's aspiration to bring sex out in the open through its protagonist Baby Bedi's efforts at running a sex clinic in a prudish small town is all very noble.
But director Shilpi Dasgupta's flimsy storytelling and comic timing of a subject, in the same space as Vicky Donor and Shubh Mangal Savdhan, neither enlightens nor entertains.
Though it gets the milieu down pat, Khandaani Shafakhana is so spectacularly conscious of what it is about that it forgets what it needs to be.
Nearly half of its running time is spent feeling awkward about the elephant in the room or what it wants to address.
Even that would be quite hilarious had writer Gautam Mehra got his zingers in place and wasn't simply relying on his actors' comfort in comedy (Annu Kapoor, Rajesh Sharma, Varun Sharma) to auto-translate into comedy by itself.
Between visual gags -- bottle of sperm cutting to a dollop of ghee splashed on a paratha and broken English innuendoes 'make dry wet' and a farcical courtroom third act, Khandaani Shafakhana can never find its groove.
It all begins after Baby Bedi (Sonakshi Sinha), a medical representative in a pharmaceutical company and the sole breadwinner of her family, inherits her uncle's sex clinic after his sudden demise.
Just like the beneficiaries of Maalamaal and The Bachelor before her, Baby must fulfil a strange condition before she can avail this Godsent will.
Basically, said uncle, a hakim and expert of Unani medicine (Kulbhushan Kharbanda) -- previously fired by a prissy medical institute for advertising his cures for sexual ailments -- has instructed her to run the clinic for six months until she can sell it off. If unable to do so, the clinic will become the aforementioned institute's property.
Once Khandaani Shafakhana has crossed all limits of benefit-of-doubt, the extent of its contrivance and hollow virtue hit hard and irreversibly.
Forget tears, Baby has no reaction on learning about her uncle's death. It's like they're not even related.
Almost as an afterthought to convince us otherwise, Dasgupta tosses in a couple of half-hearted flashbacks from her childhood to suggest Baby's attachment to the man and why she might want to follow his footsteps.
Let's not even get into the irresponsible rationale fuelling its 'chosen one' ardour that treats an unqualified practitioner like some inborn healer, randomly developing a gift for diagnosing an individual's medical disorder by looking at their face, a la Juliette Binoche's chocolatier in Chocolat.
A similarly scowling, stuffy saviour of social mores like Alfred Molina's stops Baby from making headway.
Here also, Khandaani Shafakhana shows its inadequacy by embracing the same tone of discrimination it pretends to overcome.
Funny how Baby encourages people to conquer their discomfort over certain ailments but is quick to embarrass another by using his medical problem as an insult. (Hey Ayushmann Khurrana, how about a movie on the stigma of piles next?)
In another show of the film's two-faced disposition, Baby's slacker brother (a predictably droll Varun Sharma) cracks a homophobic joke only to retract it with token 'wokeness.'
And because it all happens at a snail's pace, Khandaani Shafakhana's flaws appear all the more glaring, especially its tendency to build on multiple sub-plots and offer little to no takeaway. Like the one involving Baby's mum (Nadira Babbar, a master of Mrs Bennet mode) put off by her liberal ideals but turning a blind eye to her humiliation by one daughter's in-laws and only son's good-for-nothingness.
Or when life throws a lemonade maker (Priyansh Jore) at Baby.
Or a star rapper's (Badshah) not so larger-than-life reality followed by a bizarre change of heart.
Hard to say if Badshah's showy presence provides intended or unintentional chuckles but any day vague comic relief over Sonakshi Sinha's excessive frowning in a role that's crying for the wit and wonderment of the 1990s Juhi Chawla.
With so many maladies plaguing the movie, it's too bad there's nothing like a scriptwriting Shafakhana.
Rediff Rating: