Tigmanshu Dhulia's earthy touches, perverse humour and queasy depiction of the upscale and underbelly revels in pulpy and devious twists, notes Sukanya Verma.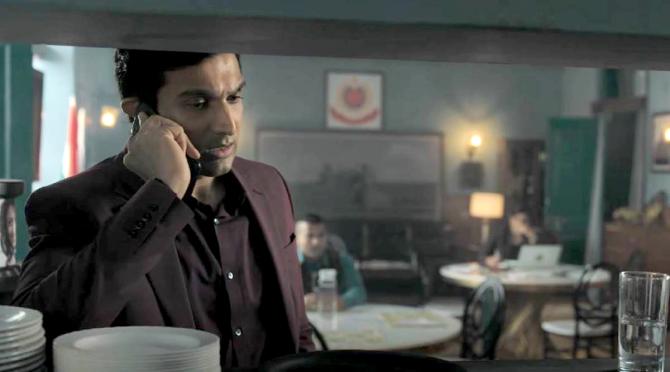 Be its culture or chaos, India's distinction in excesses packs in an overwhelming dose of action that is milked to full in diplomat turned best-selling author Vikas Swarup's Six Suspects, adapted in a fittingly ambitious spirit by film-maker Tigmanshu Dhulia as The Great Indian Murder.
Often though, Dhulia and co-writers Vijay Maurya and Puneet Sharma tweak, skip and depart from the Slumdog Millionaire author's unwieldy original to paint a profuse, profane and appalling picture of crime, class, corruption, politics and power play traveling from Andaman to Chhatisgarh and teeming with characters marked by depravity.
Bleak depictions of a discriminating system and corroding humanity are a fairly common theme on the OTT circuit but in place of a brooding central figure, Dhulia's nine-part Web series, streaming on Disney Hotstar, dishes out an elaborate spread of shady entities tied to a crime scene.
A man has died. And not a nice one at that.
Those suspected of bumping him off aren't exactly in the clean.
Those investigating the matter are equally questionable.
Smug in its cynicism, The Great Indian Murder greatly benefits from the degree of comparison Dhulia lends to in characterisation telling the bad from the worse and the worse from the worst.
Although the show is bloated in several places, bites more than it can chew, leaves loose ends galore, throws in the clichéd retro Bollywood music trope into narrative and uses expletives like punctuation marks, the sheer vastness of its goals makes it sufficiently intriguing even when the stakes don't seem particularly high.
Adopting the classic Rashomon approach, The Great Indian Murder chronicles the same sequence of events through different eyes and experiences even as the investigation gets under way.
It all begins when wealthy womaniser Vicky Rai (Jatin Goswami) throws a bash celebrating his acquittal at his fancy Delhi farmhouse attended by family, friends, foes, associates and quite a few gate-crashers.
Just as the entitled son of a power-mongering Home Minister (Ashutosh Rana) wraps up his speech amidst a sky full of fireworks, he is shot to death.
A slum-dwelling thief (Shashank Arora) wanting out, a tribal from Andaman (Mani PR) looking for a stolen ancient idol and a former chief secretary (Raghuvir Yadav) prone to behave like Mahatma Gandhi out of the blue come into the eye of the storm after a gun is found in their possession at the party.
At the same time, hungry-to-retaliate actress (Paoli Dam) whom Vicky body-shamed and physically assaulted some years earlier, a step-sister he raped in her teens (Rucha Inamdar) and a politically-driven father (Rana) who tattooed a misspelt apology on his back during childhood may or may not be behind his murder.
While top cop (Richa Chadha) and her smart alec assistant (Guneet Singh) are at the helm of the high-profile case led by an inscrutable CBI officer (Pratik Gandhi), a snoopy journalist (Amey Wagh) and a mysterious blogger sporting a tacky mask and distorted voice report their sinister findings to the common man.
There's a welfare officer (Sharib Hashmi) from Andaman whose efforts to help the fella from Andaman conceal his own personal agenda.
Its abundant primary players and their individual plot points are themselves a lot to process, but The Great Indian Murder finds time and space to accommodate numerous secondary and peripheral characters too.
Be it the warring chief ministers, the bodyguards with shifting loyalties, the blackmailing driver, the Bhopal gas victim turned activist, the sell-out news editor, the kidnapper with long hair, the girl who strips then shoots, the Rajasthani woman whose cleavage gets unwarranted attention, the comatose significant other of a cop, the hacker, the mistress, the strange lady in the bathtub, the businessman whose son is held for ransom, the son whose birthday party becomes the venue for breakthrough or the IPS officer following his instincts... the list is endless.
As are the multiple mini stories explained in detail or vaguely, both far-fetched and relevant in equal measure.
One can only imagine the copious amount of writing gone in merely classifying the subtext, context and angles of its myriad developments from Nigerians and bauxite mining, AWOL bodyguards, kidnapper tales at birthday parties, buying off Bollywood awards, campaign for Chhattisgarh as a separate state, devious swamis, indigenous tribesmen, artefacts dealers with dying brothers, earthquakes, boycotts, Naxalites...
What's at the core is getting to the bottom of it as well as manipulating evidence for political mileage.
Spanning cities, countries, timelines, motives and menace, The Great Indian Murder isn't confined to a whodunit. It's not quite a police procedural either.
The objective at large is to stretch the sprawling premise far and beyond Nigeria, London, Jodhpur, Jaisalmer, Chennai, Delhi, Raipur, Sahibganj, Kolkata and then put the pieces together in a way that says more about society's prejudices than our own perceptions.
With such sharp diversity in its storytelling, there is bound to be tonal disparity.
As a viewer, I found myself going through a rollercoaster of responses, witnessing scenes of physical violence and brazen misogyny in one episode and Raghuvir Yadav's comical split personality juggling Mahatma and mischief in another.
Over the course, the series gets lumpy and shows the strain of inordinate yarn building.
But in its better moments (and those are abundant as well), Dhulia's mastery in the language of deceit guides his gifted cast into colouring the scenario in fifty shades of grey.
Among the performances that stand out, Jatin Goswami (evoking Nawazuddin Siddiqui at his wickedest) is scarily believable as the vile guy at the centre of this mess.
Ashutosh Rana makes a meal out of his courteously voiced crooked schemes and Raghuvir Yadav's seasoned actor has a field day alternating between two ends of the psychological spectrum.
Pratik Gandhi shows his mettle in roles where he doesn't play to the gallery while Richa Chadha is all sass and sense.
And this is in spite of The Great Indian Murder categorically refusing to get inside their heads.
With its surfeit of people and plots in episodes clocking nearly one hour, the Web series is a heavy watch. But Dhulia's earthy touches, perverse humour and queasy depiction of the upscale and underbelly revels in pulpy and devious twists.
The Great Indian Murder streams on Disney Hotstar.
Rediff Rating: