Chhichhore offers too good a time to pay attention to its faults, feels Sukanya Verma.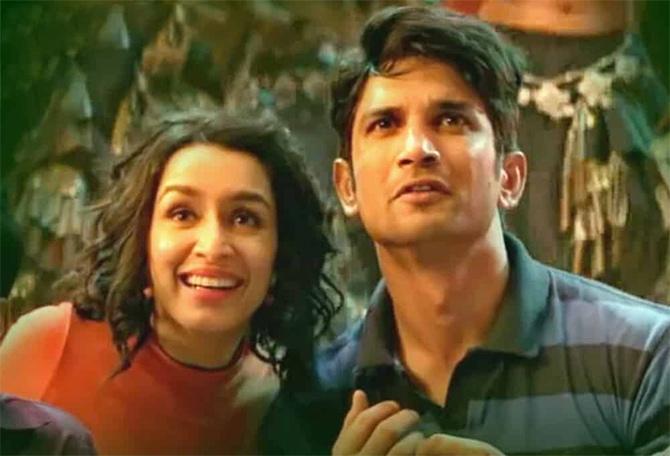 There's Anupam Kher's daddy in Dilwale Dulhania Le Jayenge, who celebrates his son's failure by popping a bottle of champagne.
And there's Aamir Khan's Bapu in Dangal, who slave drives his daughters to fulfill his dream of winning a gold medal at the Olympics.
Director Nitesh Tiwari compensates for Khan's ambition and creates a more realistic version of Kher to fashion a Father's Day worthy contender in his affectionately crafted, Chhichhore.
Except this isn't so much a film about parenting as it's about remembering the importance of being young, gaining experiences and making lasting friendships.
Sometimes your kid could learn as much from your lows as he is inspired by your highs.
Tiwari highlights this in two parallel timelines, celebrating nostalgia and nirmal anand in equal parts.
Though the film takes its sweet time to gain momentum, once it gets rolling, Chhichhore offers too good a time to pay attention to its faults.
It all begins after Ani (Sushant Singh Rajput) and Maya's (Shraddha Kapoor) teenage son (Mohammad Samad) lands in hospital, critically injured, following a suicide attempt.
The burden of his parents' glowing engineering degrees has done him in.
He doesn't wish to be branded a loser and is too young to realise surviving failure can be as significant as tasting success.
While Ani decides sharing his disappointment will revive his son's will, Maya is sceptical.
We never quite learn why.
The couple keeps alluding to a rift without revealing the reason behind it.
There's some murmur about how he never said sorry, and she never said it's okay.
But their marital discord ceases to matter as soon as the story flashbacks to the good old college days where canteen food challenges your ability to tell pumpkin from potato and best friends go by the description of Hawas ka Papeeta and Hailey's Comet.
A reliably smutty Varun Sharma whips up the froth as Sexa whose brain and Bunty work overtime over copious piles of porn magazines.
He gets all the whistle worthy lines and 'Potty pe dhaniya' is at the top of that heap.
Acid's expletive dishing tongue comes alive in Naveen Polishetty's wonderful onslaught.
Mummy's whiny vulnerability acquires a life of its own under the delightful Tushar Pandey.
Though Saharsh Kumar is a bit of a misfit as the perennially sloshed Bewda, Tahir Raj Bhasin breathes some fire as the chain smoker Derek refusing to go down without a fight.
Sushant Singh Rajput's Ani is the hero smitten by the only pretty girl on campus until forced to withhold his feelings and focus on winning the GC (General Championship).
At the movies, education is what you attain outside classrooms.
You may get a sense of Jo Jeeta Wohi Sikandar, 3 Idiots or even Student of the Year on occasions but just like every batch is different from the one that came before it, Tiwari and his writers Piyush Gupta and Nikhil Malhotra lend Chhichhore its own identity and language. And that endears us to the antics of the six friends at its core.
Their upbeat interactions, hilarious zingers and wacky shenanigans are why most of us look back at our college life, engineering or otherwise, hostel or not, so fondly.
Chhichhore beautifully builds on this bonhomie through their life affirming connection, camaraderie and triviality.
Not all is well, of course -- in the film, with the film.
Things get awfully sentimental every time the narrative shifts between a glorious past and glum present. This tonal shift can be disorienting.
The contest itself is a bit of a contrivance as is its fanciful endeavour for victory.
Prateik Babbar's conceited rival is far too dated even for a retro setting.
Speaking of which, Chhichhore struggles with period. It's devoid of mood and personality. Baggy jeans, stripped collar t-shirts and throwing in a bottle of Gold Spot doesn't cut it.
The ageing is equally sloppy.
None of the characters age convincingly.
The make-up is either overdone or inconspicuous. Especially Shraddha Kapoor's, who is restrained but unconvincing as the mother of a teen.
Sushant Singh Rajput has several compelling moments but there are times when the poorly-aged look overshadows his outburst.
It's the writing where Chhichhore shows solid talent.
At all times, its feel-good optimism is much too entertaining to resist.
A former IIT Bombay alumna, Tiwari recognises the abundant 'Once a pajamachaap always a pajamachaap' buttons in the audience and presses them fervently and frequently.
The outcome may be predictable but that's exactly the Chhichhore philosophy -- savour the journey and not worry about getting anywhere.
Rediff Rating: