It is only in the second half that Batla House has gripping moments, feels Prasanna D Zore.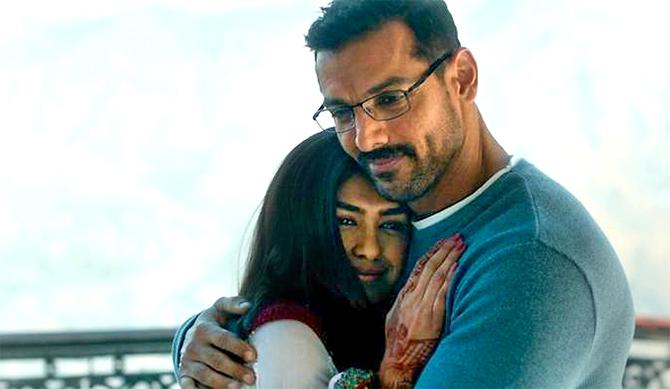 Nikkhil Advani's Batla House -- named after the controversial encounter that took place in Delhi's Jamia locality -- shows neither conviction nor courage in dealing with a sensitive subject about two suspected Indian Mujahideen terrorists killed by a special cell of the Delhi Police.
The film's protagonist, Assistant Commissioner of Police Sanjay Kumar (played by John Abraham), is based on Sanjeev Kumar Yadav, the man who led the encounter at House No L-18 in Delhi's Batla House in September 2008.

While the controversy around the encounter -- whether it was fake or genuine -- is still being played out in courtrooms 11 years later, Advani's Batla House plays safe by allowing the cop involved in the encounter to narrate his story.

So ACP Kumar asks his subordinate to hold fort at Batla House until he reaches the location, but an overzealous Kishan Kumar Verma (played by Ravi Kishen) goes ahead only to pay with his life.
Kishen's Verma is based on Inspector Mohan Chand Sharma of the special cell, who was killed in the encounter and awarded the Ashok Chakra for gallantry.
Guilt-ridden by his colleague's demise and burdened by the responsibility of proving the genuineness of the Batla House encounter, ACP Kumar puts his marriage to TV anchor Nandita (Mrunal Thakur) on the line. He finds himself tormented by scorn from the media, his superiors and their political bosses, even as he sees the ghosts of the slain terrorists shooting at him.
The first half of Batla House is a genuine encounter of your senses and intelligence -- the film is 146 minutes long -- as it overdramatises Ritesh Shah's lopsided script that makes room for an encounter, a marriage on the rocks, an honest cop fighting the system and his demons by visiting a shrink and, yes, an item number.

It is only in the second half that Batla House has gripping moments, like the trap, chase and arrest of a terrorist who escapes during the encounter and the courtroom drama, in spite of being filmed in an utterly juvenile fashion.
As an actor, Abraham looks and acts no different than his brooding CBI officer in Madras Cafe.
Unlike Madras Cafe, however, Abraham's Kumar sulks big time throughout the film in an effort to win your sympathy for facing the consequences of doing his job as an honest and upright police officer.

Mrunal Thakur and Ravi Kishen barely have anything to do.
Rediff Rating: