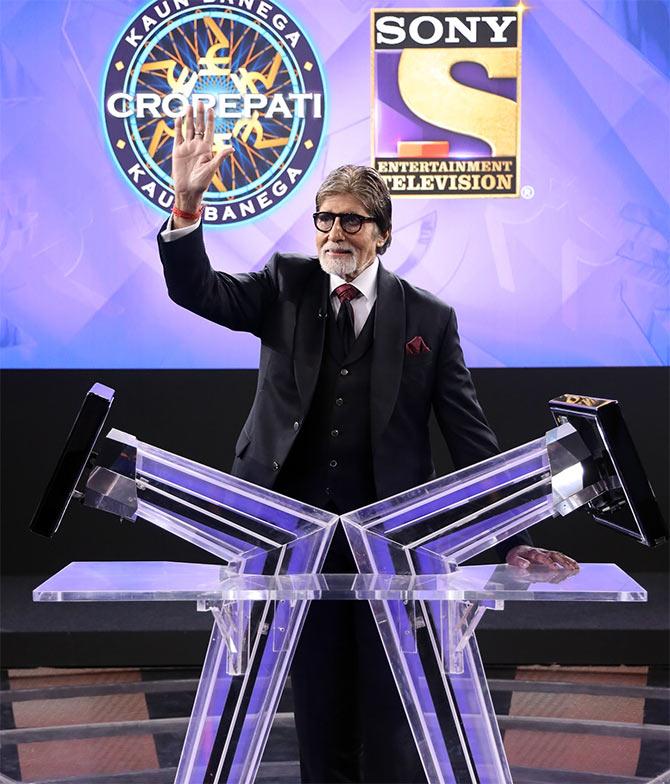 Are you ready for the return of Kaun Banega Crorepati?
Television's biggest game show returns with its 11th season on Sony Entertainment Television on August 19.
The theme this season, says Amitabh Bachchan, is "Adey raho (Stay determined)."
The superstar adds, "I have been associated with KBC for the last 19 years and am always excited to be a part of it."
But that wasn't always the case.
In 2000, when Star decided to air the Indian version of Who Wants To Be A Millionaire?, they were keen on Amitabh Bachchan as the host.
India's biggest superstar was 57 at the time. Most of his films were not doing well, but Amitabh Bachchan was a name almost every Indian knew.
Bachchan, however, was ambivalent.
The Star team recalls how difficult it was to get him on board.
So Sameer Nair, Siddhartha Basu, the actor's agent Sunil Doshi, Deepak Sehgal, Ravi Menon (part of the programming team) and Sumantra Dutta decided to fly Bachchan to London to give him a sense of what Who Wants To Be A Millionaire? was all about.
Bachchan spent a day in Elstree Studios on the sets of the UK version of the show, which was being hosted by Chris Tarrant. He saw for himself the drama, the scale and the involvement it created.
Siddhartha Basu, who went on to become KBC's producer and director, says Bachchan was quiet for some time.
'Then he turned to Nair and asked, 'Can you do it exactly like the Brits?'
'Nair turned to Siddhartha.
'My worry was whether the stakeholders would wrap their heads around what was involved.
'The technology, the telephone issues and the participants -- those were my problems.
'We used to handle very complex shoots on shoestring budgets. So we could do it but 'if you give me the resources', I told Sameer,' Vanita Kohli-Khandekar reveals in her just-released book, The Making of Star India: The Amazing Story Of Rupert Murdoch's India Adventure by Vanita Kohli-Khandekar.
In all, it took the Star team three months to convince Bachchan to sign on the dotted line for what would be his first appearance on television.
Star pulled out all the stops.
Before the shooting for the show began at a specially-constructed set at Mumbai's Film City in June 2000, an estimated 1.2 million calls were received.
'When Bachchan entered the set on the first day of the shoot, all the lights went off.
'There had been a big technical fault somewhere and all of Mumbai was on the blink. After a wait of three hours, the shoot was cancelled.
'Amitabh thought it was a bad omen,' the book says.
And then, on a rainy Monday night on July 3, 2000, at 9 pm, Indian homes tuned in to Star Plus, to Bachchan's famed baritone announcing, 'Main Amitabh Bachchan bol raha hoon aur aap dekh rahein hain Kaun Banega Crorepati (This is Amitabh Bachchan and you are watching Kaun Banega Crorepati).'
'The biggest shows then were Amaanat and Hasratein on Zee and Dastaan on Sony; they scored between nine and 15 on the rating charts.
'Within the first week, KBC hit a rating of 10.
'By August that year, it had crossed 18,' the book says.
Bachchan reveals that his entire family watches KBC even today.
"Everybody in my family watches KBC but Jaya watches the show regularly," he says.
"No matter what work she has, she will sit in front of the TV when the show starts.
"Shweta and Aishwarya play the game at home whenever they find the time.
"All of us sit together and discuss the questions and answers.
"Even Aaradhya watches."
Every season, Bachchan feels emotional when he meets the contestants and hears their stories.
"We have had women who have suffered acid attacks, parents who were thrown out of their homes... Their stories are so motivating.
"Every time I go back (when the season ends), these stories remain with me.
"I hope this year too the 'karamveers' will not only inspire us but everyone globally," he adds.
What is the secret behind his never-ending energy, even at 76?
"It's my job; I have to do it," he replies.
"I try to keep working. I keep doing whatever work I get.
"I feel that as long as we live, we have to keep fighting."
We haven't seen him on the digital platform yet. Would he like to give it a try?
"I would like to if the script is great. Good web series are being made these days but nobody has approached me."
With inputs from PTI.