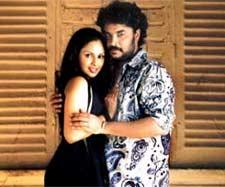 Sundar C, the director of many a successful film and husband of actress Khushboo, makes a disastrous debut as an action hero in Thalainagaram.
One cannot blame him entirely, since plot of the Tamil film -- directed Suraaj -- is the age-old subject of an underworld hit-man turning over a new leaf.
Trouble starts for Right (Sundar), a hit-man, when he crosses swords with the son of his employer, Kasim Bhai (Judo Rathinam).
Right refuses to hand over Divya (Jothirmayi), an aspiring model who escapes from the clutches of Bhai's son.
Bhai's son foists a false case on Right and sends him to jail. In retaliation, Right's accomplices gun down the don's son. This sparks off a gang war.
Right decides to start a new life sans violence after Kasim Bhai shoots his close friend dead. He and his accomplices start a soda-manufacturing unit and life is peaceful till a newly appointed corrupt cop, Gopinath (Prakashraj), enters the scene.
To increase his earnings from the underworld, the cop wants Right back in the netherworld. Right rejects the offer.
This enrages the cop who digs out past cases and puts him behind bars. Right's fiancée is gang-raped in the prison. Backed by the don and a minister, the cop decides to kill Right in an encounter.
With the help of an upright cop, Right manages to escape. He vows vendetta. Watch the climax to know whether he succeeds or not.
The first half the film is gripping but the second half drags. The idea of a cop insisting that a reformed underworld operative returns to crime just because the man in uniform can collect more mamool (bribe) sounds silly.
Sundar looks good in some of the action sequences, but he is very wooden in the romantic and song sequences.
Kerala lass Jothirmayi, despite her skimpy outfits, lacks oomph. She looks jaded.
The scene-stealer is the veteran Rathinam. His body language, dialogue delivery and expressions suit the role perfectly.
Dinesh's action choreography and Selvaraj's cinematography deserve appreciation, but the film is way too long and Imman's music is very pedestrian.

Rediff Rating: