'Tanhaji has so much fun recreating a bygone legend and fictionalising history, authenticity and spellings, it gets infectious,' feels Sukanya Verma.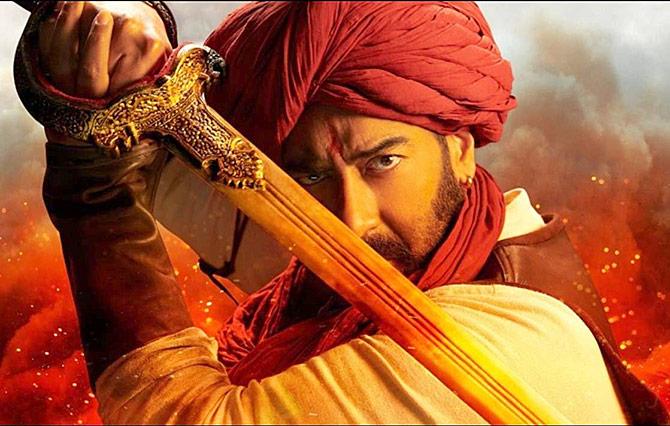 Close on the heels of Panipat comes yet another tale steeped in Maratha pride.
I am now a little wary of any film (or should I say ffilm) that peddles itself as a conflict between saffron and green flags. There's a great deal of bhagwa fervour and flag waving in Director Om Raut's Tanhaji: The Unsung Warrior as well, but a penchant for Islamophobia is largely spared.
A tribute to Maharashtra's martyr, Tanhaji has so much fun recreating a bygone legend and fictionalising history, authenticity and spellings, it gets infectious.
Considered Shivaji Maharaj's right-hand man and friend, Tanahji Malasure occupied an invaluable position as the military leader of his army.
The latter's sacrifice whilst fulfilling the Chhatrapati's Swaraj pursuits are lionised for purpose of drama and sentiments like duty, honour and friendship on screen.
Following the treaty of Purandar, Shivaji (Sharad Kelkar) has lost several forts to the Mughal empire.
His mother Jijabai (Padmavati Rao) is displeased about this development and vows to walk barefeet until Kondana or what we know as Sinhgad today is back in Maratha charge.
And so Tanhaji (Ajay Devgn) takes leave of wife Savitri (Kajol looking so much like Priya Tendulkar) and puts their son's child marriage on the back burner to duel with Mughal emperor Aurangzeb's (Luke Kenny) trusted trooper, Udaybhan Singh Rathod (Saif Ali Khan) and reclaim the fort of Kondana.
Their dynamic tussle and not some tedious show of patriotism is what engages from start to finish.
As does its impressive visual scale in 3D and kinetically choreographed combat sequences strengthened by adrenalin pumping background score that keep the ardour at its optimum.
More fantasy than historical, Raut creates a cross between comic book aesthetics and mythmaking that is closer to Amar Chitra Katha than any historian's records.
Amar Chitra Katha, as it so happens, is one of Tanhaji's publishing partners, a special new edition now has Ajay Devgn and its odd new spelling splashed on the comic book cover.
Bravado like numerology is right up the actor-producer's alley. Devgn's face lights up in excitement as he dives into the 17th century hero's daredevil missions armed with blades, face covered till eyes, sneaking in and swooping down across narrow ravines, flying and furious like a badass Bollywood-themed ninja whose mere nudge is enough to throw a rider off his horse.
Up in store is an even formidable villain, Udaybhan.
Saif Ali Khan oozes Gabbar Singh's greasy, gleeful aura and destructive instincts resembling Donald Trump's 'cocked and loaded' eagerness to strike the enemy.
Khan's visible relish in going all-out wicked is infectious despite a needless backstory to explain his cruelty. I was more fascinated by how vibrantly he had embraced the Mughal culture.
Unleashing creepy smiles, vile wit and smooth barbarism on his abducted, detained or unsuspecting victims or even the manner he fights, holding his sword upside down, the actor is wonderfully mercurial in his meanness.
It is his calibre that rescues a scene shamelessly designed for cheap laughs wherein a minion's name is a deliberate slur to slip in an innuendo.
If Udaybhan has cannons and elephants, another knows tricks of guerrilla warfare.
Weapons and will to trounce the other are what they share in common.
While the Hindu morality is signified in poojas, yagyas, saffron and rangolis, the enemy camp is filled with sights of roasted crocodiles and spa-like services offering massage and milk baths.
Raut gets it right as long as they are sparring, but his politics doesn't have any complexity or texture. The Rajputs are cunning and cruel. The Marathas are patriotic and valiant. The Mughals are arrogant and entitled.
Dialogue writer Prakash Kapadia (a regular in Sanjay Leela Bhansali period pieces) even throws in a line to that effect: 'Hum Mughal toh hain hi mauka parast.' If only it was expressed with sarcasm.
Almost as a safety measure there is a scene involving a good Muslim and a bad Muslim. When the bad one tries to hurt the good one, the good Hindu steps in and saves the day and temple bells start ringing out of nowhere. How's that for divine intervention?
Amused or not, Luke Kenny is quite an idiosyncratic choice for Aurangzeb. He plays it like the hookah-smoking caterpillar of Alice In Wonderland.
Only replace the hookah with a crochet needle.
Others appearing only briefly like Sharad Kelkar, perfectly render Shivaji's stature, power and sympathy, Neha Sharma is not just named Kamal but looks like one too whereas Kajol's real-life marriage to Devgn gives Tanhaji a readymade emotional connect.
A 300-like artistic palette, waterfall that leads into a secret cave like Phantom's and perilous landscapes evoking Lord of the Rings, Tanhaji's technical slickness and rich production values take more inspiration from pop culture than historical accuracy.
A couple of unnecessary, boisterous songs distract Tanhaji from its action-packed course.
Once its back to business, it's all guns blazing.
Give me the edginess and smarts of its bloody and urgent ambushes over Bhagwa boy's patriotic pageantry any day.
Rediff Rating:

---
Sukanya Verma is the Principal Movie Reviewer for Rediff.com. She can be contacted at mailto_sukanyaverma@rediffmail.com
---