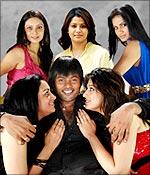 When the original Tamil movie Naan Avan Illai (I'm Not Him) released decades ago, with a cherubic looking Gemini Ganesan denying his affairs until he was blue in the face, the movie attained some sort of cult status for its witty dialogues, intriguing screenplay and the complete change of image for the actor.
Its remake tasted similar success, which is why the makers, Jhabak Movies, have decided to repeat the formula in the form of Naan Avan Illai -- 2, directed by Selva, with essentially the same team as before. Though Jeevan is the lead, the whole battalion of heroines has changed.
With D Imman scoring the music, here's what the album has to offer:
First up is what seems to be the hero's introduction song Manmadha Leelai with specially remixed lines from Manmadha Leelai, given a classical twist by Nithyashree, Shailhada and Ben G. M K Thyagaraja's version mingles with rap, shifting instantly to pop. Despite having familiar tones, it doesn't sound all that bad chiefly because of the Naan Avanillai refrain. Pa Vijay's lyrics list out this movie's casanova's many merits and "virtues" which translate cleverly to the chorus, and end, in a rather hilarious fashion, with the "Rambha…" dialogue.
Neha Bhasin begins Thooyavaney in a sensuous fashion accompanied by guitar strings; Vivega's lyrics are the mandatory romantic lines but the song, though inspired heavily by some Harris Jeyaraj numbers, is mildly appealing. It keeps to a steady pace; Neha's voice is pitched well and the faintly Braveheart-esque tones are pleasant. A familiar, but nevertheless charming piece.
Southern Aroma, a short track, begins with a heavy blast of percussion that ranges anywhere from synthesized energy to folksy instruments. After that, it shifts, predictably, to kuthu rhythm.
After the quite passable numbers, Naangu Kangal descends back to Imman's trademark rhythms and notes despite Javed Ali and Shreya Ghoshal trying to revive it with their dexterous voices. Pa Vijay's words follow the set patterns of romantic numbers; all about honey, hearts, souls and eternal bonding.
The next number has been penned by Vaali and comedian Mayilsami makes a play by talking about repeating his numbers; rendered by Jyotsna, and the deep voice of D Imaan.  True to the opening lines of O Mariya, the song's been fleshed out with a heavy Latino beat that mutates into synthesized mish-mash, borrowing lyrics very liberally from a dozen romantic songs. It's actually interesting though not intriguing from a melodious point of view but the lyrics are entertaining, especially as they're all Vaali's words.
Yugabharathi's typically syrupy words begin Sollamaley, sung by Sadhana Sargam who tries valiantly to transform a mediocre song into something that approaching interesting. She succeeds once or twice but otherwise, it's pretty run-of-the-mill.
Udit Narayan is back with Suvi to render Baaga Unnaara, written by Vivega and in completely kuthu fashion. This one is meant for the front-benchers.
Naan Avan Illai -- 2 is a collection of kuthu songs and would-be enthusiastic tunes but it has a couple of numbers that snag your attention and make it worth a listen.
Rediff Rating: