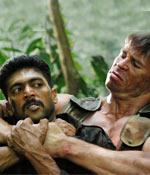 Ayngaran's Peranmai (Best of Manly Qualities), directed by S P Jananathan (of Iyarkai and E fame) is one of the Tamil releases this Diwali.

With music scored by Vidhyasgar to Vairamuthu's lyrics, here's what the album has to offer:

Kattu Puliyadichu begins with the clash of cymbals and tribal shouts but KK and Jassi Gift's voices give you a surprisingly enthusiastic rendition of the wealth of forests, the people who live there and their ability to share its resources. The instrumental interlude is appealing as well, veering away from traditional tribal music. Sure, there's a lot of feel-good essence in the lyrics, about misusing the forests and living well. The happy-go-lucky tune sort of saves the song.

A rather ominous burst of violins and percussion set off Kadu Kalai Katta, and when Madhu Balakrishnan picks up, voice trembling with anger and anxiety, you get caught up in the emotion. With its classical overtones and heavy instrumental music, you're pretty eager to see exactly how it's been picturised. The music suddenly shifts to a rural tone, not unlike the street theatre numbers that usually describe an apocalyptic war. The effect is eerily satisfying and the notes are suitably emotional.
The melodious notes signal the arrival of a romantic song, as Sadhana Sargam sings Erathazha Ezhumani. And for the first time, it is as though the composer has lost his grip on the feel of the songs. The notes wander all over the place, and you wonder where the number is heading. It's mildly appealing but the rhythm is staccato, and you're lost in the lack of any order. Perhaps that might be appealing to some but the overall effect is maddening, despite the soothing guitar interludes. 

When the Boys, rendered by Sonia Irabar and Sianed Jones and written by Obe Aires, is a pop number. You've heard variations of this number before, so expectations raised by the first moment swiftly dissipate.

Shalini, Feji, Megha and Suvi kic of the energetic Thuppakki Penne, an appealing mix of light-heartedness and warrior-like emotions. It's all about empowering women who learn to survive under the most trying conditions. In most of the songs, Vidhyasagar has slipped into a familiar template, so it is worth just one listen.
Rediff Rating: