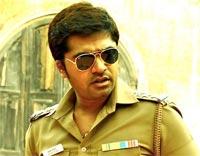 Osthe
, the official Tamil remake of Salman Khan's
Dabangg
is ready to hit screens. Produced by Balaji Real Media Pvt Ltd, it stars STR and Richa Gangopadhyay.
The music is composed by Thaman S. Here's what the album has in store. 
The film makes no bones about its completely
kuthu
base. Baba Sehgal, Ranjith, Rahul Nambiar, and Naveen Madhav have gone to town with their enthusiastic renderings. You've heard songs like this film's in every movie, but this one still manages to be fun with its swift pace.
Thaman himself takes up the vocal reins for
Unnale Unnale
, accompanied by Rita. Yuga Bharathi's lyrics are strictly functional.
Rahul Nambiar and Mahathi have joined hands for
Neduvaali
, an energetic number, with lyrics by Yuga Bharathi, which is actually a re-worked version of Thaman's own
Silaka Raye Silaka
from
Mirapakaay
. Familiar, but
mildly appealing.
It's STR himself who's written as well as sung
Pondatti
. And the song is in keeping with his propensity for rather crude language, though it is somewhat toned down here, and there are obvious efforts to overdose on romance.
The USP of the album is
Kalasala Kalasala
, which is STR's answer to
Munni Badnaam Hui
, from the original. Despite veteran L R Easwari rendering the song in her own distinct way while retaining the flavour of the original, the song doesn't really score. Vijaya T Rajendar and Sola Sai have yelled their way through it as well, to Vaali's lyrics.
Thaman is swiftly making a name for himself as the man to go to for composing music for would-be commercial blockbusters, and his success streak in Telugu doesn't hurt. There's a deja vu quality about most of the songs but the album is a mildly appealing combination of masala beats.
Rediff Rating: