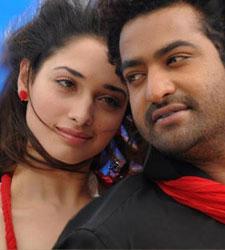 Radhika Rajamani feels Oosaravelli is no different from other routine revenge dramas. Post YOUR reviews here!
Expectations ran high for NTR Jr's
Oosaravelli,
this year's Vijayadasami release, but they were belied to a large extent as the film didn't seem to create the
dasara dhamaka
.
Director Surendar Reddy's attempts to show NTR in varied colours (hence the title
Oosaravelli,
which means 'chameleon') but it turns out to be a colourless entertainer though it is an atypical film for NTR Jr.
The script writer, Vakkantham Vamsi, and the director have not come up with a sufficiently interesting and arresting story. The plot twists and turns endlessly and although the production values are rich, the plot is just a mish-mash of various elements, though basically a revenge drama.
First of all, NTR -- Tony in the film -- is pretty subdued. One doesn't get to see the histrionics he is known for. Most of the time, he is bashing up people since he is a petty street thief who will do anything for money on the mean streets of Mumbai. Then he meets Niharika (Tamannaah) in Kashmir when both of them are kidnapped by terrorists, and helps her escape. He then follows her, professing his love for her but she is engaged to Rajesh, a minister's son.
There are dons like Ajju bhai (Prakash Raj) and his brother Irfan bhai (JP Reddy) to add to the
violence and vengeance element. Niharika has a friend Chitra, played by Payal Ghosh.
The first half is just about okay. There is some humour woven in, there are some interesting twists and turns and some flashback episodes. Even so, the director does not seem to have a proper grip on the story, which tends to meander through some implausible situations and is often tame when it should be more suspenseful, as during the escape from the terrorists. Only Tamannaah's flashback episode filled with heavy-duty emotion strikes a chord.
Post-interval the momentum slackens. There are only a few good moments and some noteworthy scenes and good songs (
Brathakaali
was also choreographed well
)
composed by Devisriprasad and good cinematography by Rasool Ellore, though his editor, Goutham Raju, could have made better use of his scissors.
NTR is different in terms of his styling and acting. He doesn't mouth the hard-hitting dialogues that he normally does, except in a few scenes. His dancing in the
Dandiya India
number is good. On the whole, it seems like watching a new, more restrained NTR.
Tamannaah turns in a good performance. Payal Ghosh (of
Prayanam
fame) stood out as the friend. Tanikella Bharani, Prakash Raj, JP Reddy, Rehman, Shaam, Sayaji Shinde, Raghu Babu, and Venu Madhav do what is expected of them, though some of them have really miniscule roles.
Oosaravelli
is a routine revenge drama.
Rediff Rating
: