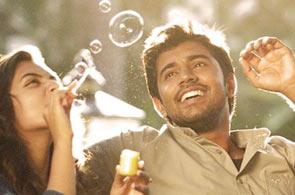 Paresh C Palicha says Neram has an interesting narrative but lacks on the humour quotient.
"I steal from every movie ever made." This quote by Hollywood director Quentin Tarantino is like anticipatory bail for any filmmaker who fears being accused of copying, plagiarism or being inspired by another film. New director Alphonse Putharen has quoted it in his film Neram even before the credits start rolling.
The film stars Nivin Pauly and newcomer Nazriya Nazim in the lead.
Mathew (Nivin Pauly), who in spite of being tech savvy and highly qualified, finds himself virtually on the roads of Chennai one day as the US-based company he works for is in trouble. To top it off he has taken a loan from a dubious Vatti Raja (Simhaa) and has not paid the interest for the past couple of months.
The story happens on the day Vatti Raja gives the deadline for the settlement. On the same day his long time girlfriend and fiancé, Jeena (Nazriya Nazim) is forced to leave her house as her father Johnny Kutty (Lalu Alex) is adamant that she breaks up with the unemployed Mathew and marries a man of his choice.
The plot of the middle class hero always struggling to make ends meet or wallowing in penury which was common in films made some 20 years ago. Here it gets the 'new gen' treatment. So, instead of being helpless, the hero of our times finds innovative solutions for his problems and does not mind putting his friend in trouble to solve his own problems.
The narrative goes back and forth to make it more interesting and captivating for the viewer. The style of humour is of the kind prevalent nowadays and barely raises even a chuckle.
The ensemble cast consisting of Shammi Thilakan playing a policeman, Lalu Alex as Johnny Kutty, and Simhaa vye for our attention and succeed to a great extent. But, Manoj K Jayan steals their thunder by appearing in the last 15 minutes of this film.
As for the lead pair, we have seen Nivin Pauly playing a similar character in Chapters just a few months back, so one feels this is too much too soon.
Nazriya Nazim has a striking screen presence and an in-your-face attitude that goes well with her beauty.
Neram is just 'time-pass'; don't expect anything more from it.
Rediff Review: