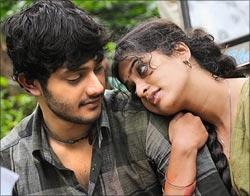 Radhika Rajamani says Telugu film Neeku Naaku Dash Dash starts off on a promising note but loses steam in the second half.
Director Teja comes back after a short break with
Neeku Naaku Dash Dash
, a love story set against the backdrop of the liquor mafia. The film is raw, gritty, realistic to some extent, but somehow in the second half it loses fizz.
As usual Teja tries out newcomers who perform fairly well. There are loopholes in the script though, and it ends up as a routine film filled with much violence, abusive language, vulgarity and crudeness in places.
Siva (Prince) is forced to discontinue his studies and come to Hyderabad as he has to repay a loan he had given as surety for his friend. He lands up in the illicit liquor business run by Bapineedu (Chowdhary). This is a place where about 30 young boys and girls work and is strictly managed by Chitti Thalli (Teertha).
The youngsters are terrorised. Chitti beats them, kicks them if she finds them lax or up to some mischief. Amidst this backdrop, Gayatri (Nandini) falls in love with Siva and after a while Siva reciprocates.
Due to a mistaken notion of Siva and his friend Toofan, one of the employees, Nagendra, gets killed. Siva feels guilty. Siva and
Gayatri's affair is exposed. They escape and are chased by Bapineedu and his henchmen.
The director tries to make it thrilling by focusing on the love story and the chase but loses track. There are a few good moments but most of the time it's routine and predictable.
Teja indulges liberally in showing violence of a raw and crude kind. The love scene between Prince and Gayatri are unrefined and unaesthetic. There is a lot of inane and gross humour. 
Teja has introduced 42 new faces. Prince seems suited to the character and has given a decent performance. Nandita shows promise as an actress. Although Theertha has a raw, volatile energy she looks downmarket because of the characterisation. Chowdhary, Parachuri Venkateswara Rao, Banerjee and Venu are convincing in their roles.
Teja has a good technical crew to back him -- Rasool Ellore's camera work is good and gritty. With the Canon 5K Red camera used for the first time, the images look good, particularly the landscape shots of forests and mountains.
Debutant Yeshwant Nag's music and Anup Reubens's background score have a different touch. Editor Kotagiri Venkateswara Rao could have snipped off a few more minutes.
Neeku Naaku Dash Dash
is a mediocre film and doesn't offer anything new.
Rediff Rating: