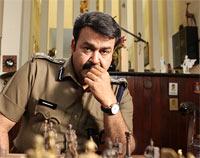 Paresh C Palicha says Grandamaster brings out one of the best performance from Mohanlal in recent times.

The person who can correctly guess the next 64 moves of an opponent on a chessboard is called a Grandmaster, this eponymous film informs us.

Grandmaster is written and directed by B. Unnikrishnan. While we know that a chessboard has 64 squares, the statement made here is debatable technically.

Promoted as a crime thriller with Mohanlal in the lead, the film gives the actor a chance to appear mellow and subdued, qualities we haven't seen in him for a long time.

The storyline involves burnt-out cop Chandrasekharan (Mohanlal) who is wallowing in misery after his separation from his wife, a criminal lawyer, Deepthi (Priyamani), due to professional rivalry and petty ego clashes. They have an adolescent daughter.

As Chandrasekharan had lost his sparkle as a cop after the divorce, he was given honorary postings for the last ten years. But, things change when he is made the head of the Metro Crime Stopper Cell in Kochi, an innovative idea where the general public can alert the police if they sense the possibility of a crime happening, thereby reducing the crime rate.

In the initial days our man is his cool self, focusing more on household chores and the chessboard on his table. Things seem to change for the better when he single-handedly saves three college girls abducted by a psychologically deviant guy played by Riyaz Khan.

After that small burst things are back to square one for Chandrasekharan. But, this is the lull before the storm. The one-time super cop receives a congratulatory note from an anonymous fan who calls himself 'Z' and boasts that he will rekindle the old spark in his hero by playing a game of crime with him, just like a game of chess.

This is followed by mystery, murders and mayhem, as it seems that there is a psychopath on the prowl posing a threat to his own loved ones.

The build-up is very good. But, the core of the subject lacks the focus that would give us sweaty palms, if not shivers.

B Unnikrishnan takes the easy route of planting the seed of suspicion on everyone who appears on the screen, except the hero, leading to a lame and rather exaggerated climax.

One thing worth rejoicing in here is the presence of Mohanlal. His well tempered performance keeps us engrossed, if not in the general proceedings, at least in what he is up to next.

Priyamani gets more importance here than she would get in any other typical superstar movie. Narein and Jagathy Sreekumar are sufficient as hero's assistants.
Final words, Grandmaster is a Mohanlal show.
Rediff Rating: