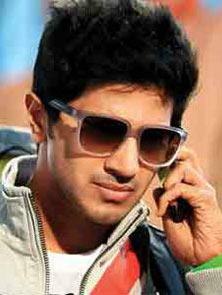 Paresh C Palicha says Malayalam film ABCD is a light hearted venture for Dulquer Salmaan fans.

The acronym for American Born Confused Desi (ABCD) is in vogue for a long while now and has been used in other variations too. So, we feel that director Martin Prakkat is little late in using it for a film but, by the end of this venture we feel that the delay has helped him in thinking up a slightly different story that goes well with the time. Yes, this is the story of the 'new generation' with Dulquer Salmaan and newcomer Jacob Gregory (of sitcom Akkara Kazhchakal fame) in the lead.

The story is about two wayward Malayali youngsters Johns (Dulquer Salmaan) and Korah (Jacob Gregory) born and brought up in New York. These good for nothing boys spend thousands of dollars enjoying themselves.

The two get into fight with local goons in a disco, which becomes life threatening for them as well as for the family. To avoid further escalation of the tension Johns' dad played by Lalu Alex decides to send the boys to India for a short holiday.

It is only after landing in Kochi Johns and Korah realise that they were set up to live and study here for a measly sum of rupees five thousand per month. They reluctantly start their new life and fool their college mates that they themselves have opted for this lifestyle to learn more about their motherland. Somehow, their made up story reaches a newspaper and in no time the duo attain celebrity status as various TV channels fall over each other to bring different aspects in the lives of two friends and this makes them contenders for the Youth Icon Award that has prize of Rupees One lakh. In order to garner sms votes to win the prize and return to USA they get involved in local issues ranging from students agitation to leading a strike by the homeless.

The plot is humourous and things never get serious beyond a point whether issue concerning is fake currency notes or attempted suicide by a fellow student. You would feel disappointed if you are expecting a typical coming of age story here. It seems that the director has taken particular care not to do away with the comic streak throughout. We find that the romantic angle is completely done away with even though the female lead Aparna Gopinath has a strong presence in this film.


Dulquer Salmaan hogs the limelight in this venture where he has to bring his lighter side to the fore and he is ably supported by Jacob Gregory in his effort.
To conclude, we can say that ABCD is a showcase for Dulquer Salmaam nothing more nothing less.

Rediff Rating: