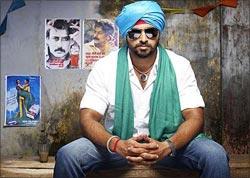 Malayalam film Mallu Singh is a predictable rehash of 1998 comedy Punjabi House, writes Paresh C Palicha.
Colourful is the word filmmakers often use when they describe a film that is made with an eye on box-office collections alone. The other terms used are 'wholesome entertainer' that can be enjoyed by the entire family or better still, 'a film that does not require you to think' giving you unadulterated fun.
Vyshakh's new film
Mallu Singh
completely fits this description. We don't have any problem with this particular brand of films but isn't it unfair of the team behind a film to produce replicas of their previous films? 
Mallu Singh
is inspired from 1998 comedy
Punjabi House
. Here,
Malayalis
who have migrated to Punjab have adapted to their culture, yet speak their mother tongue. So, what happens when one of our men land up there with a mission? You would not be wrong if you feel a sense of déjà vu. The writer Sethu (of the Sachi-Sethu team going solo) does not seem to care a bit about originality.
We have Ani (Konchacko Boban), who has not stepped out of his village, get into a train to Patiala in search of his friend Hari (Unni Mukundan), who is seen living in Punjab as Mallu Singh and runs a
dhaba
on
the famous Mallu Street.
If you still care about the proceedings, you can watch the film in the theatres! Perhaps this film is a tribute to Siddique-Lal school of film making, so you can also catch up the rerun of films like
Friends
,
Hitler
etc. along with
Punjabi House
.
Mallu Singh
is celebrated as Kunchacko Boban's 50th film and he tries his hand at full length comedy with the support of the Biju Menon, Manoj K Jayan and Suraj Venjaaramoodu. We just wish he had something original for his 50th film.
Unni Mukundan is required to be a tableau with rippling muscles and a grimace on the face, which he does with good effect.
The gang of ladies lead by Samvrutha Sunil just adds colour to the proceedings.
We can conclude by saying that with
Mallu Singh
director Vyshakh tries to do a
Dappan Koothu
on
Bhangra
beat and virtually falls on his face.
Rediff Rating: