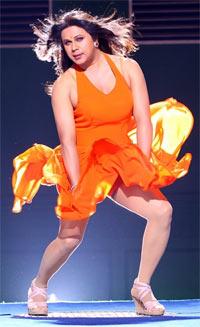 Paresh C Palicha says Mayamohini has an entertaining first half but the film becomes a dull affair post interval.
Stars have to sustain their popularity over a period of time and prove their marketability time and again. This may have compelled Dileep to do
Mayamohini
, the much hyped movie where he appears as a female. Whenever Dileep hits a lean patch, he uses his skills as a mimicry artist to bounce back.
This film is directed by Jose Thomas and written by Dileep's trusted team of Udayakrishna and Sibi K Thomas. Roshan N G is in charge of special make-up for Dileep.
We have seen a few movies where the male lead has donned female garb and even succeeded in amusing us with witty situations if not convincing stories. Most notable was
Avvai Shanmugi
, where Kamal Hasan becomes a matron to be close to his estranged wife and their child. In
Mayamohini
, Dileep becomes a young seductress.
Balakrishnan (Biju Menon), a dim-witted billionaire, requires a wife on rent urgently. His friend Lakshmi Narayan (Baburaj), a lawyer, acts as his adviser.
There is a gang of Hindi-speaking villains, who cheat our Malayali simpleton by making him a partner in a chain-money business.  There
is much confusion, twists and turns in what is a very weak plot. Biju Menon and Baburaj are there to make us laugh in the initial stages before Dileep makes a supposedly grand entry as Mayamohini.
It goes without saying that this film belongs to Dileep even though he does not hog the screen all the time. But there is no getting away from the fact that the film panders to his star image.
The writers must have been provided clear instructions that Dileep's talent as a mimicry artist should be explored in the first half and the second half should be devoted to his machismo image.
Biju Menon and Baburaj do their best but the humour seems forced after a while. To add to our woes, Spadikam George too tries to switch over to comedy as S P Mandan Raghavan, a dumb police officer who goofs up at every turn.
Lakshmi Rai repeats her vampish role of
2 Harihar Nagar.
Mythili is the mandatory love interest for our hero and the intelligent daughter of Mandan Raghavan.
Mayamohini
is sub-standard fare. It may have the ingredients for a box office success, targeting the vacation crowd, but there is hardly anything here for the thinking viewer.
Rediff Rating: