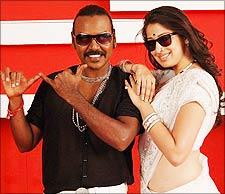 Radhika Rajamani feels Kanchana is average fare. Post YOUR reviews here!

Choreographer Raghava Lawrencce's
Kanchana
is a continuation of his earlier film Muni as far as the characters are concerned, but is not technically a sequel. It's supposed to be a horror film, but also has a 'cause' towards the climax which however gets drowned in the narrative. It is torturous and tedious to watch, the chills and thrills are not spine-chilling and a soundtrack that is supposed to be eerie is anything but. There's quite a bit of unintended comedy too.
Raghava (Raghava Lawrencce) is scared of ghosts and so doesn't venture out of the house after 6 pm. He is so frightened that he sleeps with his mother (Kovai Sarala) and doesn't stir out without her. All he seems to do is play cricket with his friends though he has a wife and two kids. It's while playing cricket one day that some strange things happen like the stumps being blood-stained, and at home more bizarre things start happening -- a foul smell, rattling sounds, eerie noises…
The temple priest is called in to explain these occurrences and he declares the house is haunted. Slowly Raghava develops unusual traits – he wants to dress up like a girl, acts coy and also aggressive. The family is bewildered and now seek help from the dargah. There's a love story also between Raghava and Priya (Lakshmi Rai)
The
film may scare kids but no one else. The acting in many scenes is over the top and it's obvious that every effort is being made to appeal to the masses.
Being a choreographer-directed film can song-dances be far behind? It may seem ludicrous in a horror film, but there are some song and dance scenes, mainly to showcase the dancing skills of Lawrencce and the glam element in the film, Lakshmi Rai. Some of the scenes appear downright asinine, especially the mother-son ones. If the idea was to scare the audience, it fails – one is more likely to laugh than shudder.
The 'cause' that is being championed is that of the eunuch, but it is not sufficiently explored or developed in the film. It comes towards the end when viewers are worn out with all the nonsensical stuff. Moreover, everything is so loud that it just booms in one's years.
Lawrencce's acting is okay, but a bit overdramatic in most scenes and the dancing scenes are expressly for him. As a director he should have developed the theme better.
Kovai Sarala is equally loud. Lakshmi Rai has nothing much to do except go around in glamorous outfits and sing songs. Sarath Kumar does a passable cameo as a eunuch, but the voice didn't seem to match too well. A bold attempt though!
Technically the film is average. You can happily give
Kanchana
a miss and save yourself some hours of torture.
Rediff Rating: