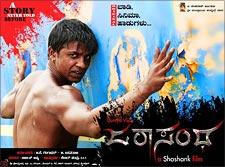 Shruti Indira Lakshminarayana feels Jarasandha is a big letdown.
Is one born a criminal or do circumstances lead one to become so? Director Shashank in his first action flick
Jarasandha
, takes up this question.
Kitty (Vijay) is a body builder aiming for the Mr World title. He thinks of nothing but pumping up for the international contest and taking care of his mother. This makes budding model Samantha's (Pranita) work in gaining his love doubly hard. She eventually manages to woo the Hanu'Man' only to discover that Kitty has a dark past. Can she deal with this side of him?
Jarasandha
is the story of a man who uses dubious means to become powerful. The story exposes the ways of the underworld and the nexus between the police, politicians and the bad guys. But none of this adds up to the
paisa vasool
action thriller that Shashank intends it to be.
The story line lacks punch and is predictable. Characters come and go but do nothing to strengthen the plot. The only character that dominates the screen is Vijay's and he too fails to leave a mark. Vijay is reduced to removing his shirt at every given opportunity to show off
his toned body. This may have his fans hooting, but their excitement will be short-lived as the action sequences don't amount to much.
In
Jarasandha
Vijay's body has been put to good use but the actor in him has been under-utilised. A director of Shashank's calibre could have catapulted Vijay to a new high if the script was stronger. 
The leading lady shows a lot of skin, which may be expected since she is a model, but she could have shown some liveliness.
Devraj, Rangayana Raghu, Chetan and Roopa Devi are part of the support cast.
Shashank also makes an onscreen appearance as a journalist.
The jokes fail to tickle your funny bone and the songs are not memorable. Actor Upendra has rendered a song in the film but that too is unlikely to linger in one's memory.
The graphics were said to be the selling point of the film. But all it means is graphically generated high-rises of Dubai and eternally flying choppers!
Shashank had promised a stylish action flick and with Vijay at the helm, that was what was expected. But the film comes as a disappointment.
Rediff Rating
: