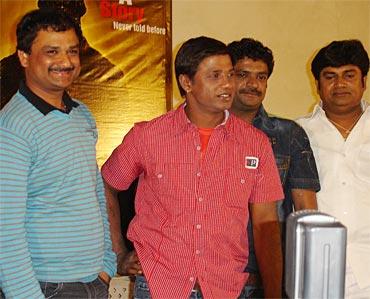 After striking gold with Krishnan Love Story and Mogina Monasu, director Shashank is all set for another Kannada experiment, an action flick titled Jarasandha starring Vijay and Pranita.

While he is tightlipped about the storyline, he however revealed that all the characters will be shown having one or the other feature of Jarasandha, a character from the epic Mahabharata.

Though the film will be predominantly action oriented, there is ample place for family sentiments and romance, says Shashank.

"Vijay is not new to action flicks. But as I was directing him for the first time, I wanted this action film to be different. This film will be very stylishly shot," he says.

The film, Shashank says will address a burning issue. "It will even contradict a popular saying and will make a new powerful statement. The subject is something that everyone would have heard about, but I doubt if anyone would have thought that a film could be made on it. While at surface level, Jarasandha may look like an action flick, it is out to give a social message. Not until the end will you realise what the film is trying to say. Even the end is something that has never been shown before," the director adds.

Vijay also terms the subject unique. Expressing pleasure over getting to work with Shashank, the actor says, "I'm sure working with Shashank will be a fine experience as I've heard that he is a perfectionist. I have requested him to treat me as a friend rather than a star and even reprimand me if need be. I'm also looking forward to working with cameraman Shekar Chandra again. The last time I worked with him was in Giri. There Kitty was the hero and I played a character artiste."

Vijay also says that Jarasandha has presented him yet another opportunity to work with Rangayana Raghu. Raghu will be playing a man from Andhra Pradesh. It is said that Shashank will be modifying his dialogue delivery style for this film. Recalling his association with Shashank, Raghu says, "I've known Shashank since his assistant director days. He has always been encouraging theatre artistes by casting us in his films. I had worked in his first directorial Sixer as well. Now it's good to team back with him."

The film has nearly 80 theatre actors, including those from Mangalore. All these artistes will be seen playing crucial roles. "The film will be shot across 75 days, mostly in Bangalore. Certain parts will be shot in Mulki during the Bappanadu fair. There are plans of shooting the climax in North Karnataka. And just one song may be shot in North India," Shashank says.

Music is by Arjun and stunts by Ravi Verma and K D Venkatesh.

"Jarasandha is both Vijay's and my biggest budget film. In fact Jarasandha is my dream come true as I entered the industry with the intention of making action flicks. I've been a great fan of English and Hindi action films and back home, I enjoy watching Ambareesh's films. We are really hoping to make an impact with this film," concludes Shashank.
After this project, Shashank will direct Puneet Rajkumar.
In the picture: Shashank (left) with his team of actors Vijay Chandru and Rangayana Raghu.