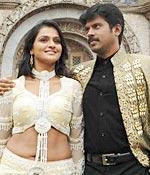 Pavithra Srinivasan reviews Ilaingnan. Post YOUR reviews here!

Martin Production's Ilaingnan is based on the Tamil Nadu Chief Minister M Karunanidhi's own novel, and he's written the story, screenplay and dialogue. This also happens to be his 75th film.
In addition, director Suresh Krssna, who's almost disappeared from the Tamil scene despite a blockbuster like Baasha, has returned with this, his 50th film.
Ilaingnan should have been a dhamaka but it turns out to be a damp squib.

Circa 1959, when the ship-building business was still going strong, the scene is set with Rajanayagam's Shipbuilding Company by the sea shore, where evil rules over all things good. Yes, that's the sort of moralistic tone adopted by the entire film and you have no choice but to fall in with it.

Thankfully, there's at least one good guy in the family business, Deivanayagam (Sarath Babu) who's kind and has the best interests of his workers at heart. But his son Rajanayagam (Suman) is evil personified, the ogre who lives in the palace and kills without discrimination.
He's aided by his evil girlfriend, Sena (Namitha), who appears to be a throwback to Manohara's Vasanthasenai, except that she wears bright red lipstick, short skirts that shows off her cellulite, and speaks with an accent that's neither English nor Indian. The entire shipping company lies within a natural fortress of some kind, and the workers are sealed within, for whatever reason.

Enter the good guys: hero Karki (Pa Vijay), the son of factory worker Arokkyasami (Nasser) who has his own cohorts (Ilavarasu, Nizhalgal Ravi, Delhi Ganesh, et al) and mother Valliammai (Khushboo), who gives talks every night to the downtrodden, quoting Karl Marx and Karki himself.
He itches to change things, but is stopped by his irate father who drinks to escape his fate. In the midst of this all is Chettiar (Y G Mahendran) and his pretty daughter Ramya (Ramya Nambeesan). The girl, naturally, is in love with Karki, who, due to family circumstances, joins the shipping corporation, sweats in furnaces and fumes at the injustice meted out to his colleagues. 

Cue for more characters to join the fray: Meera (Meera Jasmine) suddenly enters their lives like a breath of 'plastic' air, clad in bright clothes, school shoes and floppy hats. Apparently, she's just back from the States, and after keeping silent for most of the film, suddenly declares that she's a mechanical engineer (!) who can deliver Karki and his people from evil.

It's hard to believe that the year is 1959, and not 1920, when the cars that roll in are archaic, Englishmen and women wear flowing skirts and hats that would seem at home in the 18th century. There's absolutely no evidence of the 1950s.
Karki himself swings from gray shop-clothes at one time, to modern t-shirts at another. Even more hilarious are the song sequences he has in Switzerland and other foreign locales with both his heroines!

It has to be noted, though: Lyricist Pa Vijay isn't that bad, as the fuming, foaming-at-the-mouth hero. He gets his diction right, his body language is passable and actually manages to inject some feeling into the trite dialogues and cliched situations.
Unfortunately, no one aside from him has any role to play, except perhaps Namitha, who performs quite creditably (!) as the villainess of the piece. The rest of the cast has little to do except stand aside and look on soulfully. Even Vadivelu, whose presence is completely unnecessary, doesn't pull in many laughs.

Vidhyasagar's music has a few melodious numbers like Imai Thoothanae, and Mazhaiyil Kulitha. The art direction has made sure everything looks tacky. The completed ship, especially, swathed in a rainbow of colours (and named, appropriately, 'Rainbow') looks like the epitome of silliness.

In the end, though, it's not really the fault of the actors, the production crew or the director, for having turned out a big mass of cliches: it's the writing: Chock-full of situations and twists that have existed for decades, dialogues that never touch you and a climax that's straight out of a fairy-tale. The only spark, if you could call it that, comes in the form of violent words thrown at Sena, the female antagonist. The implication is obvious.

Ilaingnan is a wasted effort, in spectacular fashion.

Rediff Rating: