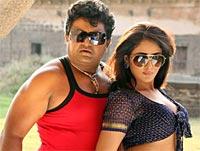 Debutant director Pavan Wadiyar shows promise
with Kannada film Govindaaya Namaha, writes Srikanth Srinivasa.

Govindaaya Namaha is, predictably, about Govinda (Komal Kumar), a playboy always looking for fun and entertainment and seeking the love and attention of four girls from different communities.
First up is Vydehi (Madhulika), a Brahmin like him, who rejects him. He then meets Mumtaz (Parul), a Muslim girl in rather strange circumstances and takes an instant liking to her. But when she learns of his motives, Mumtaz rejects him.
Govinda now sets his eyes on a foreigner Stracey (Anne) but circumstances conspire to separate them. He then meets Sheela (Rekha), a widow who changes his outlook on life. Govinda feels he has fallen in love with her, and she seems
to reciprocate. Which of the four will he finally marry is the question the film winds its way towards answering.
Komal is hilarious with his one-liners and punchy dialogues. He seems to be a keen observer of human behaviour and that is what makes him a good comedian and a superb performer. After the success of
Kal Manja
, Komal seems to have come into his own as a comedian and carries the film on his shoulders.
Parul is a good find. Rekha, who has done a cameo, is adequate. Madhulika and Anne, who is from Georgia, are okay. Harish Raj as the software engineer is adequate.
Gurukiran's music is good with Pyarge Aagbuttide getting top billing.
Debutant director Pavan Wadiyar shows promise and
Govindaaya Namaha
is definitely a movie worth watching once for all the fun and dialogues that Komal mouths.
Rediff Rating: