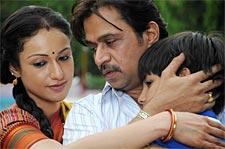 Kannada film Prasaad is an excellent story of a disabled boy and how his family comes to term with his handicap, writes Srikanth Srinivasa.
Prasaad
means gift of God, referring to the child that is born with a speech and hearing impairment that his father refuses to accept initially. 
Set in a lower middle-class family,
Prasaad
shows Shankar (Arjun Sarja), a car mechanic who longs for a son and when he gets one is unable to come to terms with the child's disability. So, he begins to view God's 'blessing' as a curse. He becomes so hostile towards his own son, that he won't admit him into a school and even tries to poison him.
Shankar's wife Malathi (Madhuri Bhattacharya) has unconditional love for her son. She wants him to be treated normally and to be admitted in school. She persuades her husband to send him to school and begins to learn sign language to communicate better with her son.
Prasad makes his parents proud through his achievements as a swimmer and as a brilliant student. This
brings about a change of heart in Shankar who develops a strong bond with his son. His financial condition improves as he opens his own garage, and helps his son overcome his disability.
Arjun Sarja has shed his image of an action hero to play a soft and loving father.
Madhuri does a good job but could have been much more expressive. Sudha Rani needs to be thanked for being the expressive voice of Madhuri through her dubbing.
Sankalp as Prasad, who is speech and hearing impaired in real life, is bound to win hearts with his expressive eyes. He touches an emotional chord and will have many reaching for their handkerchiefs.
Ilayaraja's music is haunting, especially the background score. Mano Murthy has also composed music for a song that shows these special children actually dancing to Shiamak Davar's steps.
Parents who are unhappy about having a special child should watch this movie to find out how wrong they are.
Director Manoj Sati and his co-director Jagadish Reddy have gone about their job of conveying the message excellently.
Rediff Rating: