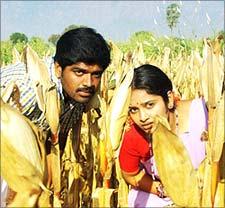 Director Suseendran has made a name for himself as a filmmaker to reckon with, with just two films: Vennila Kabaddi Kuzhu and Naan Mahaan Alla. Both films belong to different genres.


His third venture promises to cross even more boundaries. The tale of an ordinary man and his horse, Azhagarsamiyin Kudhirai (Azhagarsamy's Horse), produced by Escape Artist's Motion Pictures, with its unconventional cast of Appukkutti and Saranya Mohan, looks all set to be an endearing movie.


With Ilaiyaraja setting the tunes for the venture, here's a listen at what the album has to offer:

Kuthikira Kuthikira begins in divine fashion as a score of violins pick up pace, like gently falling rain onto the earth. It's a credit to maestro Ilaiyaraja that he brings the voice of a naïve man who's almost infatuated with his horse before your eyes. You can almost hear the laughter in his voice and the awe. J Francis Krupa's lyrics are playful, along different lines, and make you sit up. It says much for the composer's credit that he can actually blend synthesized music with such a rustic song -- but it's also a pity that the song rarely moves out of what is now Ilaiyaraja's comfort zone. Still, this one stands out because of its unique theme and presentation.

Athandora begins its enthusiastic beat with a resounding announcement about the Azhagarsamy's festival and thus commences Adiye Ivale, in a simple folk fashion, almost like a conversation.
Thanjai Selvi, Snehan, Lenin Bharathi, Hemambika, Murugan, Iyappan, Master Reegan, Sendhil Das, Anitha and Chorus pitch in with the vocals with an unobtrusive musical accompaniment, which then bursts into ecstatic celebration. Snehan's lyrics are all about the temple, its precincts, devotees and their many idiosyncrasies which like the song above, makes a nice deviation from the usual.
Otherwise, the song pretty much keeps to the rural temple-fest theme for which Ilaiyaraja himself was the forerunner, in many ways.

Poovakkelu begins with a gentle beat and a flute's melodious notes. Karthik and Shreya Goshal sing the song. There's something of the 1980s and 1990s' rural compositions here and you can see vintage Ilaiyaraja in the interlude which plays upon his penchant of western music.
Yugabharathi's lyrics, sadly, conform to the romantic template. The tune takes you on a nostalgic trip, reminding you of shades of Kudagu Malaikkaatril, from Karagattakkaran and others. A walk down memory lane. 

Azhagarsamiyin Kudhirai is a short, rather sweet album which has a good many of the maestro's trademark touches, but there it stands. Not scintillating fare this, and sticks very closely to its chosen rustic path. That has its charm, of course, but it also means that there's very little else to look forward to.

Rediff Rating: