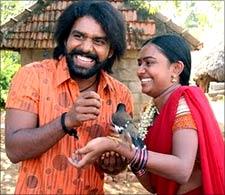 Pavithra Srinivasan reviews the Tamil album Ayyan. Post YOUR reviews here!
Maestro Ilaiyaraja has always been known to encourage new filmmakers. This time he has come up with music for Varsha Pictures' Ayyan, directed by Kendran Munusamy and starring a host of newcomers.

With lyricists Vaali, Na Muthukumar, Mu Metha, Kabilan, Snehan and Sirpi Balasubramanian penning the words, here's a listen at what the album has to offer:

Ei, Sivagami begins with a burst of folksy music and the ominous tone that made the raaga Mayamalavagowlai-tinged numbers of Devar Magan such a heart-wrenching hit. Abruptly, the mood shifts to something sensual. Rahul Nambiar does a creditable job, bringing a sense of the joie de vivre required for the number, even as Rita and chorus pitch in. It doesn't make for very interesting listening, though.

What seems almost like 80s club music assails your ears, as Unmaiya Naan kicks off, courtesy Maya's deep voice and chorus. The lyrics themselves are strictly functional and in colloquial fashion but there's a catchiness to the instrumental arrangement that attracts you. Though you've heard the melody before, it retains a certain hard-edged appeal.

Enakkena Oruthi begins almost like the joyous and wildly maverick Kombula Poova Suthi from Virumandi, and aside from the fact that it mirrors the same spirit, the resemblance ends there. Rahul Nambiar sings in tune with the celebratory air. Though this is a tune you've heard before, it has a mild appeal.

Manasoram reminds you very strongly of the yesteryear hit Koyilmani Osai from Kizhakke Pogum Rayil. Sriram Parthasarathy and Sadhana Sargam handle the vocals (the latter's voice, at some points, reminds you of S Janaki). As a nostalgic number that brings back flavours a couple of decades old, this works to some extent.

Katrinai Polingu aims to be a rousing number calculated to stir your blood and set your soul on fire, but the operative word here is that, after an encouraging start, it sort of stutters, even as Tippu tries valiantly to resurrect it.
The deep sorrow of the song Viduthalai Kuyil Naan appeal to you as Ilaiyaraja and Neha pick up the vocal reins. It does bear a very striking resemblance to Sri Ragavendhra's Azhaikkiran Madhavan, yet the lyrics -- talking about loss -- and the slow, steady beats pull you in.
Ayyan strives to be the quintessential Ilaiyaraja collection, although in a rather diluted fashion. There's very little of the master composer's fresh touches and brilliant displays of instrumental perfection here. He re-uses quite a few of his tried and trusted templates. A die-hard Ilaiyaraja fan might find the album satisfactory but for the rest, it is bound to be average.
Rediff Rating: