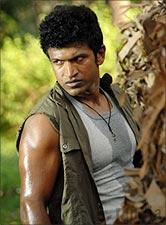 Srikanth Srinivasa feels Kannada film Anna Bond is wholly an action film despite a prominent romantic track in the film.


Director Suri's
Anna Bond
with Puneet Rajkumar and Priya Mani in the lead is a clear departure from the clean family entertainers that Rajkumar Production is known for. It is probably the first time that violence has been glorified to satisfy Puneeth fans while giving the storyline short shrift.
It's Puneeth's film all the way. Although director Suri has tried to weave a romance into the narrative, it still remains wholly an action film.
Bond Ravi (Puneeth Rajkumar), a karate teacher, takes a liking to Meera (Priya Mani), a documentary filmmaker who comes to Ravi's village with Divya (Nidhi Subbaiah) to film and educate the villagers.
The story begins with Ravi going in search of Charlie (Jackie Shroff), who is a gangster and a drug peddler. There's Chandrakanth (Avinash) who is said to have killed Charlie's wife but actually brings her up.
Charlie is in search of his daughter whom he had deserted and he begins harassing Chandrakanth seeking possession of his daughter. Divya gets killed by Charlie unknowingly. Charlie kidnaps Meera and thus Bond Ravi's task is cut
out.
Whether he frees Meera from Charlie's clutches forms the rest of the story.
The film may go over big with Puneeth's fans. But it is surprising that Puneeth agreed to star in a total action film when most of his popular films have seen him playing soft romantic roles, or are family entertainers with doses of action thrown in.
Priya Mani charms with her smile and her expressions. Nidhi Subbaiah is lively but has very little to do in the film.
Rangayana Raghu and Ninasam Satish's witty dialogues keep the proceedings light.
Puneeth sings the song
Kaanadante Maayavadanu
that he had sung as a child artiste some 30 years ago in his father's film
Chelisuva Modagalu
. Of course, the same innocence is obviously lacking. Harikrishna's music is adequate but not as melodious as his compositions in
Jackie.
Cinematographer Satya Hegde's frames are superb and tight. His camera work sets the tone for the film although he doesn't get much support from the story. But director Suri has not come out of his
Jackie
fixation. Stay clear of this film if you are not a Puneeth fan!
Rediff Rating: