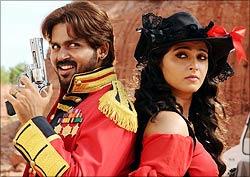 Pavithra Srinivasan says Alex Pandian is a masala, cliche-ridden entertainer which fails miserably.
Studio Green's latest offering,
Alex Pandian
(the name taken from a character immortalised by Superstar Rajnikanth) set everyone's pulses racing when it was first announced.
<The cast, consisting of versatile actor Karthi, Anushka Shetty and the comedian of the times, Santhanam, was supposed to deliver a fantastic Pongal festival extravaganza with a perfect blend of spices.
Sadly, it seems like every scene in the movie competes with itself to be called the blandest one.
A rattled heroine (Anushka) who runs along a train track, dupatta waving, as she tries to board a train (into which the villains climb in anyway)? Check.
Villains who drive around in vehicles, raising clouds of dust, waving
aruvaals
and pointless guns? Check.
Their bullets riddle the van in which travel the hero (Karthi), the heroine, and his comedian-sidekick (Santhanam)? Check.
There are a dozen villains who spout punch dialogues, bait the hero with stock words that involve tonsuring and promptly get beaten up in the local market? Check.
Songs and dances every two seconds, punches, both verbal and physical, which reverberate in your ears and go on endlessly? Check, again.
Alex Pandian
's storyline was very popular in mass films during the eighties. That, in itself, is not a bad thing. Masala entertainers can be great fun to watch, with the right ingredients and actors.
Here, though, despite having a capable star cast and an enviable technical crew (cinematographer Saravanan) and a composer known for his jive-worthy numbers, DSP, director Suraaj's screenplay takes a magnificent nosedive, right off a cliff.
There's a hero, who is on the run with a heroine, and has a few scenes in the company of the comedian. And there are plenty of fight sequences, all sound and fury, not to mention a boatload of songs, thrown in, by the end of which you wish the director had actually tried to come up with some sort of a story. The stars have sleep-walked through their roles; it's the script that fails them, and they are left shouldering a bundle of out-dated clichés.
Rediff Rating: