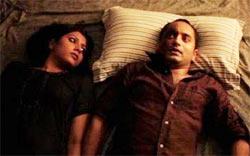 Malayalam film Akam has some exciting moments, writes Paresh C Palicha.

In his 1993 film Manichitrathazhu, Fazil had made the point that someone who believes in supernatural horror stories needs psychiatric help. His son, Fahadh Faasil takes the point further in Akam, a psychological thriller adapted from Malayatoor Ramakrishnan's seminal novel, Yakshi.

Directed by Shalini Usha Nair, the film tells the distressing story of a young man whose life changes after a road accident.

Srinivas (Fahadh) is a dashing young architect with a beautiful girlfriend and a lucrative career ahead of him. An accident leaves him with a grotesquely scarred face. His girlfriend leaves him and he is left to cope with post traumatic stress disorder.

He finds a new partner in Ragini (Anumol), who accepts him as he is and they get married. Then doubt is sown in Srinivas's mind about Ragini by his friend CK (Prakash Bare) who jokingly comments that their love story sounds like a Yakshi Katha.

Srinivas is scared to death and plans to kill Ragini before she becomes a danger to his life.
That is a bare narration of the plot but it is played out in pieces and goes back and forth in time and gives the impression of a hallucination. The shots are broken and character details given in fragments as if they were pieces of a jigsaw puzzle that the viewer must put together to get a clear picture.
There are some suspenseful and exciting moments here and there, but on the whole the film plays out in the mental spaces of the characters.
The film was made more than two years ago, so Fahadh Faasil had not hit the big time when he did it. Yet, he shows the promise he fulfilled later. Anumol looks vibrant and vivacious in a few scenes but most of the time she is shown from Srinivas's point of view so she looks dull and sombre.
Akam does not try to cash in on the popularity of the novel it is based on but tries to interpret it in a different way which may not be to the liking of the mass audience.
Rediff Rating: