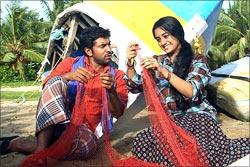 Paresh C Palicha says Puthiya Theerangal has some good perfromances but in the end it leaves us with mixed feelings.
Everyone in this world needs to change with time or reinvent themselves. Otherwise, the world will just pass them by.
Director Sathayan Anthikkad must ponder seriously along these lines. His latest film
Puthiya Theerangal
has two relative newcomers in the lead—Navin Pauly and Namitha Pramod—but nothing else in the film is new.
Thamara (Namitha Pramod), an orphan in her late teens from the fishing community becomes famous as the only female seafarer in the country.
She lives alone from the day her father died. With good hearted people all around her, life isn't very tough for her.
She has male friends and co-workers. The special one is Mohan (Navin Pauly), who wanted to be a school teacher but circumstances forced him to stay with the occupation of his forefathers.
The social life of the community is woven into the film as with many Anthikkad films these days. The stories of the supporting characters often take centre stage. One day Thamara rescues an old man (Nedumudi Venu) from drowning in the sea. He too seems alone in the world, and Thamara brings him home and treats him like her father.
The mystery about his identity makes people around uneasy. But, his affection for Thamara wins them over and he becomes one of them and even begins searching for a suitor for his 'daughter'.
Almost everything that has to happen happens in the first half of the film and the second half, disappointingly, just wraps things up in a jiffy, with a few twists and turns. Not to mention silly holes in the plot.
The film truly belongs to the actors. Namitha Pramod looks ravishing and matches good looks with good acting skills.
Nedumudi Venu in a somewhat half-baked role supports her well. Navin Pauly holds his own against these two in a much more subdued role. Chembil Asokan as Navin's father excels in a supporting role that has a comic streak. Siddharath Siva as the buddy of the leading pair also gets noticed.
Puthiya Theerangal
is a typical Anthikkad film with nothing new to offer.
Rediff Rating: