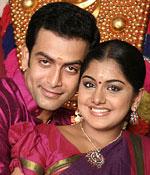 It is more than a decade since a shy teenager named Prithviraj made his first public appearance just before his first film Nandanam as a bearded boy-man. Now, ten years later, in his new Malayalam film Puthiya Mukham directed by Diphan, he appears clean shaven with toned muscles and waxed chest (in parts, continuity problem) as if he has put himself in reverse gear looking ten years younger.
In the context of this film, the title means coming-of-age of a simple Brahmin boy who enters the big bad world of an engineering college and becomes an action hero of sorts capable of tackling two dozen goons in one go. So, be ready to be disappointed if you go to the theatre expecting a realistic campus film as promised by the tag line 'for the campus...'
Krishnakumar aka Kichan (Prithviraj), a Mridangam enthusiast in Kalpathi, Palakkad joins an engineering course in Ernakulam at the insistence of his father played by Nedumudi Venu. He gains instant fame in the college because of his musical talent. Girls swoon on seeing him, one among them is Anjana (Priyamani), daughter of a Police Officer (Vijayraghavan) whose marriage is fixed with Sudhi (Bala), her senior in college and a scion of the real estate mafia in the city.
Sudhi cannot bear to see his girl getting cosy with Kichu. This leads to Sudhi and his gang turning violent with him that leaves Kichu almost dead. And, Kichu transforms into an action hero within minutes. But soon afterwards, he gets electric shock in the psychiatric ward and his traumatic past is revealed where as a school kid, he had seen his younger brother die in a road accident, which had left Kichu to be mentally unstable for months. The doctor warns that he may lapse into madness if such an incident is repeated in future. The revelation of his mental instability makes him lose his childhood sweetheart Sridevi (Meera Nandan). He somehow gains the powers of a superhero and returns to the college with renewed vigour to take on the mite of Sudhi and gang. He even snatches Anjana (figuratively) from Sudhi's clutches as his revenge for losing Sridevi.
The rest of the film is marked by incessant and often illogical violence. The mission of the director seems to be to pad up the wafer thin storyline credited to Sindhuraj (whose previous outing was Mulla directed by Lal Jose) by glossily shot action sequences and songs set to tune by Deepak Dev. Unfortunately, the padding fails miserably.
If this was meant to be a film for Prithviraj to showcase his angry and brooding new face, then it is an utter failure as we have seen better such faces of  Prithviraj in films like Stop Violence and Vargami (the only difference being the moustache and the stubble). Though we have to give it to him that the image works is where he is presented as a softie
The two female leads Priyamani and Meera Nandan do propel the narrative at some points; but, are reduced to being arm candies for the hero if we were to take a holistic look.
Director Diphan's effort to present a new face of Prithviraj does not work because of the over dependence on violence.
Rediff Rating: