Silence... Can You Hear It is definitely a recommended watch, assures Joginder Tuteja.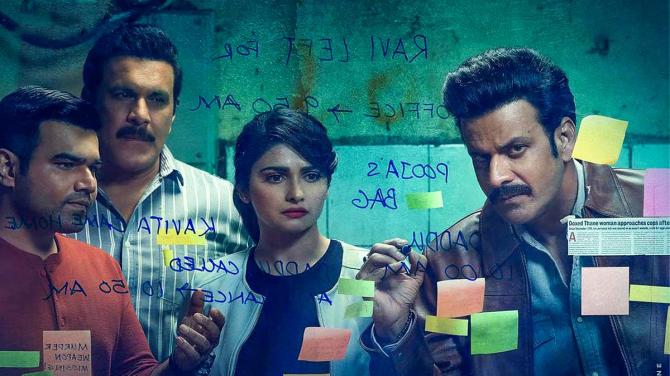 'Socha kyon?'
That's what the character, played by Manoj Bajpayee, screams not just once, but twice, as his subordinate (Sahil Vaid) intentionally decides to ignore a couple of visible clues.
Well, Manoj Bajpayee may have reprimanded his junior for his callous act, but he can't blame the audiences if they find themselves thinking right through this murder mystery that lasts a little over two hours.
This is a song-less thriller, which means the narrative by ad-woman-turned-film director Aban Bharucha Deohans had to be no-nonsense sans any quintessential masala that comes with the territory.
Typically, a film like this may fold up in around 100 minutes but it lasts around 30 minutes longer and you still don't mind it.
What you do mind in this realistic thriller is the extended cop-gangsters confrontation scene at 4 am in the empty roads of Mumbai as it is a distraction in the whodunit.
A young woman (Barkha Singh) is killed, and her father Shishir Sharma (doing what he does in most films) wants justice.
He reaches out to the police commissioner (Denzil Smith) for help who reluctantly allocates an ACP (Manoj BaJpayee) for the case.
The trouble is that while he gets results, they are inadvertently 'kanoon ke daayre se bahar.'
So far, so Zanjeer, as the usual trope of 'Yeh tumhaare baap ka police thaana nahi hai' moment emerges between Manoj Bajpayee and Arjun Mathur, an MLA, who wants to take over a jogging site and build a mall instead while encouraging 'Buddhe log t o jog there instead'.
National Award winner Manoj Bajpayee gets into an investigating act as he brings forensics, medical terminology, timeline drawing, the finer points of the law and teachings into play, while appreciating his juniors (Prachi Desai and Sahil Vaid) as 'padhe likhe log' when they quote someone prominent.
It's just that while they still seem to be picking up ropes, he is bringing all his experience into play, while wearing trendy T-shirts sent by his daughter from a divorced wife.
Silence... Can You Hear It is quite gripping when you join the characters in their journey to nab the killer.
Despite some predictable elements, you enjoy the experience right till the end, especially with some damdaar dialoguebaazi (it is magic whenever Manoj Bajpayee and Arjun Mathur come face to face; their scenes together are the highlight of the film) and the background score (especially in the second half) which elevate the proceedings.
The film could have been bit crisper in the first half as some sequences could have been cut short.
The last 45 minutes turn out to be the highlight of the film.
Silence... Can You Hear It is definitely a recommended watch.
Silence... Can You Hear It streams at ZEE5.
Rediff Rating: