Smoothly juggling Sandhya's curiosity and closure until her moment of awakening, Sanya Malhotra is emerging into one of the finest actresses of this generation, observes Sukanya Verma.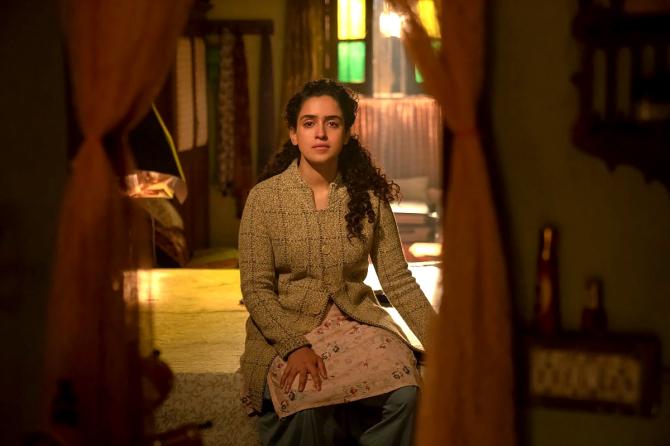 One's response to death is directly proportional to one's attachment with the departed.
Between those whose grief is inconsolable and those inconvenienced by it, a funeral can offer a study in tragicomedy.
In Pagglait, Writer and Director Umesh Bisht's witty, moving and mild-mannered movie about self-realisation, the end of one journey becomes the beginning of another against the backdrop of a family's disquiet and disputes.
As wretched sorrow is, the reality of its impact is staggeringly simple -- the deceased rests in peace but for the mourner the struggle continues.
Almost identical to Seema Pahwa's directorial debut, Ram Prasad Ki Tehrvi in mood and manner, Pagglait's underlying theme of empowerment is what gives it an edge.
As does its vibrant screenplay and astute editing (Prerna Saigal), which cleverly establish its various characters, their quirks and follies.
Early winter morning scenes in Lucknow bring us at the doorstep of Shanti Kunj where the irony of that name is immediately made known.
A brother groans about his tonsured head and an aunt whispers details about her nephew's untimely demise to a nosey soul on her mobile.
Here's what we learn: His name is Astik.
He was in his late 20s.
He got married only five months earlier.
Here's what we don't: What he looks like or how it happened.
Chaos and commotion abound over sutak rules and antim sanskar rituals, occupied washrooms and domestic logistics, pubescent curiosities and incestuous attractions, divine aura and dominating patriarchs, loan seekers and insurance beneficiaries, gossipy aunts and geriatric grandmothers who converse like Groot.
Everybody is reacting to Astik's passing in their own way in this typical North Indian family.
The withered voice and feeble body language of Astik's devastated mother (Sheeba Chaddha) and dumbstruck father (Ashutosh Rana) going about post-rites arrangements is telling of their state. She can barely utter the words 'death certificate' without breaking down while he suffers insensitive fools in a scenario that evokes Saaransh.
But Astik's significant other, Sandhya (Sanya Malhotra) is unusually calm.
When we first see her, she is reading aloud condolence messages from Facebook.
At first, it's hard to guess if she is numb or indifferent.
In the course of 13 days, Sandhya figures out her feelings and herself.
If there is substantial focus on the family surrounding her, it is not to fill frames or provide humorous slice-of-life elements.
It is the social conditioning and monotony of thought they stand for that makes her decision to break out of the rut all the more significant.
Although a keepsake from her husband's past triggers something within Sandhya, Pagglait is not so much the story of a woman coming into her own as much realising she wants to.
One could say her newfound life goals and sudden awe for Astik's poised colleague Ananya (Sayani Gupta easily slipping into the independent career woman prototype) seem a bit hurried and vague but Sandhya's erratic emotionality and pehle doctor, phir golgappe pattern of impulses lend it credibility.
Smoothly juggling Sandhya's curiosity and closure until her moment of awakening, Sanya Malhotra is emerging into one of the finest actresses of this generation.
Her aptitude for inward portrayals leaves me gobsmacked every single time.
There is something wonderfully soft and tough about her at once.
Just watch her closely in the scene she exclaims, 'Hum uski biwi thi yaar', the vulnerability at display is something else.
But Pagglait is neither mawkish nor as madcap as its title may lead you to believe.
Bisht is intrigued by the trivial and practical nature of everyday interactions and chatter that ensues when a household of brothers and sisters, spouses and samdhis, children and cronies come into the picture. Even the errant doorbell has a part to play.
Friction and politics are the hallmarks of the big fat Indian family dynamic and Pagglait plays into it delightfully.
'Ek chipkali bhi paida nahi kar paaya uska aadmi aur humein suna rahi hai,' sneers one.
'Aur dikhao Padman. Sab Superman ban rahein hain,' grumbles another.
'Har Sachin Tendulkar nahi hota,' quips a vegetarian Muslim while a Shakespeare aficionado quotes, 'As flies to wanton boys are we to the gods' to stand out from the 'Bhagwan ki ichha ke samne koi kya kar sakta hai' crowd.
Pagglait focuses on every single member of this large gathering treating their bigotry, orthodoxy, opportunism, superstition and secrets as vagaries of the human condition under the pretext of duniyadaari.
Pagglait is fascinating for its details and double standards.
Like when Raghuvir Yadav emphasises on Nazia Zaidi's surname, his tone underscores his religious intolerance.
But the man is first to attest his liberal views when the subject of Sandhya's remarriage crops up.
Its superb cast create an authentic, lived-in atmosphere of imperfect, conventional folk speaking both familiar and funny.
Be it the classic Mommy rebuke, 'Padhnewale bache lamp post pe bhi padh liya karte hain' or the ready retort of every impertinent kid, 'TV serial kam dekho.'
All the actors are reliably first-rate, but Ashutosh Rana and Sheeba Chaddha's understanding of the fragile and broken, Raghuvir Yadav's prowess at crabby old bully parts and Jameel Khan's superbly timed zingers strewn across its under two hours' duration deserve extra brownie points.
Ditto for Arijit Singh's soulful debut as composer.
More than a mediation on mortality, Pagglait is an acknowledgment of the bereaved.
'Demise kardo. Death sunne mein acha nahi lagta,' Sandhya corrects her husband's obituary.
One cannot always change harsh facts, but it is never too late to start living life on your own terms.
Pagglait is streaming on Netflix.
Rediff Rating: