'Of all artists who openly support the current political dispensation, she is far and away the finest,' argues Sreehari Nair.
'With the exception of perhaps Tabu, no Indian actress has done more to extend the range of the feminine mystique in Hindi cinema.'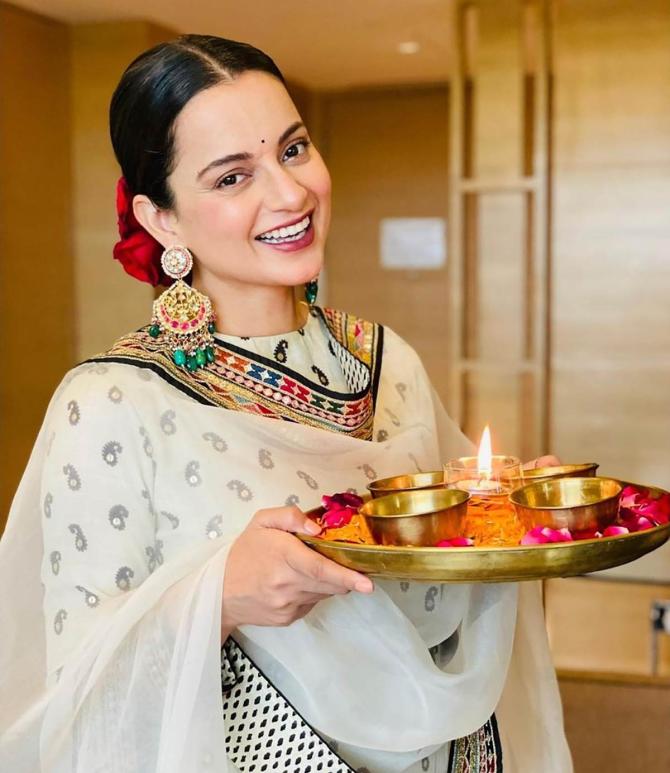 The National Film Awards has given us a chance to indulge our paranoia yet again.
Yet again, we can guess at the decisions that could have been reached only as a result of the unholy alliance of politics and movies, some of them formulated in total hush-hush behind closed doors, and others over the tittering sound that usually accompanies furtive telephone calls.
We know who the obvious benefactors are (Ms Ranaut, Mr and Mrs Agnihotri, the yet-to-be-released Malayalam film, Marekkar).
We may be wondering if our list of Closet Right Wingers needs a thoughtful revision (should it or should it not now comprise the great Manoj Bajpayee? Or the most luminous Tamil actor there is: Dhanush?).
But since the farce is so overpowering in its appearance, we may have grown suspicious of even those winners who have been, by and large, deemed 'deserving'.
We worry if they too are being unwittingly pulled into an invidious programme with deeper roots.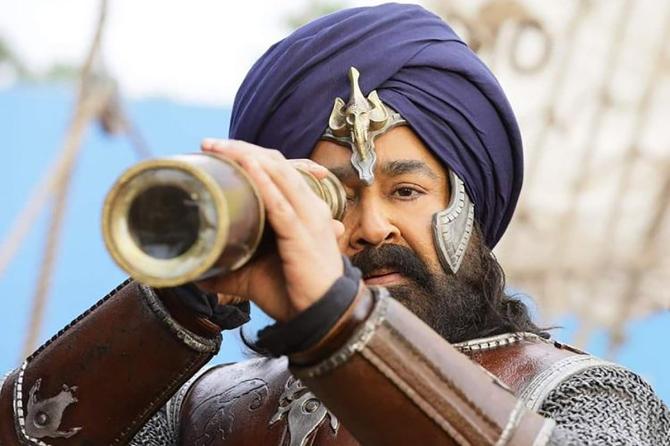 Ian McEwan's novel Sweet Tooth touches upon the subject of the CIA and MI5, in the 1960s and 1970s, launching a unique plan to combat Communism: By infiltrating the world of artists and intellectuals.
The intelligence agencies' primary line of action included extending covert support to writers, painters, musicians, and film-makers, either monetarily or through citations, and getting them on the side of the government.
Does the 67th National Film Awards, in part, also serve the above purpose?
Are some of the decisions this time attempts to re-wire minds, to convert such staunch liberals as Devashish Makhija and Vetrimaran?
Yes, we can wonder about that possibility too.
This piece, however, does not intend to feed the reader's paranoia.
It helps that this columnist does not believe in a contented, happy life, and believes instead that you can either live with a lively interest in what's going on or you can be depressed.
Since paranoia inevitably leads to depression, the idea here is to stimulate you by clarifying a set of paradoxes that the latest announcement has brought to light.
To begin with, if you think the N Chandra-led jury was prejudiced, you ought to realise that any jury that is 'cause-driven' will have a special consideration for the artist who embellishes its cause -- and this at the expense of the quality of art being judged.
A jury headed by Pa. Ranjith, to give you one example, will show a natural predilection for films that have social justice and social corrections at their heart.
And a jury headed by Alankrita Shrivastava, in the unlikely event of it finding a male actor worthy, will hand over the trophy to the most uber-sensitive male performance of the year.
Such prejudices cannot be battled in a world that puts Cause above Art, and so what else can an idealist commentator of the arts do but suck it up?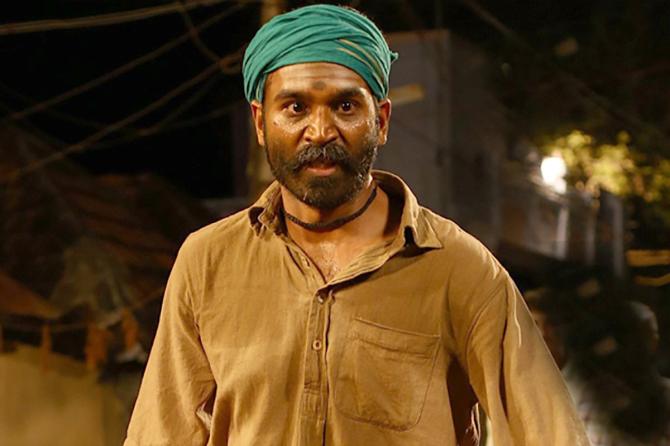 As a matter of fact, in my opinion, this year's jury may have committed some of its biggest blunders when consciously trying to temper their prejudices.
I thought Asuran was an unimaginatively made film, a 'prestige project,' one that tries to scoop up applause for its intent.
It is Tamil Cinema pressing the Caste button to do the basic cops-and-robbers theme all over again. (If you genuinely wish to stir up a revolution, you would look at how the cops-and-robbers theme builds unnecessary expectations in your audience; you would dissect that phenomenon, and not shamelessly rehash it over and over again, while banking on the hot subject of caste-based oppression).
I was left cold by Super Deluxe -- a film that many seem to have embraced for its twin messages: Life is essentially Meaningless AND Why can't you accept your cross-dressing Dad?
And I am always left cold by Vijay Sethupathi.
Perhaps it is a matter of temperament but if I wanted to hold up an example of what underplaying in cinema amounts to, I would probably hold up someone like Biju Menon -- an actor whose subtlety comes not out of an empty space, but out of his having a swirling 'inner life'.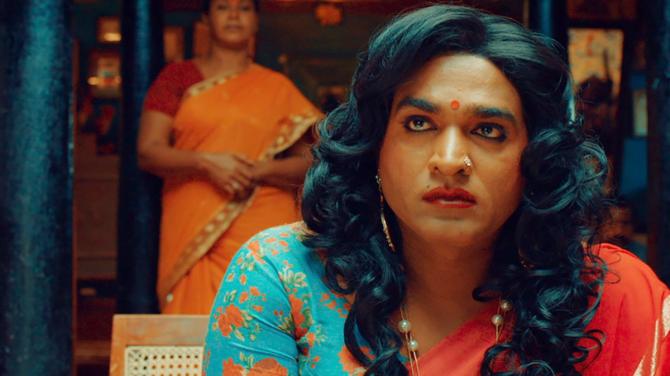 At any rate, prejudiced or not, no jury can be expected to get it 100 percent right.
There will always be a better director or a better actress, who didn't receive their due, and so award ceremony post-mortems, one ought to understand, are often undertaken with the purpose of keeping alive old journalistic habits.
Nevertheless, since we are at it, we shouldn't disregard an instance from the recent past when a National Awards jury did indeed swing for the bleachers.
It was the Shekhar Kapur-led jury in 2018 -- instituted during the Modi regime, mind you -- that had gone on to make some the most visionary decisions of the last 20 years.
Now here was a jury with an artful bent of mind, most importantly here was a chairman not passing cursory statements about regional cinema but telling us how mainstream regional cinema in India was today the real deal.
It was a brave team, its verdicts were path-breaking, and instead of being celebrated it was subject to the usual scrutiny, the usual analyses on the errors done and the possible 'areas of improvement'.
Almost all paradoxes taken up; onto the biggest paradox of them all!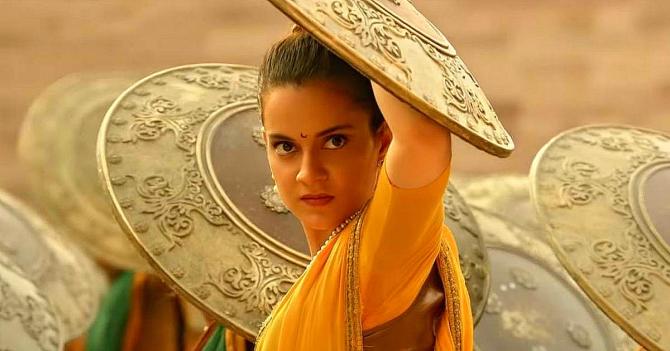 I have to confess that one cannot get a discussion on Kangana Ranaut underway without assenting to the hypothesis which by now is pretty well-established: Of all artists who openly support the current political dispensation, she is far and away the finest.
With the exception of perhaps Tabu, no Indian actress has done more to extend the range of the feminine mystique in Hindi cinema.
No other actress, in the history of our very phallocentric A-grade Hindi mainstream cinema, has had so many films written specifically with her in mind.
With those compliments out of the way, I find it interesting to note that the two films that have helped Kangana bag her trophy are both calculated hits on the liberal class.
It is easier to discern this pattern in Manikarnika, which is a film that says it in as many words: 'O frustrated Anti-Nationals of India -- what is your problem exactly?'
The imaginary Golden Past that Manikarnika paints is the source of its bellows, and since our liberals suffer so blatantly from presentism, since very few progressive-minded liberals have any interest in taking a fair measure of the past with all its uninteresting details, or in taking an honest whack at understanding the Indian Character, history and consequently historical epics have become the sole domain of those on the Right. (An exemplar like Manu Pillai is more admired than imitated by Lefties, and isn't that a pity?).
While Manikarnika is easy to dismiss because it is part of a brazen movement, Panga is what carries out the hatchet job on liberals with cunning precision.
This time, the messaging is never loud, but persistently there: 'O frustrated Feminists of India -- what is your problem exactly?'
To counter the fashionable feminist rhetoric of 'a lady being so constrained by the society that she can do nothing', Panga puts forth the thought that 'a lady, if she wishes to, can do just about anything.'
Smiling and supportive men, ego-less friends, and the whole bigotry-free society are there for the Indian woman's taking: What, then, is your problem exactly?
The film is a war against the dissenting mind.
And yet, somewhere between the state-of-affairs that the feminists wish to propagate, and one that Kangana and Director Ashwini Iyer-Tiwari fantasise about, are those messy truths concerning the modern Indian woman, and by extension, modern Indian relationships, waiting to be explored by an ambitious Indian artist.
As has been the trend of late, Kangana dominates Panga.
She portrays longing with a triumphant smile, never overdoes her big moments, and makes dialogues on paper sound like inspired improvisations.
She also under-sizes almost everyone else.
My heart especially went out to Richa Chaddha, whose scenes have been trimmed away before her face can even register the dissatisfaction of being handed such a sketchily written role.
Take that, Card-carrying Libby!
The Kangana Show also results in Ashwini Iyer-Tiwari working well below her full capacity.
As a director, Iyer-Tiwari has very specific strengths: A gift for making the everyday seem jaunty; a talent for getting her actors to work off each other; an instinct for the beauty that shines out of a quick grimace, a rapidly flashing grin, an improperly improvised fashion choice.
Bareilly Ki Barfi emerged as a wicked surprise because that one gave Iyer-Tiwari the freedom to press all her above-mentioned strengths into service.
In Panga, with a leonine actress and her grand political ideas taking centre-stage, Ashwini Iyer-Tiwari has no option but to follow the ragged template of every inspirational story out there. She doesn't vary the rhythm of her shots, and retreats, as if by necessity, into melancholy and later into sentimentality (which is where, she is at her weakest).
An extreme fidelity toward templates is Panga's biggest sin, and any awards show, even with all its inbred prejudices, should have an eye for those rare films that attempt to move beyond templates.
But that might be too much to ask of the National Film Awards, a hothouse of fixed beliefs, whose Colonial Complex lives through in such categories as The Best Film on Social Issues.
The Best Film on Social Issues: How proud would that make Raja Ram Mohan Roy feel!
And yet, given that we are stepping deep into an age of cause-centric art, instead of an age that thinks about how to widen the definitions of what we consider 'pleasurable art', The Best Film on Social Issues is the award that most of our films might compete for in the future.
Stimulating times lie ahead.
If you aren't willing to be depressed, that is.