Shubh Mangal Zyada Saavdhan is not so much a homosexual romance as it is an exuberant appeal imploring conservative Indian parents to accept and respect their children's choices, gay or straight, notes Sukanya Verma.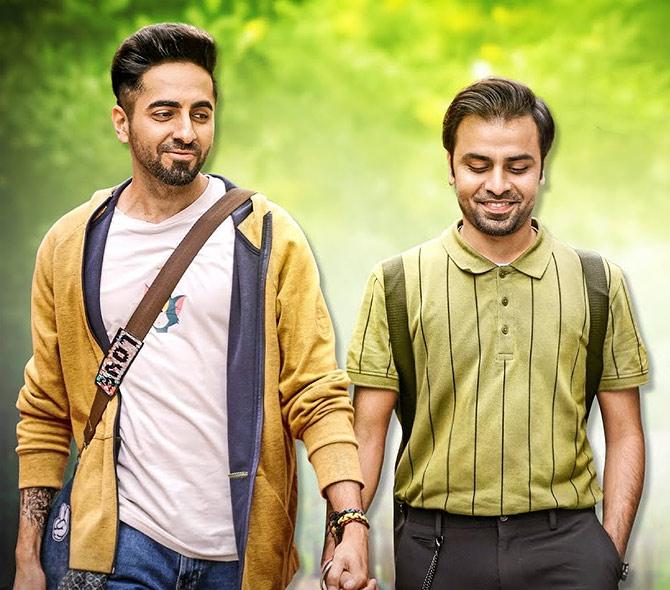 At some point in Shubh Mangal Zyada Saavdhan, a bewildered mother asks her gay son 'You expect us to reject years of conditioning in a single day?'
Writer-turned-director Hitesh Kawalya is determined to achieve the same in less than two hours by mainstreaming same-sex love like few have while roping in an actor known to successfully represent the stigmatised sections of society.
True to form, Ayushmann Khurrana wears nose ring and gay pride like a rainbow hued superhero cape to declare love is love, period.
But Shubh Mangal Zyada Saavdhan is not so much a homosexual romance as it is an exuberant appeal imploring conservative Indian parents to accept and respect their children's choices, gay or straight.
It is a widespread crisis when a woman selecting a guy from another caste is a problem, a girl's appearance is a problem, a guy's sexual orientation is a problem.
Rebellion is their only resort against protesting parents who themselves are burdened by a history of marrying against their will.
Shubh Mangal Zyada Saavdhan amasses a clutter of complicated issues and sometimes comes across as more messy than meaningful.
But the delightful cast, utterly natural in their confusion as well as revolt, compelled me to cheer for its easily resolved conflicts even if deep down I wondered at the possibility of such extraordinarily ideal understanding.
Truth is, there's no subtle way of tackling homophobia in a twisted society that declares education as the root cause of divorce and menstruating women cooking for husbands are damned to be reborn as dogs. Kewalya is conscious of this predicament and employs excessive doses of humour to drive his point.
By subverting iconic imagery and ideals behind films like Dilwale Dulhania Le Jayenge, Aashiqui, Amitabh Bachchan's bromance in Deewar and Sholay or even Race 3's meme-worthy dialoguebaazi, Shubh Mangal Zyada Saavdhan expands the vocabulary of popular culture as well as celebrate the diversity of its consumer.
Cleverly countering prejudice, Kewalya's queer treatment of a family going bananas on learning their boy wants to be with another boy highlights the real freak show is the so-called normalcy a heteronormative existence shrouds itself in. Preoccupied by what others will say, we turn a deaf ear to what our own is crying out aloud.
Aman's (Jitendra Kumar) eyes brim in hurt and astonishment as his small-town household transforms into a full-fledged circus after the truth of his sexual identity comes out.
Aman is in a rock-solid relationship with Kartik (Ayushmann Khurrana), the more dynamic, dramatic and defiant of the two. Having grown up in an environment of familial dissent and disgust, Kartik is well-quipped to be scorned and shooed away.
And he is at the receiving end of that abundantly by Aman's bigoted father (Gajraj Rao), baffled mother (Neena Gupta), embarrassed uncle (Manurishi Chaddha) and aunt (Sunita Rajwar) even as the frantic family juggles between their daughter's (Maanvi Gagroo) imminent wedding and backlash over genetically modified cauliflower.
Zinger after zinger is darted in all possible directions as these uproarious developments spark sibling rivalry, outlandish rituals, impassioned explanations citing dopamine and oxytocin and a parallel track of the neighbouring girl proposing Aman a marriage of convenience.
Occasionally though, it's weighed down by the surplus of humour and tedious need to make each and every dialogue funny.
The demonetisation jokes are old now as is this over reliance on retro music.
Also, the cauliflower metaphor of going against nature never quite hits a chord like it ought to.
Bhumi Pednekar's token cameo (she played the lead in Shubh Mangal Saavdan, which Kewalya wrote) is more out of nostalgia than necessity.
But the rest of its casting is bang on.
Manurishi Chaddha has the most hilarious lines and one wishes he had more to contribute besides sparring with Rao.
Playing his better half, Sunita Rajwar pitches in the right blend of hysteria.
Maanvi Gagroo, as the bride no one takes seriously, packs in a punch as and when required.
Neena Gupta and Gajraj Rao's sweet Badhaai Ho camaraderie is a tad saucier in this edition. They play like a team once again and embodying Shubh Mangal Zyada Saavdhan's troubling reality without appearing antagonistic or savage.
In Kewalya's hopeful view, there is potential for change in the most rigid of mindsets and his actors portray it precisely with such flexibility.
As for the leading lads of Shubh Mangal Zyada Saavdhan a little sensitivity wouldn't hurt but pity party they are in no mood to throw.
Khurrana and Jitendra Kumar cut an adorable picture in a movie that is as comfortable about their sexuality as they are in the film.
Where Khurrana's ability to repeatedly surprise hasn't lost an ounce of its touch, it's the quietly unassuming Jitendra Kumar who rises above the fun and frolic to reiterate the historical decision behind decriminalising Section 377: Love is love.
Rediff Rating: