'Even if we do a really sexy picture, the stars trust me and my wife Manisha to pull out an absolutely amazing shot.'
'It should not cross that line and step into vulgarity.'
Have you seen Dabboo Ratnani's 2020 star-studded calendar?
Like every year, this calendar too features the who's who of Bollywood.
As many as 101 actors have featured in Daboo's calendars since its inception in 2000.
The photographer picks some of his amazing pictures from the latest calendar and gives Patcy N/Rediff.com all the details.
Kiara Advani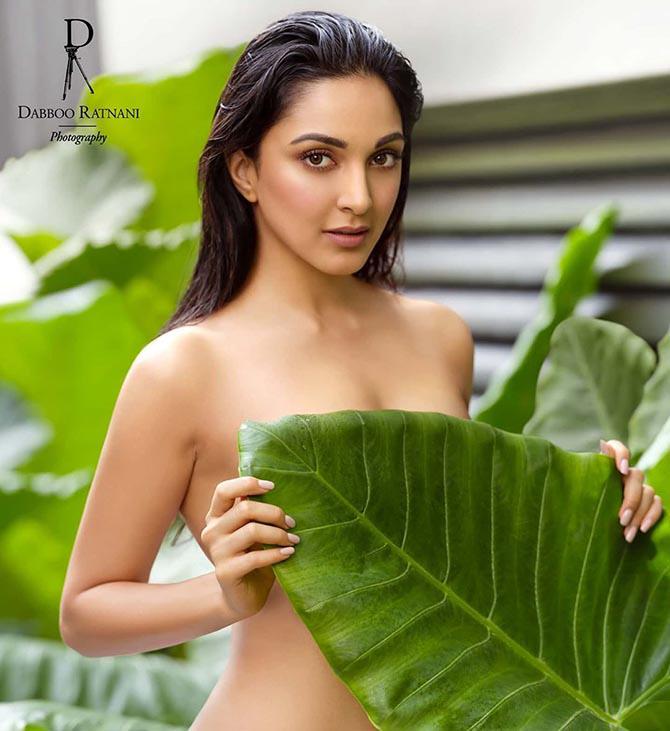 I started the shoot with Kiara on December 16.
Although it's a sexy picture, it looks very elegant.
I think that's what stars trust about me... even if we do a really sexy picture, they trust me and my wife Manisha to pull out an absolutely amazing shot.
It should not cross that line and step into vulgarity, I am very particular about that.
The way it is styled gives a fresh, dewy spa vibe. It's not in-your-face sexy.
There are many pictures of stars, which are sexier in terms of skin show. But this leaves a bit for your imagination and that makes it sexier.
Bhumi Pednekar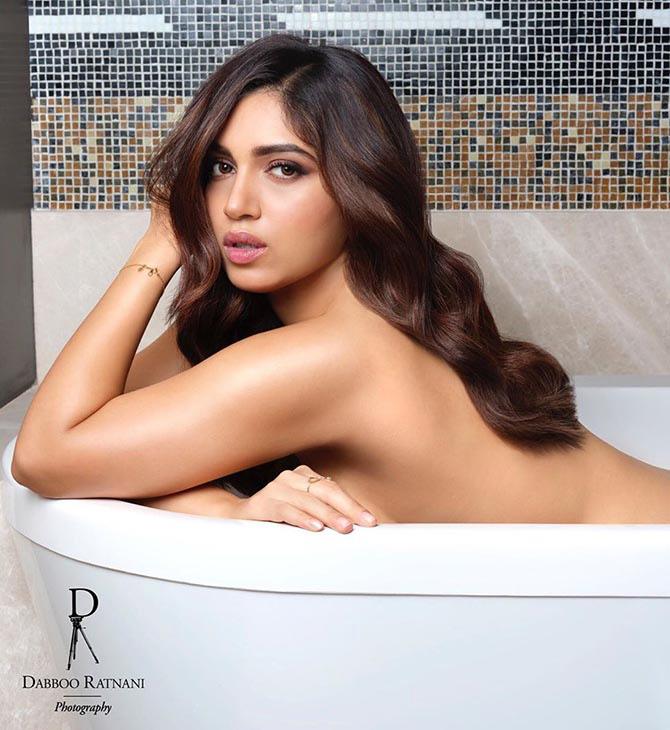 This is the first time Bhumi features in my calendar, so I thought it should be something that people don't expect from her.
She's done hot pictures in terms of clothes and fashion, but nothing like this.
When I told her this idea, she asked, 'Wow, you think I can pull it off?'
She was happy that I thought that she could pull off such a sexy shot because usually, people don't perceive her like that.
A similar thing happened with Vidya (Balan). The first time I shot her for my calendar, way back in 2007, I told her the same thing and she had asked, 'You think I can pull it off?'
We need to explore a side of them that has never been tapped before.
It is something they like as well because they want to portray themselves in a different way.
They are actors, they want to look different every time they are shot.
Bhumi has such a beautiful face and great expressions. She's looking fabulous, her body's looking good too.
So why not?
She was extremely professional in the shoot and and really wanted to make this work.
Sunny Leone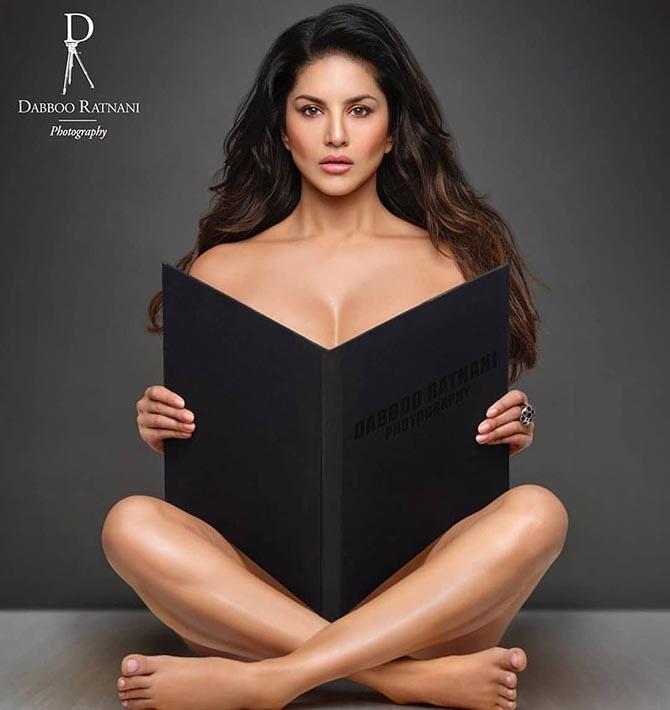 Again, this picture leaves a lot to the imagination. The idea is to do something different; I don't think I've ever done a shot like this before.
I had this huge book in my studio and I said, 'That's your outfit for the day.'
I was wondering whether I should take a book which has a funny or controversial message on the cover, but then I decided to keep it simple.
Sunny is a sport, she's very experimental.
She completely trusts Manisha and me and is good fun to work with.
Vicky Kaushal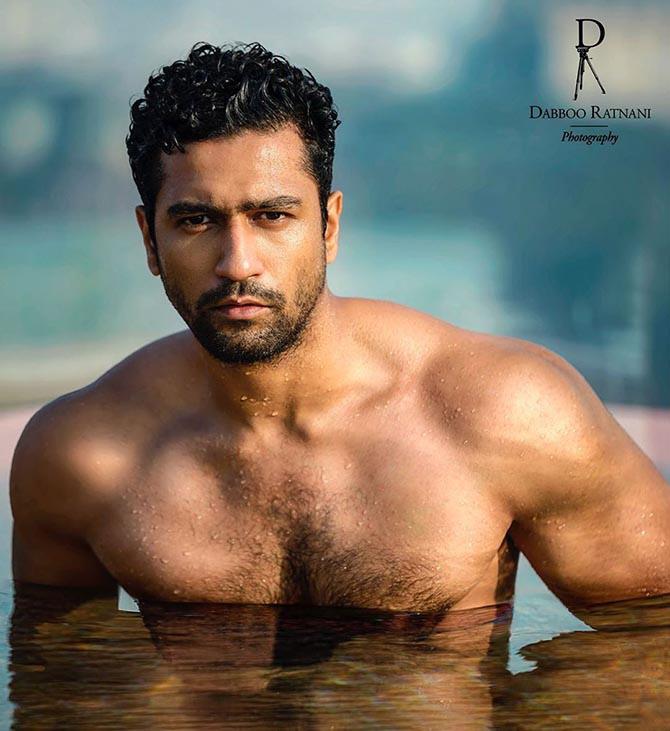 I wouldn't say this is an earth-shattering concept, but I feel people haven't seen Vicky like this.
He's building up his body now, making his frame broader and bigger.
So we decided to explore that, rather than seeing him in a suit.
We did different options, like him splashing in the water, tried different angles and then finally locked this.
I played with lighting contrasts to make his features look strong.
It was shot in natural light in the evening.
Kriti Sanon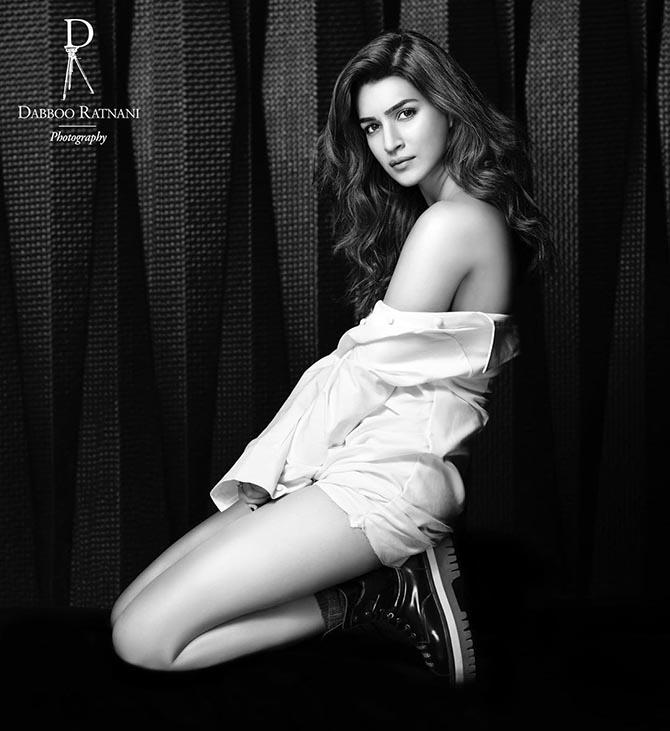 We shot Kriti in black and white because we don't want to show what people expect.
Kriti has been colourful in her previous calendar shoots, so this time, we thought we'd go with a simple white shirt.
I think every actress in her career must have at least one shot in a man's white shirt.
I feel it's quite sexy.
I have never done this, so I thought let's explore this idea. Instead of keeping it bare feet, we added those Doc Martin boots for a little fashion twist.
Aishwarya Rai Bachchan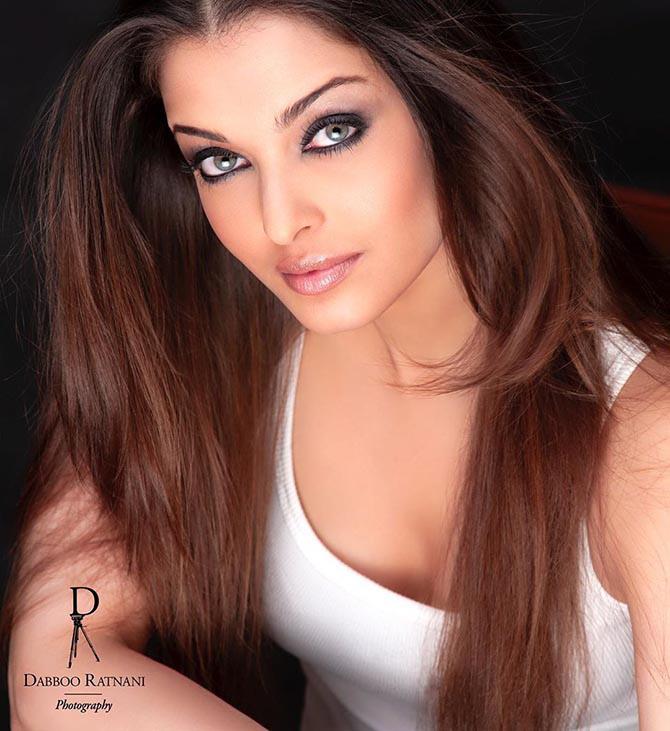 Last year, we shot Aishwarya in full length, from head to toe.
The previous year, it was a mid shot and the year before that, it was a mid shot lying in bed. So we keep changing.
It has been four-five years since I have featured a tight close-up, maybe next year we will do a full length again.
She has a stunning face and amazing hair.
We decided on a simple white gangi, no glam in terms of styling, makeup and hair.
If you see the whole calendar, there are probably just two tight close-up shots.
Saif Ali Khan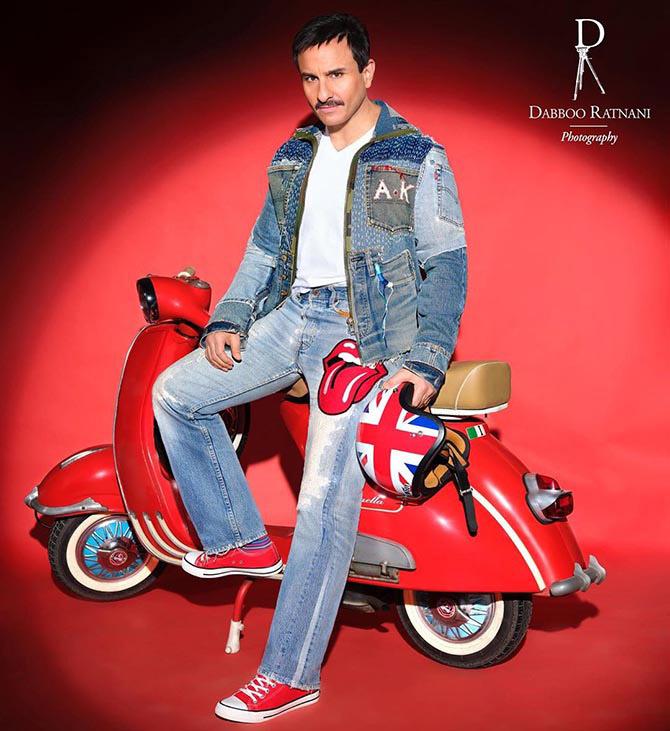 Saif had a moustache, like Abhishek, so we decided to go vintage for him too.
The styling is done by my friend Arjun Khanna, who is a designer and stylist. The red Vespa belongs to him.
But we went vintage denim instead of vintage formal.
In terms of the lighting, we gave it a spotlight.
Saif has done my calendar after three-four years, so it's good to have him back.
Vidya Balan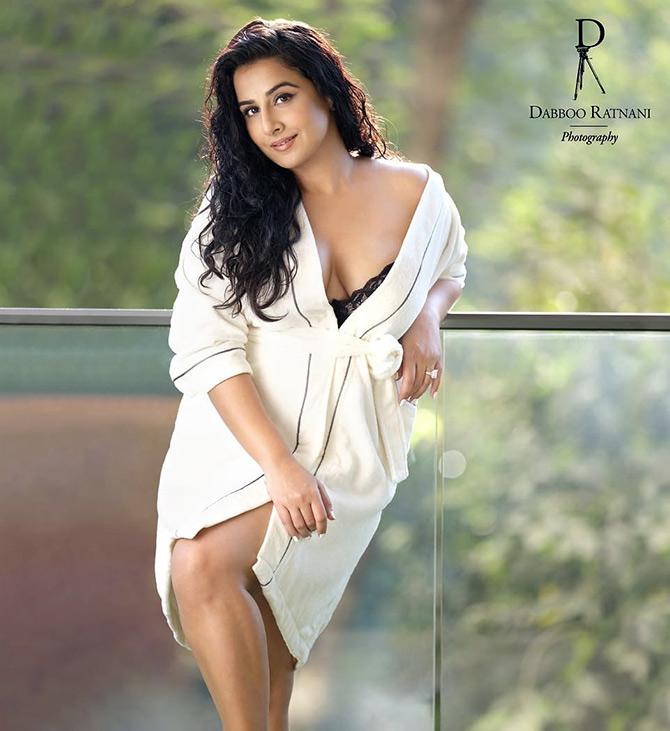 Vidya Balan lets me experiment -- this calendar is non-commercial and it's like an open space to experiment.
She gives it a lot of thought every year.
A month before the shoot, we sit and discuss and send each other ideas. She gets her stylist involved.
We've done so many glamour and sexy shots that this time, we decided to go completely natural, just straight out of the bath kind of look.
What do you wear when you come out from the bath? A bathrobe.
So her hair is wet, back-lit with an early morning light, very fresh and dewy.
We left a little bit of the bra showing to give a sexy element.
Ananya Panday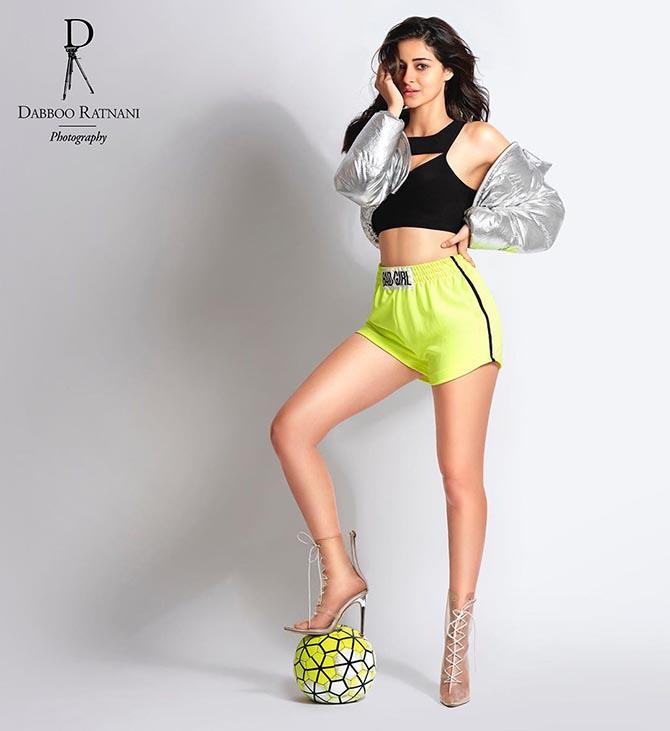 The ball was lying in my studio; it's my son Shivaan's football.
So I said, let's use this as a prop. I kicked it to her and she used it and it worked out great.
Our idea was to give it a Student Of The Year feel, so we added transparent heels and this football to make it sporty.
This was my first shoot with her.
When you shoot with someone for the first time, you need to explore a bit. You need to understand their body language and the way they pose, what kind of lighting suits them.
Jacqueline Fernandez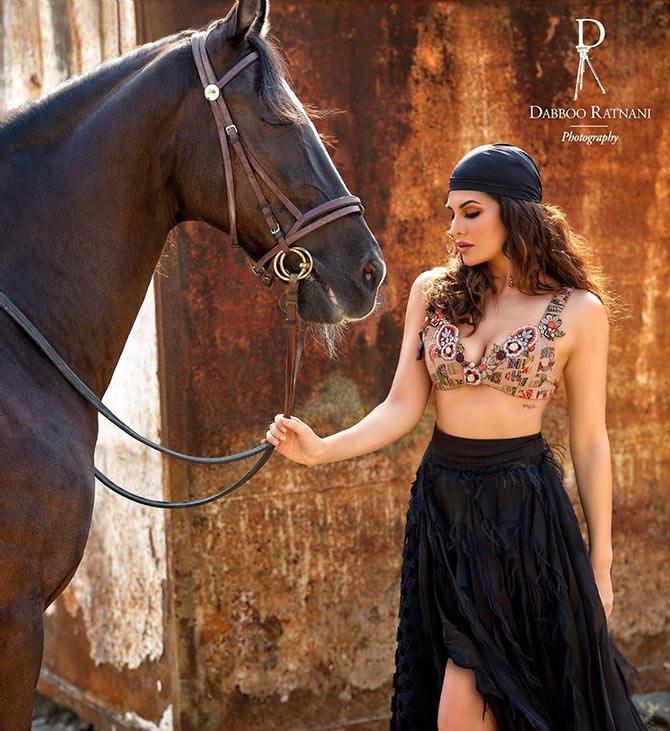 Jacqueline loves horses and she rides them well. She's very comfortable with animals.
This is one of the shots we did; there were others as well, where she's actually riding the horse in her skirt.
Six months ago, I had seen an Instagram story of hers where she was learning horse riding at the racecourse. That's when I decided to do this shoot with her because not everybody is so comfortable with horses.
Abhishek Bachchan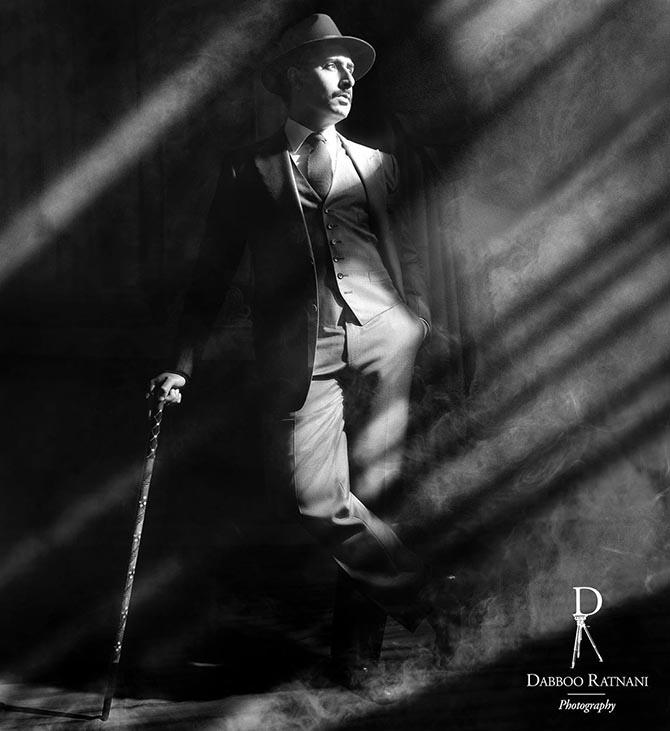 My idea was to go retro for Abhishek Bachchan.
He was in a moustache look for a film shoot.
We met at (his daughter) Aaradhya's birthday party and I saw him with the mooch and I asked, "How long is the mooch going to stay?"
He said, 'We have to shoot the calendar with this, bro."
So I decided to think of concepts.
After a lot of thinking, we decided try something vintage. Its look and styling is almost like Godfather, like a 1940s Hollywood gangster film.
I added shafts of light and smoke to make it look mysterious and smoky.