Anaarkali Of Aarah is a tale well told, says Savera R Someshwar.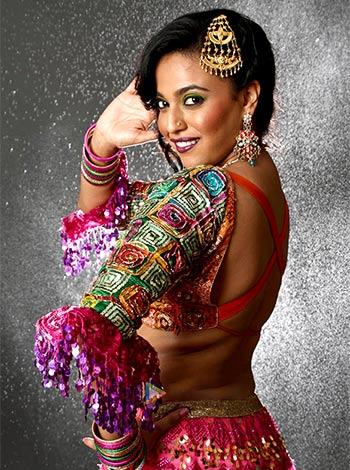 Oh, I so wish I could seeti bhajao.
Not the lascivious kind.
But the kind you hear when something good happens, when something applaud-worthy happens and you want to season that applause with a few good seetis.
For this film, this Anaarkali Of Aarah, is a little gem that shines brightly.
It is a story of Anaarkali (Swara Bhaskar), who earns a living, singing songs that are bawdy, yet foot-tappingly catchy.
Her performances -- on stages that have roughly been slapped together, sometimes on a river bank, sometimes near a police station -- and the raunchy dancing that accompanies them are more than enough to get her all-male audience standing, in more ways than one.
Anaar is not rich, but she's bold, she's sassy, she's feisty and she enjoys both life and her infamy.
Yet, she is clear that she is a singer and a performer -- yes, of songs that are expressly intended to titillate -- but she is not a 'randi' (prostitute). It's a line that she drawn, a daaira that she won't cross.
She is self-confessedly no 'Sati-Savitri,' but she is clear that her sexuality, and the choice of the man she wants to sleep with, is hers alone.
The 'most powerful man' in Aarah, a suitably sleazy, much married Sanjay Mishra -- armed with a bad wig and strong sense of the invincibility of his 'VIP' status arising out of his closeness to the state's chief minister -- lusts after Anaarkali.
When he uncrosses his legs -- which otherwise cling to each other to hide the burgeoning desire that her performances arouse in him -- and lurches drunkenly on stage to crudely grope her, you think you know what will happen.
Only, it doesn't.
Her attempts of fob him off fail, and his hand snakes under her glittering skirt while his lips attempt a slobbering kiss. She slaps him away resoundingly.
And then, she crosses another line as she attempts to file a molestation complaint at the police station.
It's more than enough for the life of a single woman in a small town to be completely destroyed.
But Anaarkali is no wilting flower and while she may be buffeted for a while by the winds of fate, you know that she is going to bloom again.
And that, if there was a quibble, would be it.
For much of the film, you can predict what is going to happen before it does.
But that minor quibble quickly fades away before the array of goodies the film up-ends before you -- the fantastic performances from each and every one of the actors, including those who have no more than just a few minutes of screen time.
Swara Bhaskar has the pulse of every emotion she has to portray -- flirty, joy, sorrow, anger, weakness, frustration and you-don't-know it-yet-but-I-am-going-to-get-you.
Sanjay Mishra too is consistently good, especially in that chilling moment when he moves from cajoling to threatening in a second.
Pankaj Tripathi and the young actor who plays Anwar, the teen who crushes on Anaarkali, are perfect as foils to the fiery Swara.
There is impressive attention to detail in the music, the sound, the cinematography, the production design, the dialogues and the direction.
But these are not the only reasons the film stands out.
Anaarkali Of Aarah shows you a woman who does not shed tears over the lemons that life has handed her; instead she sees what best she can do with it -- it might not be a refreshing lemonade; it might instead be spicy lemon pickle or tangy lemon rice, but the choice is hers. Entirely.
The fact that this is not a choice many women in India have may make the movie seem simplistic, but that does not lessen its importance.
We all need heroes. Anaarkali, make no mistake, is one.
Yes, Anaarkali Of Aarah might well be a fairy tale.
But it is one that is well told.
Very well told.
Rediff Rating:

DON'T MISS the features in the RELATED LINKS below...