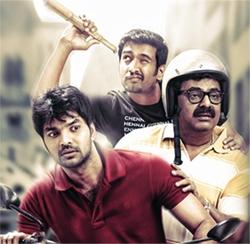 Despite its many flaws, Tamilselvanum Thaniyar Anjalum surprisingly keeps you entertained, feels S Saraswathi.
Gautham Menon's production Tamilselvanum Thaniyar Anjalum revolves around the escapades of a courier delivery boy, as he gets entangled in a dangerous web of corruption in the healthcare industry.
Starring Jai and Yami Gautam, the film is directed by Premsai, a former associate of Prabhu Deva.
Human embryos are being destroyed for stem cell research and at the heart of the crime is Dr Arun (Ashutosh Rana).
He bribes doctors across the state to abort the fetuses of unsuspecting pregnant mothers to get their embryonic stem cells for illegal research and treatment.
Their plans are overheard by a ward boy, who collects all the evidence and couriers it to a righteous social activist Sathyamoorthi (Nassar).
The courier lands into the hands of Tamilselvam (Jai), a happy-go-lucky courier delivery guy.
The bad guys will do anything to get back the evidence. Can Tamilselvam escape their clutches and expose their heinous plans?
Inspired from the Hollywood film Premium Rush, the plot has all the makings of an exciting thriller but Premsai, unfortunately, waits till the last 20 minutes to get things going.
Until then, all you have are the ridiculous attempts of the hero trying to woo his girl, aided by an endless supply of songs.
While the songs may be run-of-the-mill, the background score -- by singer-turned-composer Karthik -- is lively and peppy, maintaining the tempo of the narration.
None of the performances stand out.
Yami Gautam plays Kavya, a salesgirl at a garment store and is the real reason for the unemployed Tamilselvam to join the courier service. The pretty actress does nothing but smile in exasperation at the overzealous Jai, who delivers rubbish couriers to her everyday.
Jai also has nothing much to do but manages to entertain with his silly antics, well supported by comedy actor Santhanam, who plays his sidekick.
Nassar and Thambi Ramaiah, who plays the conscientious ward boy, appear too briefly to make any real impact.
Despite its many flaws, the film surprisingly keeps you entertained.
At just 112 minutes, the director wastes no time on the good or bad, and keeps the momentum going.
Tamilselvanum Thaniyar Anjalum may not be a gripping thriller, but has an interesting plot, moves along briskly with some fun moments, has a great background score and high octane stunts in the climax.
Quite a decent attempt by a debutant director.
Rediff Rating: