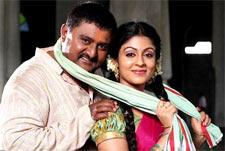 Srikanth Srinivasa feels Kannada film Nandisha is a disappointingly mediocre film from an established director.

Director Saiprakash's last release of 2012 is a remake of the Malayalam hit
Thilakam
.
Nandisha
does not live up to the top billing it got, mostly because comedian Komal is appearing in a movie for the first time after the stupendous success of
Govindaya Namaha
earlier this year.
The film is about a couple whose young son Nandisha goes missing in a fair. The couple go in search of the boy who is now a grown up man. At an orphanage, they find a mentally challenged man who is just like their son.
Nandisha behaves like a small boy and creates all sorts of trouble for the villagers and his parents. His hobby is collecting dhotis, leading to comical situations in the village as he snatches them from people who wear them.
Kavya (Malavika) is in love with
Nandisha, much against the wishes of her uncle who wants to marry her himself. Nandisha begins slowly to regain his memory, and says he is actually Vishnuvardhan. His earlier life then unfolds.
Komal, who usually provides the comic relief in films, does not quite fit the bill as the hero. He hardly raises a few laughs which is a big disappointment for his fans and for audiences.
Malavika does not have much of a role. Parul, who shot to fame in the Pyarge Aagbutaide number from Govindaya Namaha, has an extended guest appearance in the film. She also gets to dance two numbers in the picturesque locale of Switzerland.
Srinivasa Murthy has acted well and so has Ramesh Bhat. The songs are forgettable and the one redeeming feature in the movie is the lush green locations and snowy mountains of Switzerland.
Nandisha
is a disappointingly mediocre film from an established director.
Rediff Rating: