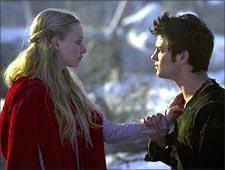 Shaikh Ayaz reviews Red Riding Hood.
Post YOUR reviews here!
First and foremost,
Red Riding Hood
has all the stuff the parable of the fairy- tale is known for. It has the girl with a designer red cloak, the werewolf who turns into human form and the eerie fear that emanates from a place as horrifically haunted as Daggerhorn, where all the action is to take place.
With the refrain, 'Believe the legend. Beware the wolf', Catherine Hardwicke's
Red Riding Hood
takes for its subject which those who went to see her Twilight would identify with.
Set in days that throw you back to the pastoral times,
Red Riding Hood
kicks off on both a good, and an awful note.
Valerie (Amanda Seyfried) wants to marry the village wood-cutter Peter (Shiloh Fernandez) but her parents have instead betrothed her to a wealthy man's son. Forced to run off, Valerie and Peter suffer a personal setback when Valerie's sister is found brutally murdered. The preying werewolf is hunted down and killed.
Peace descends on this fateful town and people take to merriment in an unimaginatively-choreographed party sequence. This is when you get intuitions that the vital plot twist is round the corner and when it does arrive, in the form of the witch doctor Father Solomon (Gary Oldman)
it only confirms your worst fears. As the story further nose-dives into an abyss of ill-created horror and terror, you realise that you aren't scared, so much as brain-dead.
As I write this, I am thinking how is it that films such as this pass off as an attempt at cinema? Not a single sequence of
Red Riding Hood
stays in your mind. The film lacks the fairy-tale aspect and just falls short of hitting the lowest lows in filmmaking. It's dead-end even for those who prefer their films to not involve too much thinking.
The job of a horror film, including an intended attempt such as this one, is to create an atmosphere of fear through whatever means it chooses and provoke the viewer into some sort of a response. The horror genre movies can always get away with ordinarily thought-out plots because it's main devices are photographic than plot-driven in any case.
So, if a director manages to send chills down the spine, it's considered a successful effort. From such movies, you always take back scenes home with you, never its stories.
Red Riding Hood
is the kind of film you wish to watch only to see how bad things can really get and then tell others, in pure public service, how bad it really was.
Rediff Rating: